Carlyle finds her Destiny
Her debut novel The Broken Destiny is emotion-filled and intense; a very personal offering to the young adult audience that she is convinced can find a smoother path through the turmoil of coming of age between the covers of a good book.
In November, the second book in the Broken trilogy, Evanescent will be published – no wonder that over the past few months her WhatsApp status reads, 'Shhh, I'm writing'. The 32-year-old bubbly blonde is passionate about writing and equally committed to getting youngsters to read. She is no bookworm though. She says although her parents had concerns when she was little because "I lived in my head – I've always been infatuated with my imagination, with stories, with fantasy", she soon discovered sport and to this day loves squash and swimming.
Her family – hubby Dirk whom she met when she was 17 and children Ethan (9) and Jordan (6) – ensures that she lives a rich life in the physical realm and not just through the fictional characters she loves so much. In fact, Carlyle's life is so rounded that her days are a blur of motion. It is no easy task balancing family life, sport and writing novels while still earning a crust.
At Carlyle's day job she is a marketing and PR manager at AP Autobody, the Germiston-based business that her family owns. How does she fit in the two to four hours a day during the week that she spends writing, and the around eight hours over weekends? "I compare it to having a baby," says Carlyle. "You have no choice, you just must! Does it help that I love what I do? Absolutely!"
A typical writing session unfolds in her study, with the playlist set up, earphones on and the caffeine flowing. Teenhood was tricky for Carlyle. "It was all about trying to fit in, yet not buckling under peer pressure, which inevitably most teens do and then end up in a bad place."
She left Hoërskool Florida at 15 to start working, but she did not neglect her studies and she matriculated through Business College Roodepoort. At age 19 Carlyle broadened her horizons with a stint in Belgium before returning home to enrol for a marketing course at Damelin. Although she fell pregnant with Ethan before graduating, Carlyle says she did finish her studies and it has stood her in good stead. Later, once it became clear that writing was her destiny, she completed a creative writing diploma through College SA's Writing School.
Explaining her desire to get young adults reading, she says, "If the books that are available now, were around when I was a teenager, I would not have been as afraid to be different. I would have found characters to which I could relate and discovered the gift of self-acceptance."
When Carlyle announced her intentions to write a book, she found her family to be 'insanely supportive'. "I have been so blessed." She is so determined to do her bit to promote reading that she helped establish a library at the school her children attend. "Avalon might be a private school, but it is still young and has many needs. The school's commitment to education prompted me to launch my first book there last year, and I coupled this with a fundraising and book-drive initiative that saw not only a library being started at Avalon, but a donation being made to the Starfish Greathearts Foundation." The event was also the start of the'Help us build a library in Africa' project and Carlyle plans to target less privileged schools and organisations in future.
But now her days are dedicated to the upcoming release of Evanescent, which will be self-published through Sensational Publications and will be available through most online stores including Amazon, Barnes & Noble, and Kalahari. The Broken Destiny also was self-published and picked up by Exclusive Books, which Carlyle hopes will happen with her latest offering. The Broken Destiny was voted number three on the goodreads debut list for 2012 and Carlyle has had wonderful feedback. "I've had many positive reviews and ratings, and recently discovered that The Broken Destiny is available in many international libraries.
"I am eternally grateful for this because I believe it takes a village to raise a book," she jokes. A social media die-hard, Carlyle has her own website and uses twitter, facebook, LinkedIn and Triberr to network and build relationships. "The feedback is phenomenal and helping me to establish myself as an international author."Thanks to her online profile, the editor of India-based e-magazine Inspiration Unlimited asked Carlyle to become part of their team, and she is now a regular contributor.
Carlyle has just booked her seat for the UtopYA Convention to be held in Nashville, Tennessee in June 2014. UtopYA is where female authors of paranormal stories converge, and the Labuschagne family will be tagging along and making a holiday of the occasion.
Carlyle hopes the convention will provide a platform from which she can pitch her series to agents and producers.
But before then, the last book in the trilogy needs to be conceived and birthed. Does writer's block ever plague her? "Yup, but like everything in life, you just have to work through it." Link up with Carlyle (and enjoy regular book giveaways!): www.carlylelabuschagne.com
twitter.com/#!/CarlyleL
*Article by Cathy Grosvenor
Getting a fix on Broken:

A tiny taste: When Ava starts questioning her origins and the destruction of Earth, a prophecy unfolds that sees her rushing headlong into a frightening new world, armed only with the knowledge that her bloodline sets her apart and makes her not only a formidable warrior but also less than human.
What audience is the series pitched at? Young adults – age 14 to 60! My aim is to capture the characters' insecurities and show that even heroes have flaws.
Why the science fiction/fantasy genre? I love the possibilities of science. Looking back at earlier science fiction stories, we can see that what was once in someone's imagination is now reality.
Evanescent sneak preview: I have incorporated many dark elements and explore the difficulties of being good versus bad. We all are capable of both – it's an eternal battle that comes down to choice.
How did you come up with the story line and characters? They come to me as I write. But I have used real-life experiences, emotional battles, relationships and perhaps even some people I know for the basis of a character.
If you could meet any of your own characters, who would it be? I modelled the heart-throb of The Broken Trilogy on someone  I truly admire, so in a way I  already have met him. Of the others, I'd say Anaya, the Minoan pure sister because she's beautiful and fierce, calm and graceful.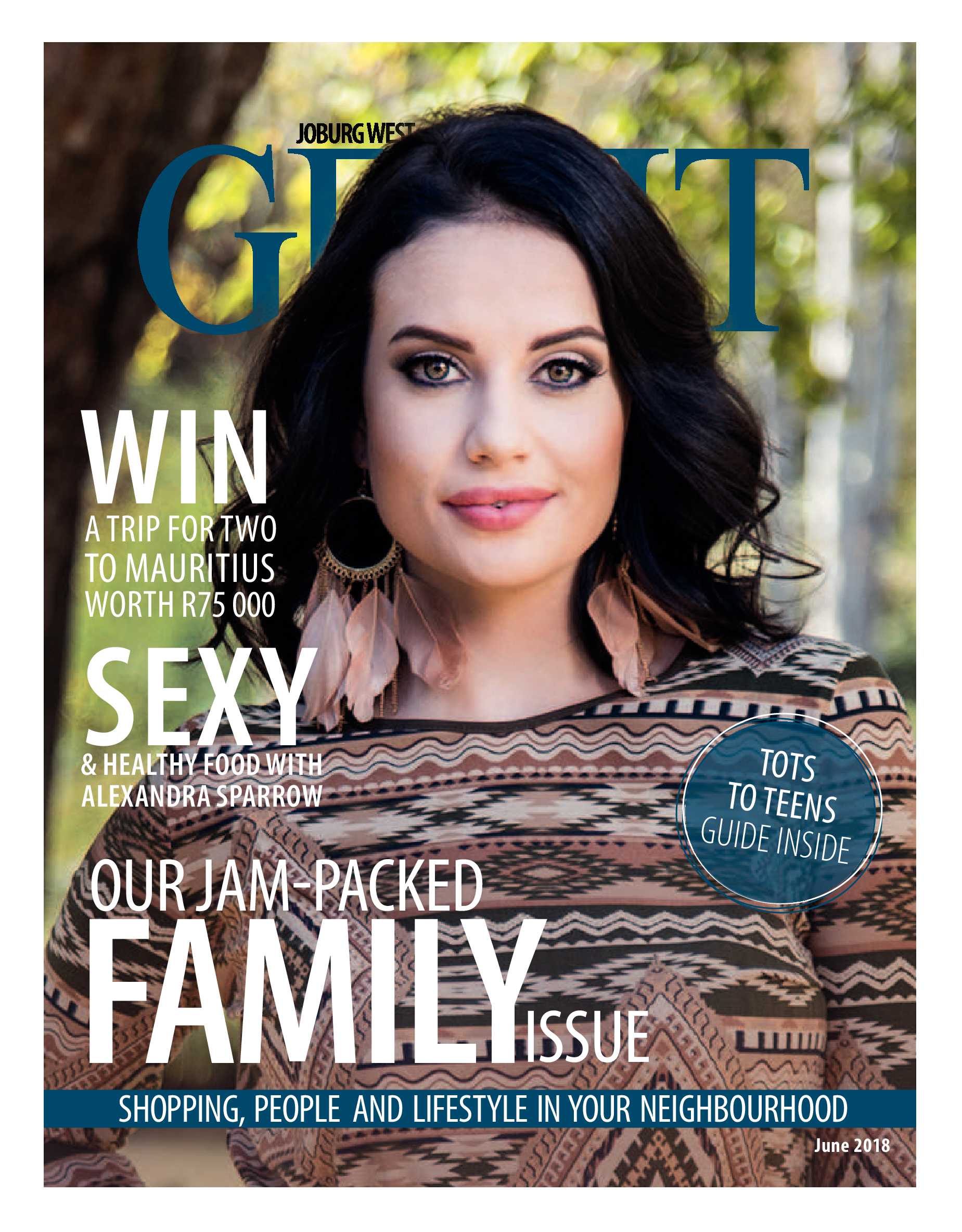 is a national brand of premium free magazines available in centres across the country.
to see other Get It magazines in the network.