Top mom
My entire journey as a finalist in the Sarie Cover competition was like a fairy tale. It literally felt like Christmas in September. We were spoilt with stunning accommodation, amazing food, gifts and surprises around every corner. There was never a dull moment. The competition taught me to constantly push myself, step out of my comfort zone and be confident with who and what I am.
The experience came at a great time in my life. Being a working mom and wife doesn't leave you with a lot of 'me' time and when you eventually do decide to take some 'me' time a guilt trip often follows. The competition gave me a platform (and to an extent forced me) to get to know myself again just as me, without all the other roles that I have to perform on a daily basis. I am so grateful for it.
This was the first beauty contest I took part in. As a young girl I did a bit of modelling work but nothing like this! My friends and colleagues have encouraged me to enter the Mrs South Africa pageant in the future and it's definitely something I will consider going forward.
I honestly just took a chance when I entered and now I would encourage all women to do the same. It's not about age or beauty, it's for women who take care of themselves and know their own worth and beauty, despite all the daily demands on them, and their past experiences. You make life-long friends and meet South African celebrities – it's something you will remember until the day you are a granny reading the Sarie.
I am a Grade 4 teacher at Weltevreden Park Primary school. I love to see children achieve their goals (academically, on the sports field, or emotionally) or overcome obstacles, big or small, with my help. At the same time, it's challenging when you know that some pupils come from very difficult circumstances and you can only help them up to a certain point.
Being a woman in modern society is tough, but at the same time, such a privilege. We can be fierce in the corporate environment, we can achieve great heights in the sports world and we have the role of being the nurturer and carer to our loved ones and the honour of being mothers!
I stay in shape by following a strength and cardio training programme in our home gym 4 to 5 times a week, and I eat a balanced diet. Eating healthy has so many benefits – people should stop treating it like a death sentence, it's totally the opposite.
I also play provincial squash. It's a great individual or team sport and a great workout. I began playing when I was in Grade 7 in 1998, but took a break for a few years when my son was born but now I'm back in the game and practise as often as I can. My husband, Devon is one of those people who excels in everything he does, so he plays professional squash and also works full-time. It's great that we both share the same interest.
Fuel and Function is my other passion – a platform where I serve as a personal trainer for children dealing with physical disabilities, illnesses and obesity. I believe disabled children should also be given an opportunity to enjoy participating in an exercise programme specific to their needs. This will make them physically and mentally stronger, and ultimately more efficient in their daily lives. After completing courses in Basic Exercise Science and Exercise with Children, I also train young athletes who are focused on a specific sport.
As a teacher, I often see pupils being shunted to the sidelines during physical activities because of their physical appearance or incapacity. It's not just educators that do this – friends do it too. This is heart-breaking to me. Exercising is beneficial in so many ways and crucial for all children. I am passionate about educating children and their parents to make good choices with regard to exercise and diet.
I also have a Move It Mommy's programme for busy moms who want to become fitter and stronger, but with a personal approach and a comfortable anti-gym environment.
Being a mother of two, a son, Michalen (6) and a daughter, Jonmenae (3) my children have certainly taught me to think before I speak or do something. You constantly need to set an example and it's overwhelming, but when you see the amazing little people they are becoming, it's all worth it. Oh and have lots of patience.
Many people don't know that I don't like walking bare foot on unfamiliar surfaces but if I must, I will walk on my heels. I'm also terrified of snakes (I would give up a weekend away in the bushveld and stay home because of this). I don't like closing bathroom doors when I am alone in a public toilet and I am an anti-hoarder; I throw things out and delete things from my phone and computer and more often or not I need them again …
I hope to be known as a woman true to herself who is always up for a challenge. A person and friend who brought out the best in people and made people comfortable being themselves. A mother who raised loving, caring, ambitious and resilient children and a wife who inspired her husband to follow his passions and reach his goals.
Details: Contact Bianca via email at biancahendrikse@gmail.com or visit her Facebook page, Fuel and Function.
Bianca in 60 seconds:
Three beauty rituals I can't go without include … Never sleeping with makeup, using sunblock as often as I can and Justine's day and night cream is a must!
My father always told me … to not get upset about things I can't change.
I would describe my clothing style as … sexy and stylish, yet comfortable.
I love doing things like … being outdoors with the family, late afternoon braais and a Christmas bed in front of the television watching movies.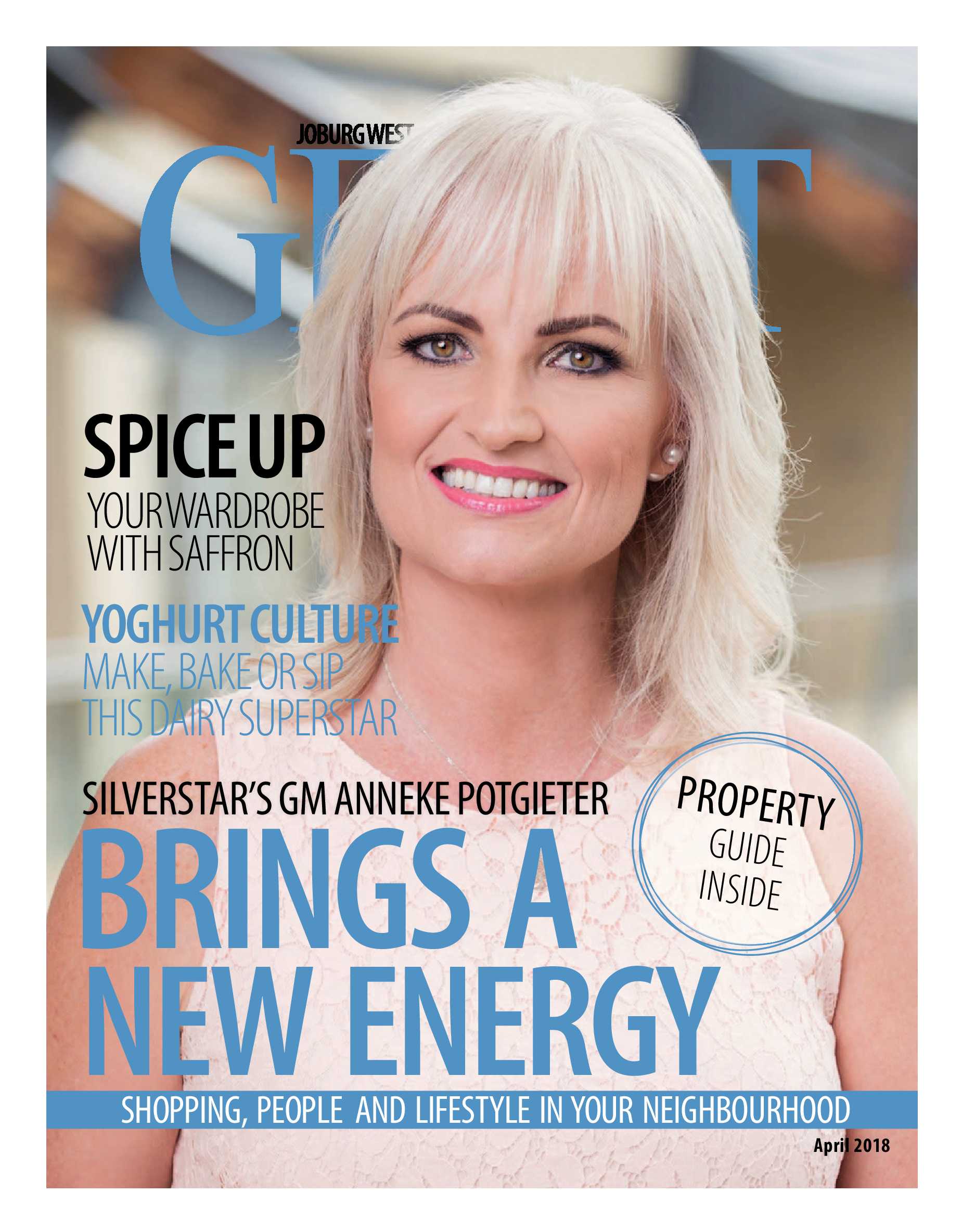 As Good as Eating Out
Let's face it. Budgets are tight. And eating out has become somewhat of a treat. But we've found the perfect solution … restaurant food at home. As Good as Eating Out is Your Family's new cookbook and we've got a copy to give away to one reader!
This month we are all about natural beautiful skin!
Stand a chance to win a seriously luxurious hamper packed with Celltone products to the value of R2 500!
is a national brand of premium free magazines available in centres across the country.
to see other Get It magazines in the network.