Busy Lizzy!
Extremely entertaining, a tad whacky, exceptionally creative, funny, hugely inspiring and with enough energy to keep a 90s aerobics class on their toes, it comes as no surprise that the gorgeous Lizz Meiring is referred to as Bizzie Lizzie in the industry – where she has so successfully manifested herself over the past 32 years.
Being one of the country's most versatile entertainment industry professionals, her résumé includes over 5 000 functions, about 300 television productions, over 20 films, 193 texts, directing and producing shows, 319 stage productions and 10 published works. She's also received many major awards, among them a joint Vita Award and the Critic's Award – The Dalro – for Best Actress and Best Supporting Actress, The Ster Kinekor/ Nu Metro Film Award as well as two Artes Awards and the Edinburgh Crystal Award for best leading actress.
Now we can look forward to seeing the talented actress once again in the brilliant new Afrikaans film, Hoener Met Die Rooi Skoene. The passionate star plays the role of Bonnie van der Byl – a chatty, sweet, funny, charming and eccentric receptionist who has an irrepressible sparkle, a vivid imagination and a penchant for murder mysteries. Whilst chatting away on the phone, as per usual, her boss, the successful, but unpopular businessman and impresario, Du Toit de Waal (played by Deon Lotz), is murdered.
Bonnie discovers him on the office table behind her with a dagger in his back. She phones the police and then goes closer to the body to inspect the situation. And of course, she collapses, as she always does. She is woken by the flashlight of Constable Mickey Mentz (played by André Weideman), only to discover that the body is nowhere to be seen. The perfect setting for a 'who dunnit?' murder mystery filled with unexpected moments of laughter.
'The movie is so unique, original, clever, funny and hugely entertaining. It's filled with clever twists and turns, off-beat characters and astonishing beautiful visuals, music and an unexpected story line – a first in SA cinemas.'
Fulfilling close to 2 000 diverse roles (both serious and comic) Lizz says she finds the serious roles easier. 'I believe doing serious roles is easier than comedy – we all cry about the same issues, but humour depends on personal taste – what's funny to one person may be taboo to the next.'
In addition to being fully bilingual, she has performed in Dutch, Italian, French, German and Sotho! 'Someday,' she said, 'I hope to speak all of these languages fluently.'
Her characters are so believable that in her days as Molly Visagie in the much-loved Afrikaans series, Molly en Wors, Lizz says she was attacked by old ladies for being rude to her (fictional) mother-in-law. 'On other occasions, daughters-in-law sent me tips on how to kill her … I was also insulted for wearing short skirts (which were just above the knee and selected for me to wear) … The criticism and compliments are always part of the job.'
In pure Bizzie Lizzie manner, there's plenty we can look forward to in the new year! 'I'm doing another one-woman production (following the success of her previous one, Langpad en Lipstiek) which is titled Secret Language. I'll also be doing another solo show – a gorgeous story about the history of beauty and fashion. There are also a few new films in the pipeline – but unfortunately I cannot reveal too much.
'In the upcoming holidays I'll be working on something I'm hugely excited about. I'm writing a massive, fun-filled fantasy festive family holiday production called Fantasy of Light which will be taking place at the Waterfall Park (at the Mall of Africa) until December 24th.
'The amphitheatre will be transformed into a spellbinding wonderland of extraordinary lights and visual effects, Christmas decorations, music and an unforgettable stage production that grandparents, parents and cool teenagers will enjoy just as much as the smaller children – it's going to be magical!' (Tickets at Computicket!)
'The inspiration for my work comes from so many things – a combination of imagination, life, literature and all forms of the Arts. I get asked so often where I draw inspiration from, but I guess it's just a mixture of intellect and instinct – a gift from the Muse and the angels.'
To add to her already long list of talents, the chatty Lizz also is a qualified auctioneer and highly experienced voice-over artist, where thanks to her ability to talk really fast, she's acquired the nickname of 'Motor-mouth-Meiring'.
We're convinced it's not only her quick tongue but also her charisma and celeb status that so effortlessly get people to open their wallets at fund-raising auction events …
Being in such high demand all year round we reckon the bright-eyed Lizz certainly deserves a medal! However, when she does have some time, she enjoys visiting good friends, taking long baths while sipping really dry champagne and visiting unpretentious restaurants.
'I have to dine, stay and perform in so many glitzy places for my work – poor me, not that I'm complaining – that during my time off I prefer quiet seafood and meat eateries.
'I'm a terrible cook – my oven is only used as storage for all my really nice shoes.'
For leisure travel she adores the magic and mystery of the KwaZulu Natal Midlands and also travelling to Venice in Italy – 'I believe it's the city of my soul!' she said.
'People tell me that my brain and mouth never stop (which is true) but really I'm just a joyous workaholic who loves life, culture and creativity. I also love the visual arts!'
Although she doesn't paint or draw herself (but wishes she could), she's written about 700 arts articles and columns in a variety of art publications, and attended more than 200 art exhibition and competition openings. 'We have such a wealth of local talent in the arts – some of my favourites being Musha Neluheni, Christiaan Diederich, Sanna Swart and Judith Mason, to name just a few.'
Her home is a reflection of her love of art and colour, with vibrant purple and gold walls, a great collection of art and lots of bright throws and rugs. But it's her Birman cat-dog, Moccha, who plays a major role in making her house a home …
'Remaining unmarried with no children was a conscious choice I made – I think people forget that it is in fact a choice … At times I fly 200 times a year, sometimes four flights a day. Few men will accept that. My work is the biggest part of who I am.'
Her energy and positivity are incredibly infectious – a brief encounter with Lizz and you walk away feeling empowered by her great success, her love, gratitude and humility. Perhaps the happy endorphins also have a lot to do with her sharp humour and quirky one-liners. Either way, it seems her greatest role is the lead role she plays in her own, festive life … a content life of celebration. That – in short – is Lizz Meiring …
Little bits about Lizz:
In my handbag I have … I'm constantly scratching in my bag – it's like a trademark already. But seriously – I have everything in there. From homeopathic meds, condiments, plasters, clean undies, book, pens, chargers, theatre tape, make-up, a sewing kit, tea-bags and nuts – it's all in the magic bag!
I would like the super power of … switching off my brain, time travel and sometimes – being invisible.
My most prized possession is … my art and books collection.
When caught in a sticky situation I … try to see the humorous side of it.
When I wake up in the morning I … drink hot water with lemon and dry brush my entire body. It works! Keeps cellulite at bay, helps good lymphatic drainage and energises.
If I could invite three people to dinner it would be … Shakespeare, Da Vinci and Michelangelo. I'd get a chef though – because I can't cook.
I'm never without … make-up and high heels.
My secret indulgence is … red lipstick and Chanel no.5. 'I always say, when in doubt, apply lipstick.'
The champagne that best describes me is … I truly love Veuve Clicquot and Moët (if only I could afford to drink them all the time). It's ultra-brut (dry and delicate) both of which I'm not …
Text: Chemélle Barnard. Clothes: Hollywood Costumes, www.hollywoodsa.co.za, 011 660 4250. Make-up artist: Elaine Boshoff, EA Makeup and Hairstylists, elaine@oxygenmodels.co.za.  Cover photographer: Stephan Segal, www.stephen-segal.com. Venue: Hollywood Studios, www.hollywoodsa.co.za.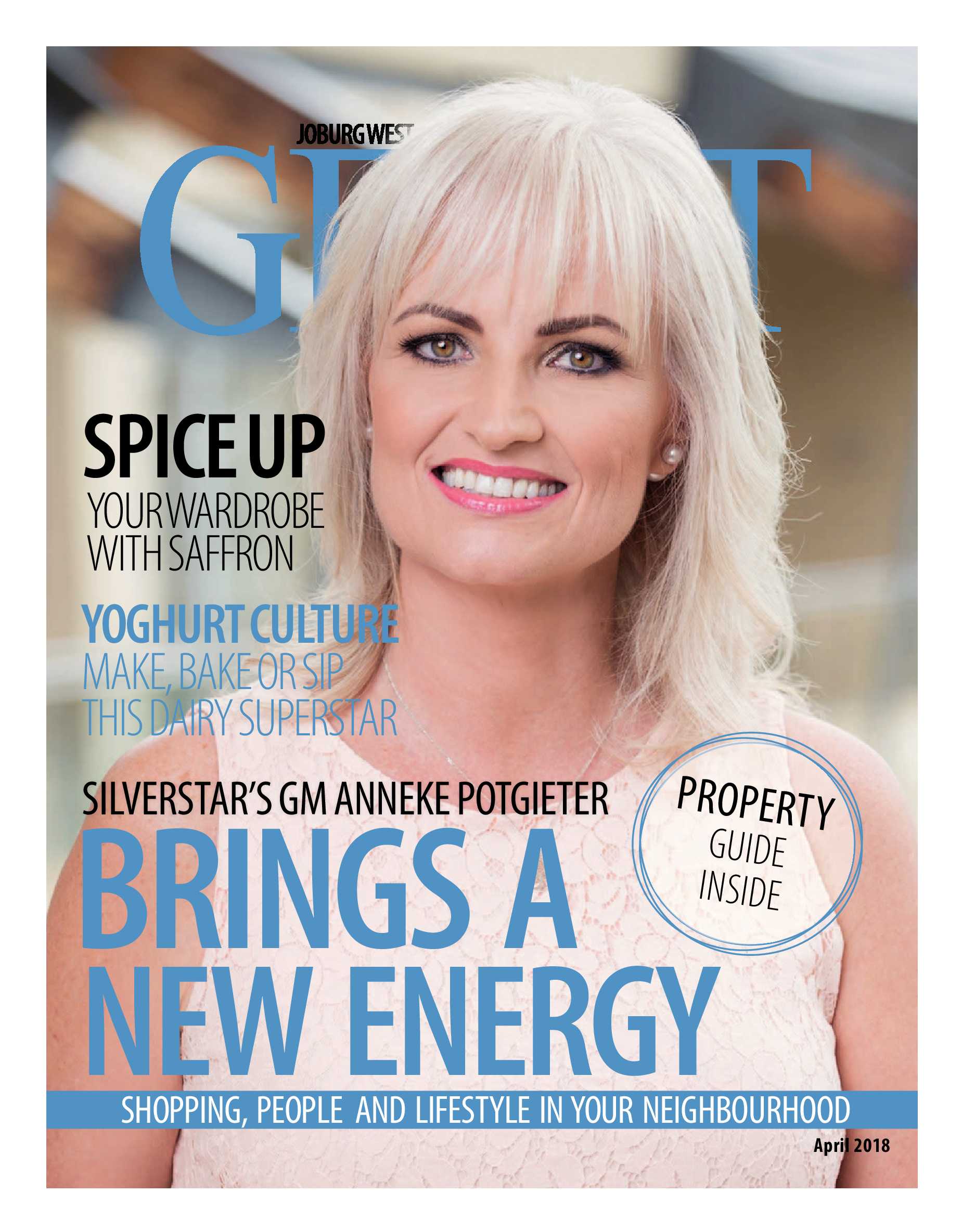 As Good as Eating Out
Let's face it. Budgets are tight. And eating out has become somewhat of a treat. But we've found the perfect solution … restaurant food at home. As Good as Eating Out is Your Family's new cookbook and we've got a copy to give away to one reader!
This month we are all about natural beautiful skin!
Stand a chance to win a seriously luxurious hamper packed with Celltone products to the value of R2 500!
is a national brand of premium free magazines available in centres across the country.
to see other Get It magazines in the network.