At the movies
Ruan Wessels:
The 19-year-old actor from Krugersdorp chats to us about his role as Marko Marais in the latest romantic teenage comedy, Jou Romeo by The Film Factory.
Having started his acting career at the tender age of 13 Ruan has been seen in popular Afrikaans films such as Agent 2000: Die Laksman; Hoofmeisie; Mignon Mossie van Wyk, and Dis ek, Anna. He also played the role of Morné in the popular kykNET daily drama, Binnelanders.
Jou Romeo, (set to be released on 23 December 2016) tells the story of two determined drama enthusiasts (Yvette and Tyler) from Hoërskool Monument who will go to any lengths to make their dream production of Shakespeare's Romeo and Juliet a reality. However, the principal, Mister Kirby Potgieter (played by Pierre Breytenbach), has other plans – by cutting the arts and culture budget he can upgrade the cricket clubhouse and refresh the school's T20 cricket tournament. In an attempt to ensure that the production goes ahead, Yvette and Tyler ask the most popular guy at school, Marko Marais, to help them and some unexpected romance develops.
In the making of Jou Romeo we filmed every day (except weekends) from about 2pm until 2am. I spent roughly 60 hours a week on set.
There were so many scenes that were incredible fun so it's difficult to pick one, but I would say the most memorable scene would be the swimming pool scene. We shot this scene at 1am in the middle of a vicious cold front (and it wasn't a heated pool).
Portraying the role of the school's best cricket player and captain brought back quite a few memories of when I played cricket in primary school. It was my life! In high school, I preferred to play indoor cricket but I must say, my absolute favourite sport is still skate-boarding.
I've had the privilege of working with some of the best in the SA entertainment industry but I must say I hope to work with Schalk Bezuidenhout someday. I think he's hilarious!
I find it quite funny that the question I get asked most by fans is 'What's your cell number?' A lot of people also ask me when I will be returning to Binnelanders.
I'd say the strangest encounter I've had with a fan was actually over the phone one day. An old man phoned me (I'm not sure where he got my number) and told me that he thought I was very sexy … it was quite scary, to be honest, so we handed the number over to the authorities.
Having filmed at Hoërskool Monument, something that really stood out to me was the scenery. Being such an old school, the architecture and general look of the school are beautiful yet traditional. There's a rich sense of history there.
The most challenging part of filming at a school is the changing of classes. It's quite distracting when you are focusing on your lines and then a bell rings – and people tend to stare … a lot.
Marko and I share a few similarities. We both like cricket and hate maths. He also enjoys spending time with his friends, as do I. He's just way more of an extrovert than I am.
It's difficult to imagine myself doing anything else than acting, but if I had to choose, I'd probably be a writer (I love writing) or definitely a pro skater!
Some of my favourite Afrikaans films of all time include Die Pro; Die Wonderwerker, and 'n Man soos my Pa.
In the up-coming holidays we will be touring the country and promoting this amazing film – which I'm very excited about!
In 2017 I'm hoping to be able to travel around a new country, act in another film and spend even more time skating!
My favourite restaurant is The Diner in Krugersdorp.
I'd love the super power of super speed. I have always wanted to be a fast runner but unfortunately I'm very slow.
The song I have on repeat is Where do we go from here by Al Bairre.
Trailer of Jou Romeo:
Danie Bester:
Danie is the highly successful director, producer, founder and owner of the well-known South African production house, The Film Factory from Roodepoort.
He has produced 17 full-length feature films over the past few years. Some of his films include Bakgat!, Bakgat! 2 and Bakgat! 3. He also produced Superhelde; Ek Joke Net; Night Drive; Verraaiers; Agent 2000, and Roepman (which was the first Afrikaans feature-length film to be released in theatres in the USA).
Other films which achieved enormous success at the South African box office were Hoofmeisie; Wolwedans in die Skemer; Ballade vir 'n Enkeling, and the box office phenomenon, Pad na jou Hart.
Here's what you can expect from my latest production, Vir die Voëls … The film, (set to release on 25 November 2016) is set in the late seventies and tells the beautiful true story of Irma Humpel (played by Simoné Nortmann), a surly tomboy who ends up in a wedding dress, in front of the altar, with the boy who relentlessly teased her as a child. She has always believed that independence was the only form of freedom, until Sampie de Klerk (played by Francois Jacobs) came along and challenged her convictions on all levels.
The biggest challenge in making this film was the fact that it is set in the 70s. It is always difficult to make a period film and especially if it's a relatively recent period. A large part of the audience will have vivid memories of the era, so a lot of attention to detail has to go into making the period believable and true.
Having produced films in a large array of genres, I must say I prefer a combination of different genres. But I remain a big fan of a good comedy.
The biggest power of cinema is its ability to give an audience a transformational experience – I believe this is what inspires me most. This might be the smallest insight into the human condition or a new perspective on a massive social issue.
I have had a lot of special moments but no career-defining moment – yet! I still dream about a certain gold statue in my hand one day!
I am very fortunate to be able to do something I love every day but it is not as glamorous as a lot of people think it might be.
Outside of my career I love doing woodwork and cooking but at the moment I'm not doing much of either. I'm also considering some pottery classes …
I'd say my hidden talent is swimming – I'm actually pretty good at it.
I love reading, and I'm a big fan of Irvine Welsh, Ernest Hemingway and Malcolm Gladwell, but my favourite book is most probably Atomised by Michael Houellebecq.
Asking a filmmaker what his or her favourite films are is a very difficult question but I'd say some of my favourites include Blade Runner; Three Colours Blue; The Big Blue, and American Beauty.
My 2017 New Year's resolutions will probably include eating better and exercising more! Also spending more quality time with my wife of six years, Lelia Etsebeth and our two-year-old son, Richter.
*Photo courtesy of Fathom Media.
Trailer of Vir die Voëls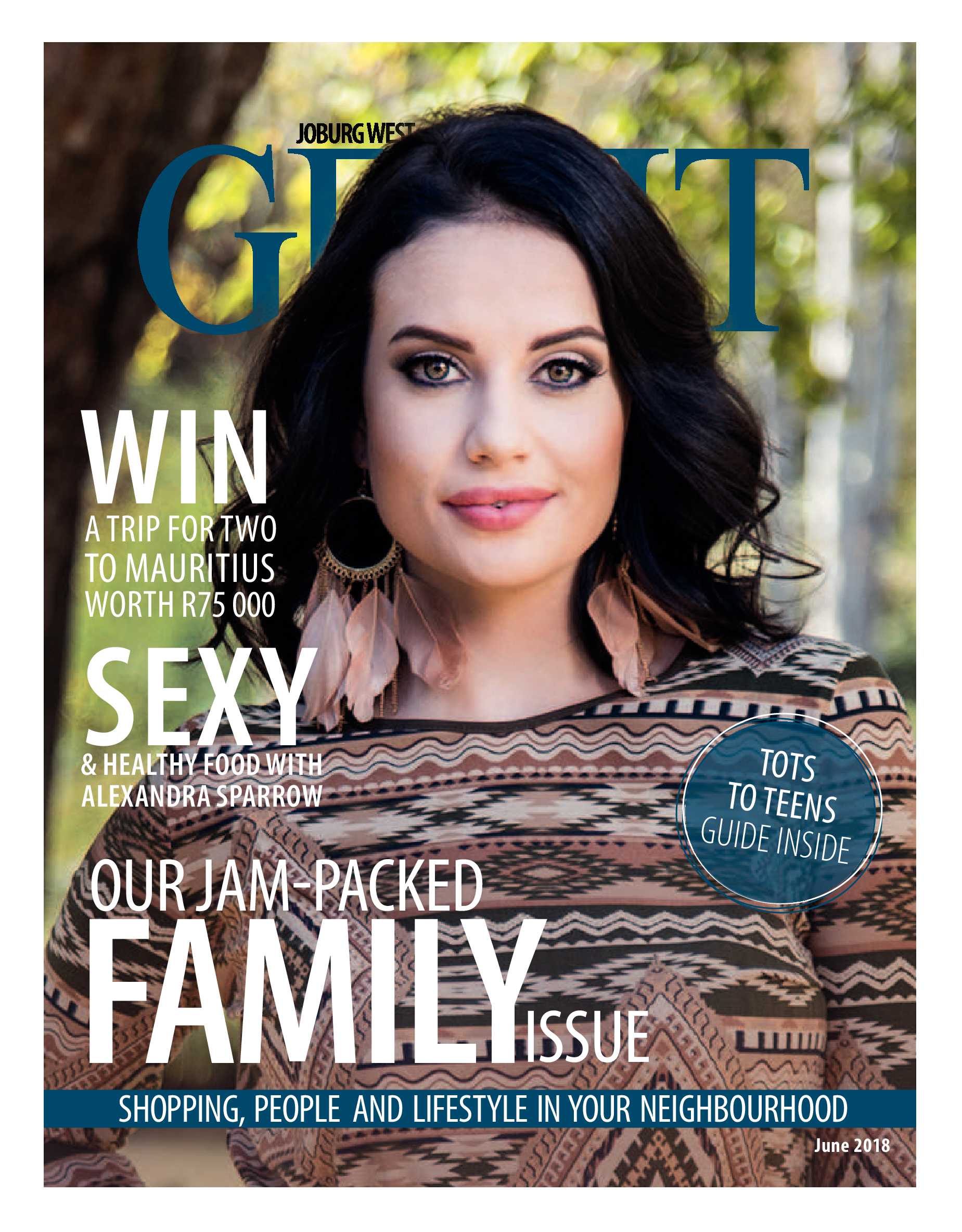 is a national brand of premium free magazines available in centres across the country.
to see other Get It magazines in the network.