Heritage goddess
A cliché question, but a necessary one … Do you REALLY understand your heritage? Yes, it has a lot to do with your culture, but it's also your identity, your past, how you grew up. It's what makes you the individual you are.
This has been Sherianne Pillay's goal since the day she won her third major pageantry title as Miss Heritage Gauteng 2016 (and then Miss Heritage SA). 'I wanted to use the platform as a title holder to reach a much greater audience – to educate our youth. Our heritage is the food we eat, the songs we sing as a family, the sports we play, the music we listen to – all those things that make you, you. Once we know that and understand it, we know where we fit in as citizens of our country and the role we need to play in preserving our own.' Before winning this prestigious title, the first-ever pageant Sherianne entered was the Miss India Gauteng competition in 2015.
To me femininity is key
Once you meet her it comes as no surprise that she walked away with the crown … She then went on to compete in the Miss India South Africa competition and was crowned First Princess. Not bad at all, considering it was only her second-ever pageant and a national competition!
Being a youth leader at her church since the age of 15, she has had first-hand exposure to the issues young people are facing – bullying, peer pressure, acceptance. 'I decided to enter Miss India to give me the platform to set an example. Being a reserved, shy child myself, I wanted to show young people that you can achieve anything you set your mind to, while never giving up on who you are. It would also create many opportunities for me to help others.'
Although she is in the final year of a Commercial Law degree at Wits University, she initially wanted to become a judge. 'I soon realised I'd be better suited to the corporate side of law.' Once a week she also hosts her own show on Eastwave Radio called I chat where she talks to ministers and representatives of organisations about all kinds of current affairs.
'While hosting the Miss India SA 2016 pageant, a radio producer who was in the audience approached me for an interview. I thought he meant he'd like to interview me on the radio but it turned out it was an interview for a job as a radio host – it was quite exciting.'
And as if that isn't enough, in her free time the ambitious beauty also tutors school learners and founded her own NPO called Princess Diaries.
'Princess Diaries is one of my big outreach platforms. I counsel young women, take disadvantaged children on outings and host motivational talks at various schools.
'After speaking I always open the sessions to address questions. From peer pressure to dating, bullying and sex … these are often subjects our children have questions about but might be too afraid to discuss with their teachers or parents. When I was in school I remember having motivational speakers come to talk to us but once they left, that was it.
'I aim to make myself more available, so I give out my number to the groups I speak to on the day.
'One girl phoned me every day because she had issues with her father being extremely strict to a point that scared her. Obviously I couldn't get too involved but I offered an ear and some advice – which she ended up following. That was the sort of thing I wanted to achieve. Taking children on outings is always another great experience for me. I took a group of kids (mostly teens) from Dorah's Ark to the Lion Park. I was surprised to learn that most of them had never seen a lion, so seeing their faces was priceless! I actually also met my long-term boyfriend during the same outing. Jason is one of the lion walkers at the Park and we just clicked from the get-go.'
In addition to her own NPO and helping out at Dorah's Ark, she's involved with and volunteers at Babies behind Bars (babies born in jail), IKholwa, Reach for a Dream's Queen for a Day and the Have a Heart Centre.
'Being involved in the community, presenting and participating in pageants, all while studying, have taught me the importance of a well-balanced life. I've always chased being the best version of myself so it keeps me motivated.' She grew up in Pietermaritzburg as a middle child, with an older brother Brendon, 37, and younger sister Kimberly, 16. 'I attended an all-girls school and at the age of nine we moved to the northern suburbs of Joburg where I attended Rand Park High School. We then moved to Roodepoort. My late dad, Sathie worked as a knife and dye maker who created the moulds for shoes to be formed. My mom, Sangitha works as a fashion designer.'
All her exquisite pageant and special-occasion clothes are designed and made by her talented mother.
'I think being surrounded by fabrics and clothing has a lot to do with my love of fashion. To me femininity is key. I wear mostly skirts and dresses in bright colours and patterns, and I have a crazy obsession with shoes! I actually spend quite a lot of time soaking my feet. We all know gorgeous shoes and well-groomed feet go hand-in-hand …'
'My most loved beauty secrets include a turmeric mask once every two weeks (yeah, it's a very Indian thing, I know), exfoliating with sugar once a week and wearing golden shades of eye shadow. I also try to stick to a balanced diet, walking, cycling and my favourite of all – dancing!' The girl's got some serious hip-swinging skills! In the Miss India pageant she wowed judges with her unique Bollywood African-inspired dance, which saw her win the top-talent category. "I never got any formal training in dancing but I've been doing it for as long as I can remember. I watched plenty of Bollywood films and then would practise, practise, practise!
So if ever there was a 22-year-old to aspire to – I'm sure we can all agree, it's Sherianne! The pageant industry now has her hooked so she looks forward to competing in the Miss Heritage Global pageant later this month (19 February). We're certainly rooting for her!
Short and sweet:
If not law, I'd probably go into … teaching. I love explaining things (to my younger sister's irritation at times).
The best advice I got was … from my mom. She always told me to never compare myself with anyone else. If you focus on others, you take away from becoming the best version of yourself.
My (very little) spare time is spent … on social media, with my family (we are very close), shopping and being outdoors. I also enjoy watching detective/ crime documentaries and series like Pretty Little Liars.
You'll never see me without … eyeliner and lipstick. Your image says a lot about you, so I like looking my best.
I spend the most money on … makeup, clothes and shoes.
A movie that moved me was … The Pursuit of Happiness.
Sherianne's favourite Indian Dessert – Sooji
You will need:
∙ 500g Semolina
∙ 500g Rama
∙ 3/4 Cinnamon Sticks
∙ 1 cup sugar
∙ 500ml milk
∙ 3-4 cups boiling water.
Instructions:
Place margarine in saucepan to heat with cinnamon sticks. When melted add semolina stirring with a wooden spoon. Stir for about 3 minutes till margarine and semolina is mixed. Then add sugar, continue mixing and add vigorously boiling water. When water has been absorbed, add milk and leave to cook on a low heat for 2-3 minutes. Serve while hot.
Text: Chemélle Barnard. Make-up & hair: EA Makeup and Hairstylists, Antoinette de Beer, antoinette.debeer02@gmail.com. Venue: Alice Art Gallery. Photographer: Cezanne Morley, info@photographybycezanne.co.za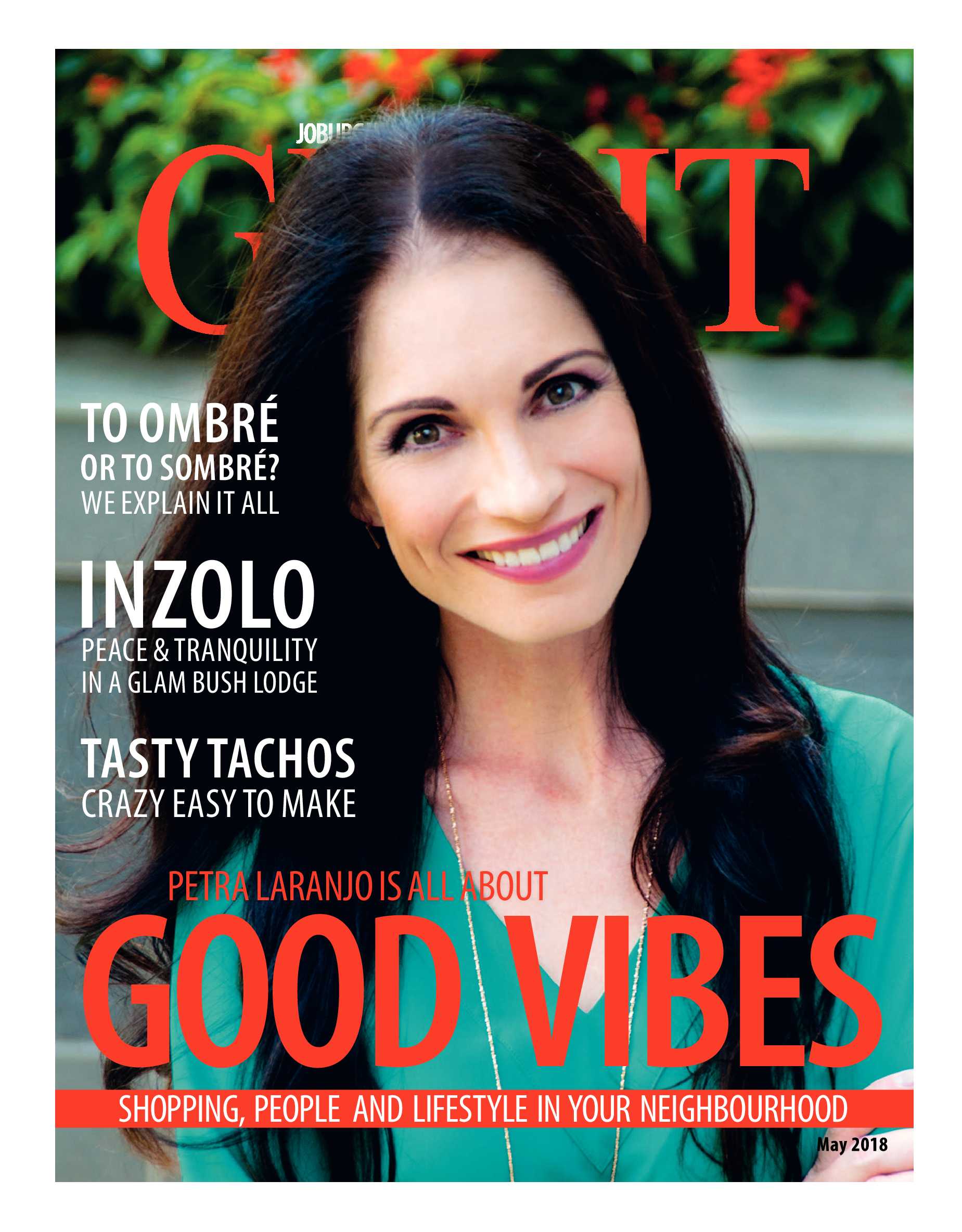 is a national brand of premium free magazines available in centres across the country.
to see other Get It magazines in the network.