Flawless fairy godmothers
A mere year after joining forces to take the make up industry by storm, these blonde beauties simply cannot keep up with the demand to create make up magic! They've also just opened their already successful make up store in Krugersdorp. We get to know the duo better …
Antoinette de Beer:
People close to me describe me as … loyal, caring and very committed. I'm a bit of a control freak and I wear my heart on my sleeve. I often trust people too easily, which isn't always a good thing.
I'm married and a mom of one … My husband's name is Willem. We got married in September 2008. We'll be celebrating our ninth wedding anniversary this year. Willem is the manager of his family's business, De Beer's Tyres and Mag Repairs. We are blessed with a beautiful little girl named Tinique, who started Grade 1 this year.
I grew up … in Randfontein. Elaine and I attended Laerskool Rapportryer. I later went to Hoërskool Jan Viljoen, where I matriculated in 2002. My mom is Yvonne Alberts and my father, Nick Alberts. I also have a brother by the name of Andrie Alberts.
Being a mom and wife … My secret is prioritising! I make sure to make time for our loved ones. I am the type of mom who wants to be there for my daughter in every aspect possible. Luckily I have a wonderful support system as Willem is a very hands-on dad, who helps out a lot and loves spending time with Tinique. Tinique is also blessed with grandparents and a very loving uncle who are more than willing to help out when mommy has to work.
The most clients I've had in one day was … 16 faces made up for a corporate photo-shoot.
Make up should always be … used to enhance and emphasise your best physical assets. By wearing make up you show off the beauty that's already there by drawing attention to all the right places. It's also a reflection of your personality.
The biggest challenge of this industry in my opinion is … not comparing yourself or your work to others. Do what you do best, give your best, work hard and believe in yourself. Respect and appreciate other artists' work and their love of the industry. The sun can shine on us all.
My 13 years of experience in the industry have taught me … that if you do what you are truly passionate about, you will never work a day in your life. There's nothing more rewarding than improving people's self-confidence by making them look and feel beautiful.
My passion for the beauty industry started … in high school. When I was introduced to the beautiful world of make up, I instantly fell in love with it. I started by doing make up and hair for my friends when they had special functions and trying different styles and looks on myself.
E & A Academy has taken a huge leap in opening a store.
The deciding factor for opening our store was … MUD South Africa ask us to be part of their team and to open a MUD Makeup Designory outlet on the West Rand. Because of numerous requests and the great demand, we are also starting short make up courses. Anyone who would like to learn more about the art of make up and the application thereof is welcome to contact us for more information.
When it comes to applying make up, the approach I always fall back on is … stick to the basics. You can always add on or apply more, go darker, add liner, add shimmer and lashes, go from day to night or glamour make up. As long as your basic application with a good-quality product is done, the rest will just finish and round off the look.
If I could work with any South African celeb it would have to be … the former Miss South Africa, Melinda Bam. She has such natural beauty and glow. To me she's the perfect example of true femininity.
Elaine's best trait in my opinion is … her love and respect for others. She is a true people's person and her colourful and cheerful personality is a true reflection thereof.
She has a habit of … drinking coffee when she gets hungry. She LOVES a good cup of coffee.
The most eccentric request I have ever handled when it comes to my work was … Luckily I haven't had any weird make up requests. I did however have to cover up a groom's rugby injury. The day before the wedding, he got a grass burn and shiner on one eye, which I had to cover up before he could walk down the aisle.
Some memorable work I've done includes … Before doing make up full time, I worked for the ATKV for seven years. As an assistant organiser I worked on a lot of different projects, and I had the honour of doing some of the celebs' make up or touch-ups, for instance Ruda Landman and Laurika Rauch.
I've had some funny/ 'oops' incidents at work, like … while doing my make up course, we each had to get models to do make up applications on. As I went to apply the false lashes, the nozzle of my tube of glue got blocked. When I squeezed the tube, it suddenly popped and the glue shot into the hair of one of the other models. I felt so bad.
I unwind by … shopping! I am a real girly girl. I also spend time with friends and family, whether we go out for a movie, dining out or just having a cup of coffee. Quality time is very important to me.
I think the worst make up trend that has ever existed was … doing the dark lip-liner with a light or natural lipstick.
My personal favourite make up product is … MUD's Spark cheek illuminator! It gives me an instant, healthy glow.
If I hadn't become a make up artist, I'd probably be … a fashion designer. I've always loved to design my own dresses. I designed my own wedding and matric farewell dresses.
I will never spend money on … cigarettes.
My favourite coffee shop on the West Rand is … Cafe Finetsa in Clearwater Mall. I just love their Cajun chicken salad.
People always ask me … how long it takes to do my own make up. And they are often quite surprised when I say about 15 minutes. But when you get to know your own face and know what goes where, applying your own make up doesn't take up much of your time.
A reality show I'd definitely write in for would be … Fear Factor, as I like to push my own limits and see what my full potential is. I like new adventurous challenges.
Elaine Boshoff:
I'd describe myself as … the crazy person in our group of friend. I am definitely not shy and have been described as a busy-body and a go-getter.
The one thing I cannot go a day without is … my morning coffee! Knowing me well, Antoinette always surprises me with a takeaway coffee. I also cannot go without my phone – my admin would be a disaster!
I grew up in … Randfontein. In my high school years I went to live with my dad in Standerton, Mpumalanga. In 2000, I decided to move back to Randfontein, where I attended Riebeeckrand High School. This is where many things in my life changed for me. In Grade 10 I was crowned as first Princess in the Miss Riebeeckrand pageant. At the end of Grade 11, the school voted me in as President and Vice Head Girl. I also became Miss Riebeeckrand in my matric year. It all did wonders for my self-confidence.
My husband and little boy … are my life! I met Sarel in high school. We've been married for nine years, but were together before then for eight – making our total 17 years! He's currently studying Quantity Surveying and works in the construction industry. My son, Rivan, turns four this year and is generally just a very loved and happy child who is obsessed with dinosaurs.
Balancing life and our busy hours is … challenging – but very rewarding! During the week we do trials for brides, cover shoots for magazines and special-occasion make up. Sarel helps me with Rivan a lot during weekends when we do most of our weddings. Every Tuesday is 'ouma dag', when we make time to visit my 82-year-old grandmother. She's my absolute role model and she's the one who taught me to be a strong, independent woman.
My dress style is … mostly along the lines of casual denims and loose-fitting tops. I love nudes, golds and beige.
If I'm not working during weekends, you'll find me … attending play dates, having family braais or spending time out of town with friends in Harties or Parys.
If I were an animal I'd probably be a … butterfly. I'm a colourful personality, free-spirited and busy!
The first thing I do when I get home is … open up all the sliding doors and let our English bulldog, Romeo and our Maltese poodle, Roxy come into the house to spend time with us. I take off my shoes and start cooking. I love cooking, especially boerekos, chicken pie and salads.
We first established EA Academy in … 2016. Antoinette and I had been working together in the industry for many years. Only being able to do one bride a day, we referred work to one another on a regular basis. At the beginning of last year I had the brainwave of merging. We got all the business admin in order and before we knew it, our name was out there and spreading like wildfire! We've been a great team since day one!
Antoinette's best trait is … her friendly, warm heart. She is a perfectionist in her work as well as in herself. She works excellently under pressure.
She has a habit of … pushing through no matter what! She also stops breathing when she's sick. I trust her with all my heart – in business and as a friend.
Antoinette and I have a good working relationship because … we both know this hard industry and understand that brides are not easy clients. We are people-pleasers by nature and love what we do. We never get jealous of each other's talents – we embrace them and make our individual strengths work to the advantage of the business.
The highest number of clients I've done make up and hair for in one day is … about 20. It was for a fashion show for SATETA. I cannot remember the exact number, but it was all different faces and themes – white, Asian, and African. The biggest challenge of this industry in my opinion is … working with so many different ladies and faces. I focus on bringing out every client's best features.
My 13 years of experience in the industry has taught me … to never sit back and relax! Always stay relevant in the market!
If I could work with any international celeb it has to be … There are so many! I would love to work with Heidi Klum as well as all the Victoria's Secret Models and Tyra Banks.
The EA Academy store … Is situated across from Key West Shopping Centre. We stock and distribute a large variety of MUD products. We will also be supplying to all the salons and spas on the West Rand.
We are open to the public, as well as make up and hair artists, beauty schools, salons and spas. We also offer other services like make up, microblading, eyelash extensions, airbrush make up, eyebrow shaping and tinting, and corporate workshops.
My favourite shops on the West Rand are … The Body Shop, the Gadget Shop and Clearwater Mall in general.
Make up tip for brides: Treat your eyes one week before the wedding, drink lots of water, and use a nice lip petroleum gel for softer, fuller lips on your wedding day.
Antoinette in 3…
The biggest make up no-no according to me is … going to sleep with your make-up on.
In my opinion, every woman should own … a good foundation, a brow-shaping and filling kit, mascara and lip gloss.
My biggest make up application secret suited for all woman is … to apply your foundation with a latex sponge or foundation brush; don't use your fingers as most of the product stays behind on your hand.
Elaine in 3…
I'd say the biggest make up no-no is … overdoing eyeliner. Also overdrawing lips or making fake beauty spots.
My personal three make up must-haves include … Definitely MUD No 1 mascara, nude lip glaze and a No 210 2-in-1 angle brush.
The biggest make up tip I can share with women of all ages is … to use a face primer before you apply foundation. It's the best for fine lines and big pores, and it makes your skin flawless and soft.
Text: Chemélle Barnard. Make-up & hair: EA Makeup and Hairstylists. Photographer: Cezanne Morley, info@photographybycezanne.co.za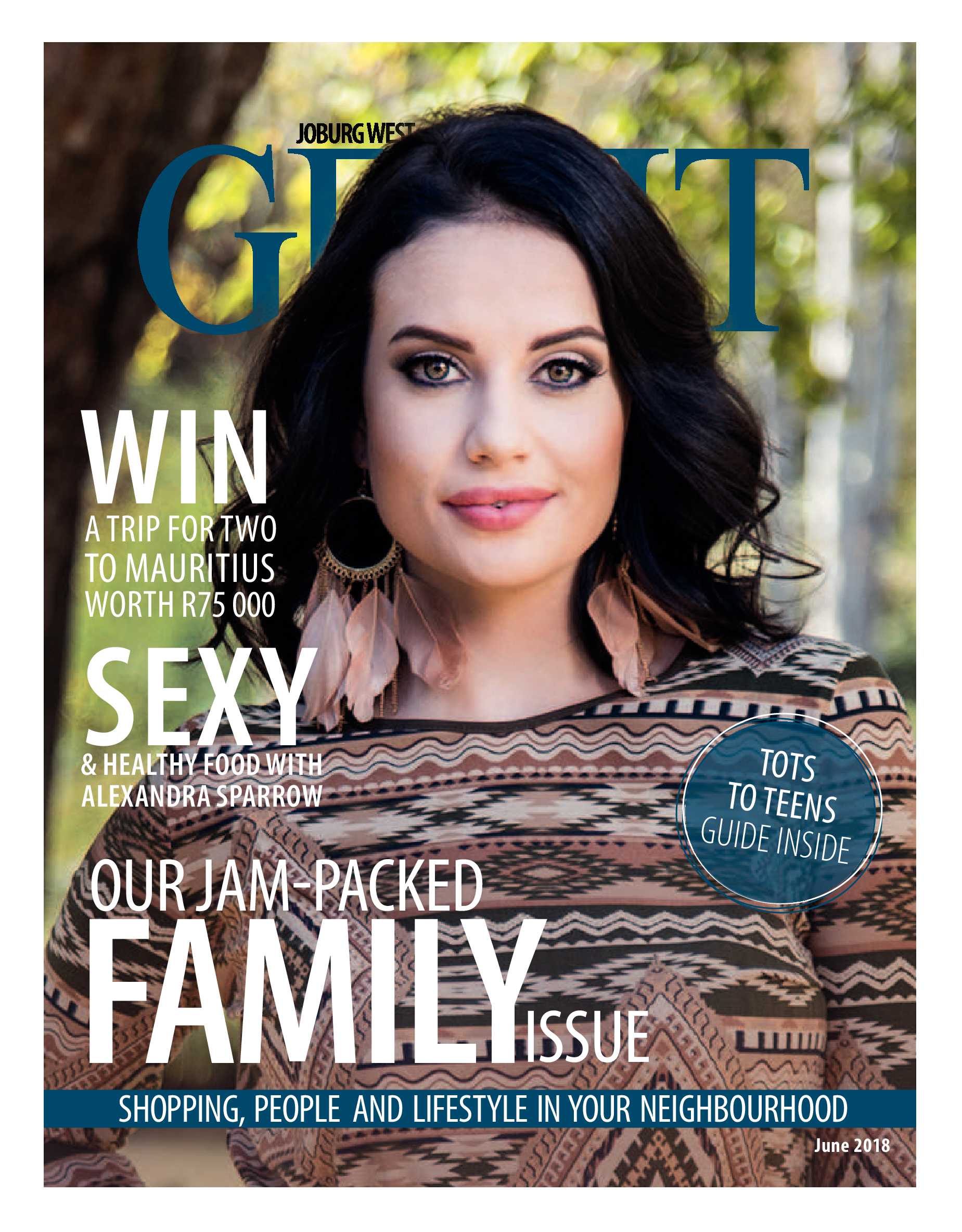 Bags for Africa!
We've got a stunning clutch bag to give away …
The warmest, most luxurious blankets imaginable
Our Spoil this month is a R1 500 Volpes voucher … which you can use instore or online.
Do you suffer from lunch box inspiration fatigue?
Win one of four Yum Yum hampers consisting of Bluetooth earphones, a fruit salad shaker, gym bag, gym towel and Yum Yum products.
A pressie for the old man
Fancy winning him a duo of The Old Man's Blend wine hamper?
Introducing your favourite new biscuit treat – Ouma Lemon Cream Rusks!
Win one of four Ouma Rusks hampers consisting of yummy Three seed Rusks, Buttermilk Rusks, Lemon cream, Muesli Rusks, Plain Rusks, Oat, Raisin & Apple flavoured Rusks and Bran Rusks …
In need of a really special treat?
Win a trip for two to Mauritius worth R75 000!
A fairy tale for modern times
Being massive fans of everything royal (especially the recent wedding between Meghan Markle and Prince Harry) we absolutely cannot wait for the release of this 124-page royal bookazine, The Royal Wedding: A People Magazine Exclusive Collector's Souvenir (R100).
is a national brand of premium free magazines available in centres across the country.
to see other Get It magazines in the network.