Garden prep
March in the garden:
Planning for autumn planting
• Fill your boot with compost, compost and more compost! Apply to each and every planting bed as nutritious mulch.
• Prepare the soil by digging it over to the depth of a large spade, while working in copious amounts of compost and include bonemeal (except if you have dogs) to promote strong root growth.
• This month we're planting Lobelia – there are very few flowers that can match the true blue of Lobelia, that comes in light to dark blue, as well as white and dark pink. These grow anywhere in full sun or semi-shade and like loose, gritty soil. When nothing else seems to grow, punnets of seedlings can still be planted out, provided the area does not receive heavy frost. There are also trailing Lobelias, which have a more cascading habit and are suitable for hanging baskets, window boxes and for softening edges of raised beds.
• Start harvesting and preserving herbs for winter, harvesting small quantities at a time. Chop mint, parsley, basil and lemon balm, place in an ice tray, fill with water and freeze. Aromatic herbs, like oregano, marjoram, thyme, sage, bay and rosemary, are better air-dried. Continue to feed herbs monthly with a half-strength liquid fertiliser and water regularly.
Heirloom veggies – spice up your food garden with different veggie varieties. Some of the exciting varieties on the market include strange-looking and fiery chillies, coloured cauliflower, striped beetroot, and different varieties of tomatoes and brinjals.
Garden tasks:
• Fill pots and beds with petunias – they love the drier winter weather.
• Water the lawn every three to four days and strengthen for winter by top-dressing with an organic boosted fertiliser. If you prefer an inorganic lawn fertiliser, use 3:2:1 at 45 grams per m².
• Fertilise container plants, hanging baskets and seedlings with liquid plant food.
• Prune all evergreen shrubs, trees and creepers immediately after they finish flowering. This allows buds to quickly set for the following season.
• Prepare your containers now for a stunning spring display! By the end of March, the nurseries will be filled with winter bulbs and seedlings, so remember to buy bulbs early, before supplies run out.
• When planting a new tree, ensure the support is suitable and correctly tied. The support should be at least two-thirds of the planting height and the tree secured to it twice. Leave enough space for the growth spurt in spring so that the tie does not cut into the bark and create a weak spot.
• Remember to follow good water practices – for example, reduce watering as the weather cools.
How to:
Here are some eco-friendly tips to help get rid of pesky garden pests:
• Keep hungry insects away from vegetables by shredding aluminium foil into strips and mixing them with the garden mulch. The foil will reflect light back up onto the plants. Try mixing old tinsel from your Christmas tree into the mulch. It will serve the same purpose as shredding aluminium foil.
• Planting companion plants in your garden will deter insect pests. Aromatic plants such as basil, tansy, marigolds and sage will send a signal to bugs to go elsewhere. Try planting some near your prized vegetables. Mint, dill, thyme and sage are great near cabbage-family plants. Best of all, the savoury herbs are edible.
• Get slugs and snails out of your garden. Take a container of salt and douse the offenders. They won't last long. Since they are mostly water, salt acts as a drying agent.
• Do you have moles popping up in or near your garden? Try putting used cat litter down the hole. They will leave to find a home somewhere else.
• If there are neighbourhood cats that think your garden is their private cat box, foil them by putting orange peels and coffee grounds around your plants. They're also great fertilisers.
• Keep four-legged pests out of your garden by soaking several rags in white vinegar and place on stakes around your vegetables. Re-soak the rags every 7-10 days.
A 'killer' recipe: A very weak solution of any sort of household vinegar will deter many leaf-chewing beetles and caterpillars. Firstly, just put a dash, about 5ml into a spray bottle with about 1 litre water and lightly spritz all over leaves and stem of target plants. DON'T make it any stronger or you may harm the poor plant. Remember full strength vinegar is a popular weed killer. Secondly, only do this spraying in the evening or on dull days, because the sunshine on vinegar can burn plants.
Balcony gardening
Balcony gardening combines the best of both worlds! The vivid colours of shade-loving outdoor plants add brilliant bright colour to patios, balconies and atriums. Apartments, townhouses and smaller homes may often not include a traditional garden – but almost all homes have a sunny windowsill, balcony or alcove.
• If you are new to balcony gardening, it's a good idea to start small. Observe the light conditions you have to work with – most balconies have either morning or afternoon sun but there are often areas that have full sun or full shade. Choose plants accordingly.
• The 'polka dot plant' is a versatile, small balcony plant well suited to ½ sun positions. Polka dot plants are colourful, delicate indoor plants, grown for their decorative foliage.
• Polka dot plants thrive in bright light conditions. More direct sunlight will produce brighter coloured foliage and if the light is too low, the leaves become mostly green and start stretching. One of the many benefits of balcony (and container) plants is that you can move the container around to find the best position. The more sun, the more water is required. Polka dot plants have thin leaves and it's important not to let the plant dry out as the leaves will wilt and ultimately the leaf tips will curl.
• Keep the soil moist at all times and be particularly attentive when on sunny windowsills. Reduce watering during the winter months and fertilise monthly with a liquid fertiliser to promote and enhance continued growth.
• When growing conditions are favourable, small purple flowers will be produced on the upper leaves. It would be wise to pinch off these flowers to encourage foliar growth; regular pruning of over-shoot growth will also help keep the plant compact and full, and will bring out the colouration on the leaves.
Details: www.lifeisagarden.co.za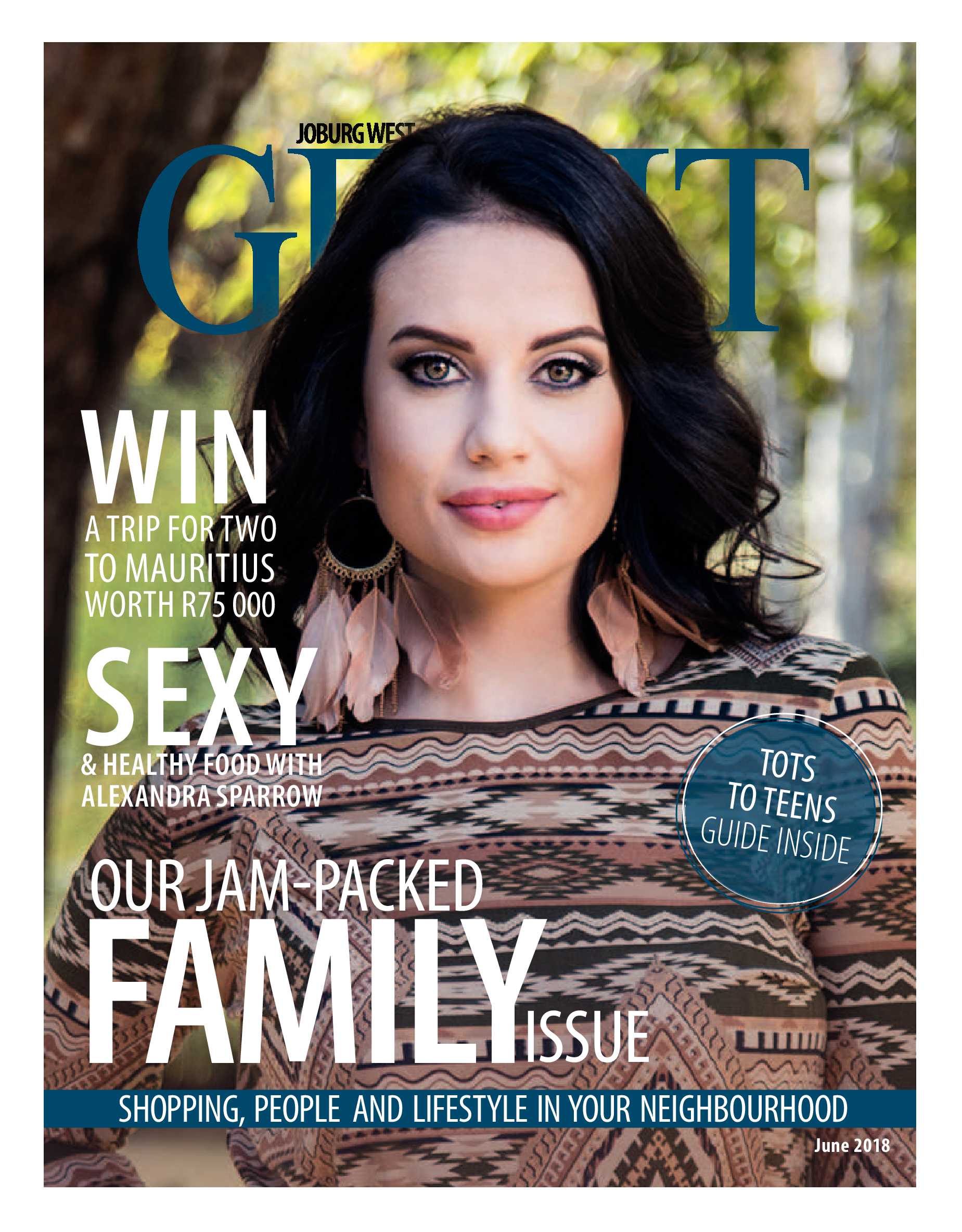 Do you suffer from lunch box inspiration fatigue?
Win one of four Yum Yum hampers consisting of Bluetooth earphones, a fruit salad shaker, gym bag, gym towel and Yum Yum products.
A pressie for the old man
Fancy winning him a duo of The Old Man's Blend wine hamper?
Introducing your favourite new biscuit treat – Ouma Lemon Cream Rusks!
Win one of four Ouma Rusks hampers consisting of yummy Three seed Rusks, Buttermilk Rusks, Lemon cream, Muesli Rusks, Plain Rusks, Oat, Raisin & Apple flavoured Rusks and Bran Rusks …
In need of a really special treat?
Win a trip for two to Mauritius worth R75 000!
Fat Bastard. No. Not dad. Obviously. The wine.
We've got an extra special hamper to give away … and like love, it's one you just can't buy. A luxurious box with Fat Bastard Golden Reserve 2017, along with Dark Chocolate Coated Almonds.
A fairy tale for modern times
Being massive fans of everything royal (especially the recent wedding between Meghan Markle and Prince Harry) we absolutely cannot wait for the release of this 124-page royal bookazine, The Royal Wedding: A People Magazine Exclusive Collector's Souvenir (R100).
Stand a chance to win a Pedigree hamper for your pup
PEDIGREE® will be giving 3 lucky readers each a chance to win a PEDIGREE® puppy pack hamper with all the essentials your little one needs to start off on the right track.
is a national brand of premium free magazines available in centres across the country.
to see other Get It magazines in the network.