Against all odds
Lizelle always, ever so glamorously, makes an appearance at various social events around Joburg. She's the Mrs Commonwealth SA first princess 2017, and we first met her at an event she hosted to raise funds for cancer last year. Since then we've often spotted her at women's high teas and fashion shows, always beautifully dressed in stylish, feminine outfits that perfectly complement her gorgeous petite figure and sparkling eyes. But it's not her exterior beauty that makes you take note, it's more her genuine smile and warm heart.
What many may not know is that behind her smile Lizelle constantly faces chronic pain and health challenges … She was diagnosed with Lupus and Sjögren's syndrome over 14 years ago. Despite this, her courage and willpower can only be described as (for the lack of a better word) inspiring! 'I've always had a tendency to see life's obstacles as challenges rather than threats. I'm extremely passionate about life and living with a purpose.'
Being inspired by her is easy, but what inspires her? … 'Well, many people, and many things. My sister was my biggest inspiration. At the young age of five she was diagnosed with cancer, yet she never once gave up hope or lost faith, she always stayed positive. She passed away two weeks before her 10th birthday. I'm also inspired by my parents, and their love for one another, and for my brother and me. Also the people from Orient Hills. They have so little in life but are always thankful for everything and have such incredible faith in God.'
Lizelle has been involved with the Orient Hills community for the past seven years. In the beginning she only worked with the children attending the day care. 'I asked one of the teachers to take me into the informal settlement one day and my experience was an emotional and eye-opening one. It was very hard seeing families living in such horrible circumstances.' Lizelle continues to supply them with food, clothes, toys and anything else she can. 'It was also the reason I decided to enter the Mrs Commonwealth competition. Being involved with this community fired my passion for uplifting and giving back, and the pageant gave me a wonderful platform to achieve this.'
She's been married to her fitness fanatic hubby, Jaco, for 15 years. He's the owner of a management consultation and software development company. 'I've secretly been in love with my husband since school, but we only started dating after. We also have a beautiful son, 10-year-old Gerhard, who is my little miracle. Gerhard has a form of autism called Asperger syndrome and ADHD, but he's my heart outside of my body. He's doing very well at school and makes me proud every day. His knowledge of all things scientific always amazes me.'
As mentioned, her journey with Lupus and Sjögren's began in 2003. 'To be honest, it wasn't easy to hear. I felt really scared about the diagnosis of an incurable and life-threatening disease. Even in the early days just after the diagnosis, the illness was taking an undeniable toll on my mind and body. I had to learn to live with some of the chronic symptoms like pain and fatigue. It was very hard to keep up with the normal pace of work and life. It is very hard to explain to others what you are going through mentally, emotionally and physically. People are not always understanding and are so quick to judge, which resulted in me initially isolating myself socially.
'I have an everyday battle with my Lupus, arthritis and Sjögrens, but I always try to look my best and put on a smile.
'I became pregnant in 2006. Most of my pregnancy was an ongoing battle with threatening miscarriages and constantly fighting infections, inflammation and pain, instead of being the usual happy and exciting event. At 27 weeks I went into labour and my baby boy was born very prematurely. He spent almost three months in PICU. I am very grateful that God spared Gerhard for us, but it was a tough time.'
In 2009, Lizelle almost lost her life due to her illnesses.
'After trying all the medicine imaginable to cure the ulcers in my rectum and large intestine, my doctor told me I had to have all the ulcers removed along with most of my large intestine. I would also wake up after the anaesthetic with a colostomy bag. I was only 29 at the time and my son was only three, so I had a hard time accepting that. After the operation I developed sepsis and an abscess, and really struggled to fight back. There was a time when I honestly just felt I should let go. I spent three months in ICU and High Care.
Thankfully though, after a few months the colostomy could be reversed. In 2012 I caught an infection as a result of my weak immune system. It inflamed the nerves connecting my inner ear and brain. It took me months to recover. A year later, while at gym, I suddenly experienced weakness and pain in my chest. After a week in hospital, they realised I had a blood clot that had gone through my heart and got stuck in my right lung. I ended up having emergency surgery and a piece of my lung removed.
It's very hard seeing and feeling my body weaken as time goes by. I have now also developed peripheral neuropathy. That's the thing about this illness, it's very unpredictable. I can go from feeling good, to lying in ICU fighting for my life, in one day. Adjusting my lifestyle to ensure I diligently take my chronic medication and monthly poligram infusions is critical to sustaining my health and trying to avoid medical emergencies. It involves routines, discipline and focus that I will need to keep up with for the rest of my life. But I refuse to lose hope or become negative. I live my life with no regrets.'
Due to yet another serious health scare years ago, Lizelle was unable to complete her studies towards a degree in Forensic Anthropology and Criminology, but she hopes to complete this later this year. 'Once I finish my degree I would love to work in the field – analysing bodies and gathering evidence. I don't think I'm cut out for the lab-work side of things.'
Lizelle said as a child growing up on a farm in Vredendal in Namaqualand, she would often find old sheep bones in the ground and make up stories in her head of who the bones belonged to and how they died. 'I also took great interest in seeing how dead animals decomposed. I've always found death fascinating. That being said, I really cannot (and will not) kill anything – not even flies. If I see a helpless bug or spider I will pick it up and put it outside. I have an immense love for all living things.
'It's always been very important for me to live a purpose-filled life. I don't do it for recognition or praise, I simply do it for me. Life is such a gift and I wish people would realise that it is extremely short. We should all stop sweating the small stuff and appreciate our blessings.'
Lizelle in short:
I am currently busy … creating my own jewellery line. I began making jewellery as a hobby about a year and a half ago.
When I get home I … take off my shoes, get into comfy clothes and pour a glass of champagne.
If I had to take part in a reality show … it would be 'The Real Housewives of Joburg'. I'd show women what life is truly about and that it's not all branded handbags, Botox and coffee dates.
My greatest childhood memory is … the day I got my first horse as a gift from my dad. I love horses!
To stay fit I … enjoy spinning classes.
I enjoy watching … CSI (specifically CSI Las Vegas). My favourite character was Gil Grissom (William Peterson). I was so sad when he left the show.
My favourite movie of all time is … Sixth Sense – I love films with a twist.
My fave dish is … my mom's tomato stew.
I'd trade … luxury for adventure any day!
Text: Chemélle Barnard. Make-up & hair: EA Makeup and Hairstylists, Elaine Boshoff, elaine@mudsa.co.za. Photographer: Cezanne Morley, info@photographybycezanne.co.za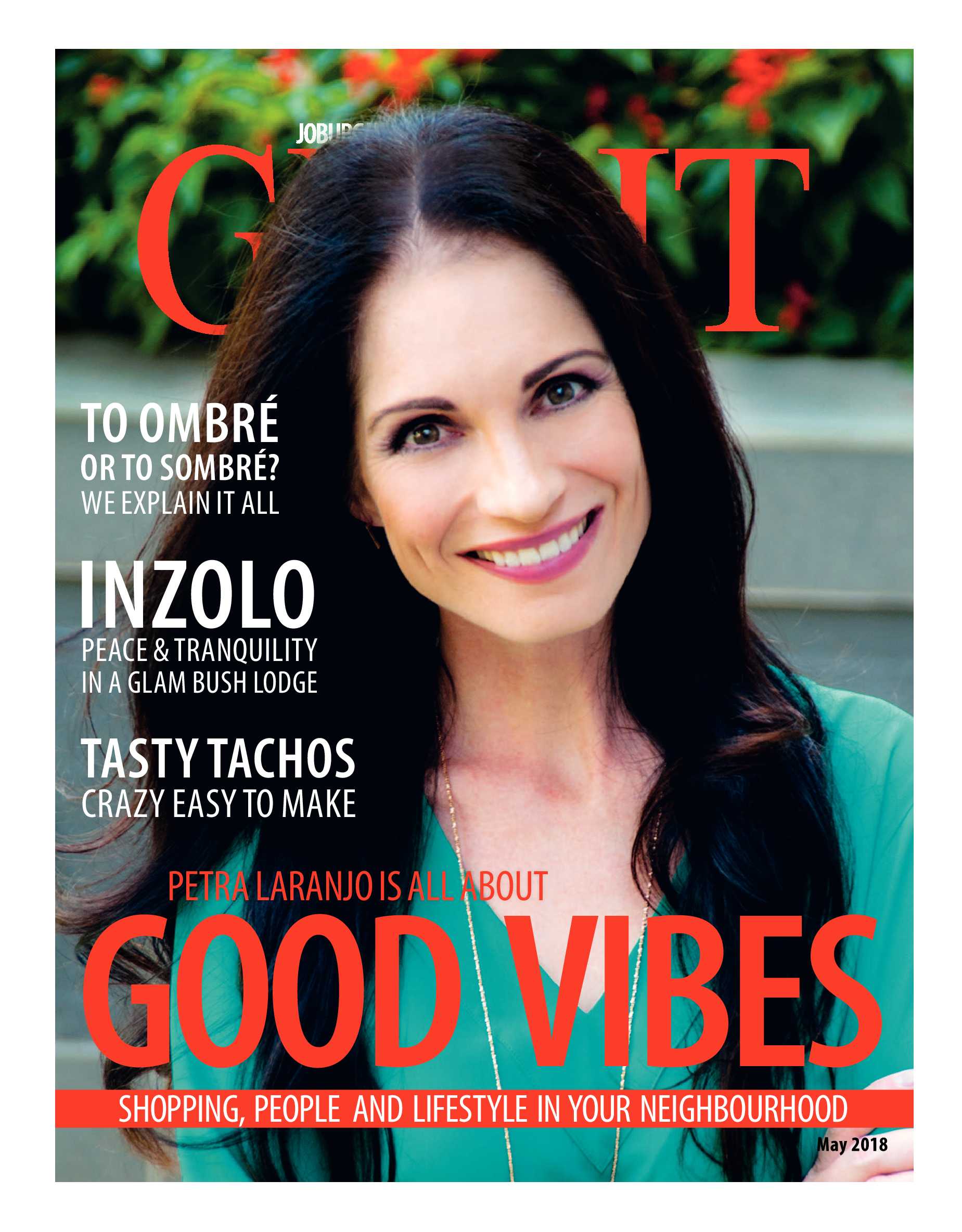 is a national brand of premium free magazines available in centres across the country.
to see other Get It magazines in the network.