Treasure hunters!
Television series Skatjagter is the first of its kind to hit South Africa's screens. It's the perfect mix of reality and exciting home up-cycling projects. Antique enthusiasts, Joe and his mother, Dorothy, go on a road-trip to find buried treasures, unwanted furniture, and items in need of some TLC. Their findings are brought back to the workshop, where viewers are given some practical advice on how to up-cycle and restore the different pieces. Of course they also meet some really wonderful and interesting people along the way …
'People are becoming less and less interested in mass-produced pieces shipped in from China. Unfortunately, not everyone can afford to buy at high-end retail stores. This made us decide to share our passion with the world,' said Joe. Catch Skatjagter on VIA from Monday, 6 March at 5.30pm, on channel 147 on DStv.
All about Joe …
My love of antiques is all my mom's fault. She took me to pawnshops, antique shops and yard sales from an early age. She taught me the value of preserving and up-cycling these items. It was only later in life, when I had to set up my own house, that I realised it's also a cost-effective way of getting beautiful things for the home.
My favourite collection is vintage cameras. I bought my first one from a collector in the Joburg CBD (and paid way too much for it – but I simply had to have it!). I'm also very passionate about vintage suitcases and travel trunks – I probably own over 100 in all shapes and sizes.
I also have a bicycle from the 1950s mounted on the wall in the living room. I got it as a present from a dealer in Pretoria in the first episode of Skatjagter.
I first began up-cycling when I started setting up my own home. It was a two-bedroom flat in Pretoria, where I studied. I didn't have much money, but I've always loved beautiful things. I visited many pawnshops in search of the next item to which I could give new life. Some of my favourite things to up-cycle are furniture pieces.
In a single word, my home is … eclectic. I love combining old and new. In the living room, I combined two leather couches with ball-and-claw chairs that used to be in my great-grandmother's house (with their original Dralon fabric). I've also grouped collections of items together, e.g. cameras in the living room, ceramic, wood and steel animal heads in the hallway, and crosses on the bathroom wall. If you don't group collections, your room can easily look messy. I also have a chandelier in every room including the bathroom and kitchen – some being up-cycles.
My mom and I share a special bond. I am grateful to my parents for my creativity. My dad is the analytical one, and mom is the free spirit. She has so many good traits, one definitely being humility, and she's one of the most creative people I know!
I have a habit of taking thousands of random pictures, especially when I travel. I once spent 30 minutes taking photographs of a lamppost in London. I also secretly take pictures of people, more specifically older people. (Check out Joe's Instagram @joe_in_jozi.)
Turning our passion into a reality show was very exciting. I've always loved watching make-over and home décor-related shows. I thought it was time to do a show with a local flavour. I wanted to make people aware of all they could do with their unwanted goods. Working in the entertainment industry also gave me a good idea of what we wanted to achieve (and put me in touch with the right people).
My full-time job is in public relations in the Communications Department at e.tv. I've been doing PR for the past 10 years, and I love it!
Working in front of the cameras came very naturally to me. I've worked in TV before, and regularly do workshops with people, so doing it in front of the cameras was easy. Like any show, we did have a few mishaps during filming, but we'd just redo the takes. The show is a true reflection of the fabulous relationship I have with my mom – sometimes we argue, but there is always love. I also own a vintage furniture and collectables store.
I learned all I know from the experts with whom I have contact. I decided to open the store after people began showing more and more interest in buying pieces I had up-cycled for my own house. Named Trouvé, the shop specialises in antiques as well as French and retro furniture and décor items. The shop is filled with things I love, and thankfully, other people can also relate. One of the oldest cameras I've sold was over 100 years old!
My absolute favourite décor/ DIY store is Trouvé. We have such a diverse offering – there genuinely is something for everyone. I also like going to the shops in Kramerville.
Is it true that up-cycling your antique furniture makes it lose value? Something is only worth what someone will pay for it. If they are willing to pay more for something once it's painted, the value goes up. Having said that, it is sometimes better to restore, rather than to up-cycle. My mom believes that original antiques (with the exception of ball-and-claw pieces) are worth more than when painted.
My schedule is very busy, but thankfully I'm a night owl. I quickly learned to find the balance between what I love and what pays the bills. Working during the evenings is something I enjoy, so I often use the evenings to finish a piece of furniture.
Joe's DIY must-have is … Annie Sloan Chalk Paint! It's easy to use, dries quickly and you can achieve a load of different finishes.
All about Dorothy:
Working with Joe has been non-stop fun and laughter! He is a very professional, constructed person so I really enjoy embarrassing him with my awkward sayings. We just have a really great relationship. He's my best friend – we are very similar. We hardly ever fight – except the usual tension between mother and son. I'll tell him 'I'm not bossy, I just have strong leadership skills'. He tries very hard not to get mad when I say that.
Starting the show took a lot of courage on my part. It was completely out of my comfort zone, but I quickly learned that life is too short to worry about what others say or think about you. I decided to just have fun and stay true to who I am. As time passed, I became more comfortable and enjoyed every moment of taking the leap.
My love of up-cycling began about 30 years ago. When my husband, Deon, and I got married we did't have money for fancy furniture or ornaments, so I began restoring old things we already had. The bug bit quickly and I'd often find myself hunting down inexpensive items at pawn shops and second-hand stores. Today people come to our house and think we're millionaires, when really, most of the things in my house are just DIY projects and special things given to me.
My house is quite unique. I chiselled away some of the plaster to reveal the bricks on the wall. I also used my own paint technique with scumble-glaze. Most of my furniture is original antiques combined with a French flair. I love natural light coming in so don't have any lace curtains – to me the outside of the house is just as important as the inside.
I love my antique headboard. I brought it in a township and restored it myself. I honestly believe a piece of my heart and soul goes into everything I make.
I started collecting antiques when I was 18 years old. I guess it was something in my nature, I collected antiques before I met Deon – he had to take me with all my antique suitcases, glasses, tins and furniture!
To Deon's irritation, I can spot a recycled item from a mile away. I often suddenly yell 'Stop!' when we drive in and around Joburg. Usually there will be an old chair or dresser standing on the side of the road. He has tried to ignore me but I will carry on complaining until he turns around.
Deon worked overseas for a few years, so the home maintenance fell on my shoulders. I was glad to have the practical experience with different tools and materials. Now I can fix anything from the roof to the toilet – I can even plaster. When Joe renovated his house, I was like the foreman.
Besides finding most of what I need in Deon's workshop, I LOVE going to Builders Warehouse – they have everything I need. I believe every DIY-loving woman like myself should have her very own toolbox!
I turned our house into a guesthouse. The house grew too big for us, so I decided to turn it into a self-catering guesthouse and then it became a wedding venue for the family. Country Grace has a strong French flair where we mostly cater for long-term guests.
Dorothy's DIY must-have is … a drill, jigsaw and good quality paint brushes.
Images: VIA and Joe Strydom.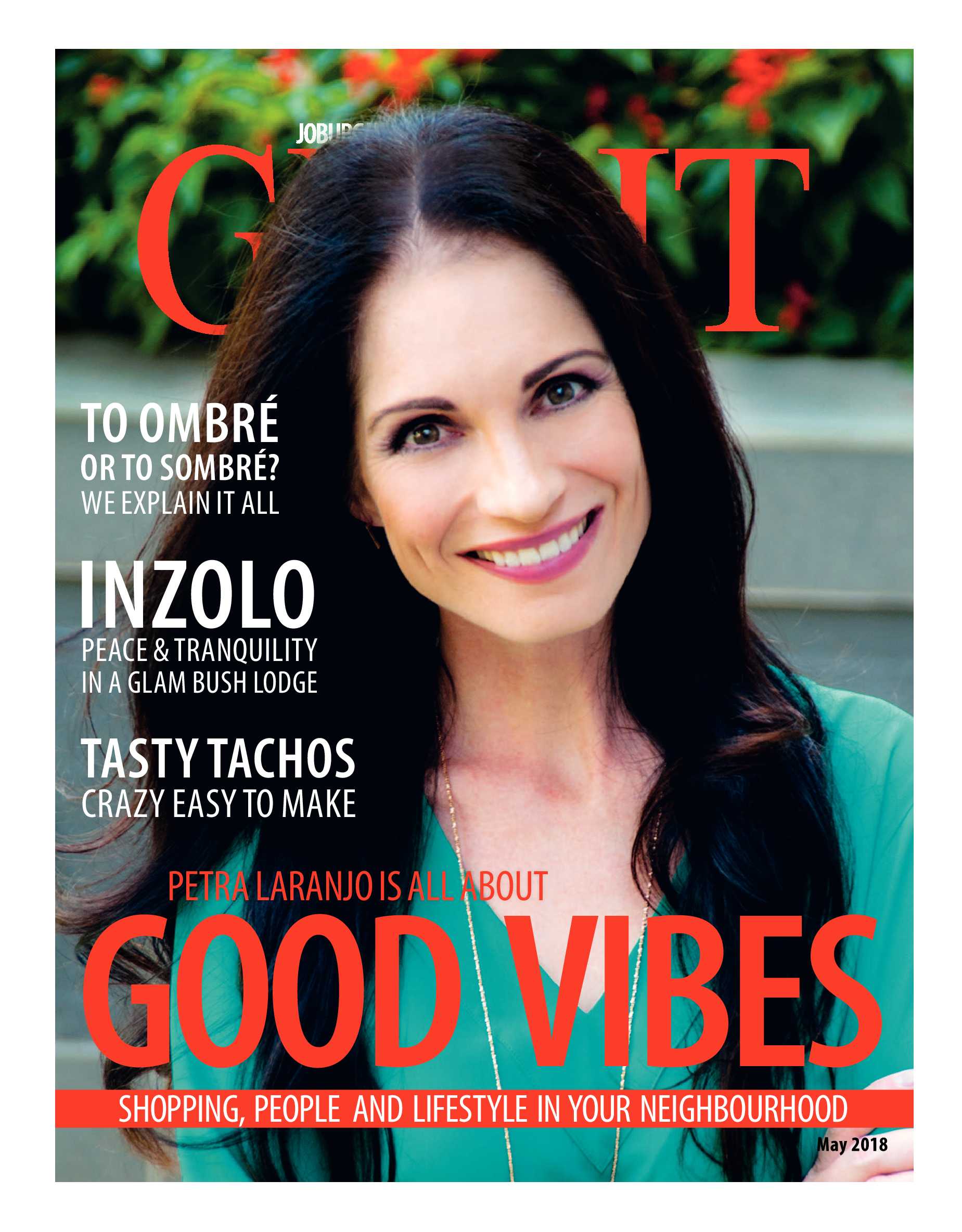 Utterly gorgeous Mugler Alien Flora Futura …
Win a bottle of Alien Flora Futura ..
As Good as Eating Out
Let's face it. Budgets are tight. And eating out has become somewhat of a treat. But we've found the perfect solution … restaurant food at home. As Good as Eating Out is Your Family's new cookbook and we've got a copy to give away to one reader!
is a national brand of premium free magazines available in centres across the country.
to see other Get It magazines in the network.