Eat well, do good!
We all aim at living healthier lives, and thanks to Antonia it's become a whole lot easier! Growing up a vegetarian, Antonia co-owns and founded the Leafy Greens Café situated on the same property as her parent's very successful eatery, Casalinga Ristorante Italiano. The dishes may be meat-free, organic and genuinely healthy, but make no mistake – they are delicious!
Leafy Greens Café was established in June 2010. At the beginning of 2010, I spent six months in the USA travelling with my grandparents. I did many courses on health foods and nutrition and visited some of the top clinics for natural healing and plant-based foods in the USA. I came back from America on 2 June and on 25 June, Leafy Greens was open.
I did my research and decided to open a vegetarian, super-healthy café and health shop after seeing a gap in the market. I was brought up as a vegetarian from the age of 12. I loved the fresh fruit and veg that we used to grow on our farm. My dad's side of the family are Italian, so we have a passion for our vegetable gardens and seasonal eating. I had the space and the help to open it – so I did just that!
Some of my favourite foods include eggplant. It's such a satisfying food. I use it to make lasagne, I marinate it raw, it's great on sandwiches as well as in stews. It's just so versatile. I'm a big salad lover. We make some really unique salads at Leafy Greens, such as avo, mango and tomato salad; chickpea, avo and sundried tomato; rocket and seaweed; the list goes on!
The five ingredients I cannot live without have to be avocados, tomatoes, a good quality extra virgin olive oil, flaked sea salt (loaded with 84 minerals for bone health), and sweet potatoes (they make me feel satisfied no matter what's on offer). And combined, these five ingredients also make up my favourite quick and easy dinner.
Don't tell anyone, but broccoli is not my favourite. However, I do make sure that I eat other green veggies like kale that have similar health benefits. I make sure that I eat at least 50 per cent of my veggies raw, because we really need the enzymes for our guts.
Our most popular dish at the moment is our French Onion Dip. It's creamy and oniony with tamari – wow, so divine on gluten-free bread! We also make beetroot sushi which is so colourful and tasty. And our 'vegan meatballs' are a must try, made from ordinary old cabbage – but truly delicious, served in a creamy, tomato-based sauce.
I really do believe that if you want your customers to feel the love and best energy from your establishment then you need to be actively involved and keep your 'fingers on the pulse'. For this reason, I am still actively involved at the café on a daily basis. After seven years, however, it's been a good lesson for me to start letting go a little bit and hand over certain responsibilities to my very capable managers. That way I can focus on new business opportunities, new product developments and my two big projects at the moment, filming a TV series and writing my second book.
I'm extremely excited to be working on a new television show called Antonia's Way. The show will be airing on the 1st of June on Channel 180 (the People's Weather Channel). It's basically a show based on all things health-related – seasonal foods, gardening tips, new recipes, hydration, and general well-being. The great thing is the show is very real! Of course, the episodes are planned ahead with certain topics but I sort of take it as it comes on air – which I love. I've actually been working with the team for about two years. I have a segment on one of their shows called In Seasons, but they asked me to do my own show so now we're working on the first season which should have 10 to 12 episodes.
My second recipe book is also on its way. My first recipe book is still selling really well (it's available on Amazon as an ebook and at Loot or Takealot as a hardcover). It's called Recipes from our Organic Garden. It's filled with easy-to-make recipes for every household. The second book I'm working on now will probably be titled Antonia's Way. In this book, I will be doing recipes again but I'm adding general well-being, gardening and health chapters. It should be released in September this year.
I think the biggest challenge of being an entrepreneur is, it never ends. It's a seven-days-a-week job. Mondays are our 'off' days; however, I'm normally dealing with admin and catching up on the not-so-urgent mails then. I also employ over 30 staff members and I find Human Resources to be an ongoing thing; loans, leave, funerals, increases, etc.
But the list of the most rewarding aspects of this business is endless! When you do what you love and are passionate about, you never really feel like you are going to work. I never dread my days and I don't have a grumpy boss to report to! I get to work where I grew up, in the most beautiful environment, surrounded by nature and have the best foods and fresh juices on tap.
Working with family comes easy to me. My parents, Peter and Jenny De Luca, have been in the food industry for over 45 years. They had a juice bar in Hyde Park in the late 70s, called The Big Squeeze. They did fresh juices and healthy food, and here I am doing the same thing. My dad and I work very closely together, he is very knowledgeable (obviously), but it can be challenging when you have different ideas and management styles at times. I also have a brother and an adopted brother. I honestly love my family more than anything.
I've done most of my nutritional courses through the Hippocrates Health Institute, but obtained most of my knowledge from books. My absolute favourite is Diet for a new America by John Robbins. I've also done many online courses and longer cooking classes in the USA under Matthew Kenney. When you are passionate about something, you eat, sleep and breathe it, and that's what has happened to me. I'm always listening to books on all things health and fitness related in the car on AUDIBLE (it's my favourite app). I also have a degree in marketing/entrepreneurship and an MBA in Finance.
I think one of the biggest misconceptions about following vegetarian/ vegan diets is that people believe it's very expensive. It really doesn't have to be. One of my best money saving tips is to visit your local green grocer and ask them for fruit and veggies that are a little overripe. They usually give this to you for free. I then wash them well, freeze them and use them in vegetable smoothies. Also, buy veggies that are in season and local; these tend to be more affordable too.
Our health shop is stocked with plenty of healthy options. I love that our customers at the café can enjoy foods from the buffet and then take them home with them too, as we stock all produce we cook with. Coconut butter, nut butters and snacks also sell very well. Of course our cold-pressed juices are also loved!
I lived on the farm at Leafy Greens my whole life, but I got married last year and my husband, Jake and I have just moved to Featherbrooke Estate. It backs onto the Botanical Garden and we enjoy it there so much! The bird hide, the mountain, waterfalls and black eagles. My husband is a bush guy, he loves nature and safaris – it's actually his business. His company, Safari Index, does safari bookings all around South Africa.
My ideal weekend would start with some form of exercise. In summer I love swimming in dams. I adore hiking and being in nature. Or playing tennis. I love reading and sleeping in the afternoon if I can, and also spending time with my husband and my family.
I think if I could invite one person for dinner it would have to be Jamie Oliver. He is a leader in the food industry – the Oprah of the industry. He is such a passionate foodie with high energy, love and positivity, and he really wants to change the world!
Healthy living is … the way of the future and the past. Our food is our medicine!
More about Antonia …
Your favourite movies of all time are … The Sound of Music and Dirty Dancing.
A reality show you'd definitely take part in … Survivor.
The one thing you cannot stand … rude people.
If I were an animal, I'd be a … leopard.
Besides my business and cooking skills, my other hidden talents are … photography and yoga.
When I wake up I … drink lots of water, take supplements, drink ginger and lemon tea, then work out.
I keep fit by … practicing yoga, tennis, running and cross-training. I also love doing the Kayla Itsines workouts.
My best kept beauty secret is … eating essential fatty acids for good skin.
On my bucket list … I want to go to see the Northern Lights, and visit some of the Scandinavian countries. I love to travel!
Antonia's favourite recipe:
Chocolate Caramel Tart
Base Ingredients:
1 C almonds, soaked for 1 hour in water
1 C cashews, soaked for 30 minutes in water
½ C cacao powder
¼ C flaxseeds, ground
¼ C liquie sweetener of your choice
¼ C maple syrup
pinch of salt
Base Method:
Process ingredients until fairly smooth.
Press into the bottom of a medium sized tart pan.
Set in freezer.
Filling Ingredients:
2 C cashews, soaked for 30 minutes in water
½ C liquid sweetener of your choice
½ C cacao powder
½ C water
½ C coconut oil, melted
pinch of salt
Filling Method:
Blend the ingredients until very smooth.
Pour into the base and freeze to set.
Lasts up to two weeks in the freezer.
Serves 16.
Text: Chemélle Barnard. Make-up & hair: EA Makeup and Hairstylists, Antoinette de Beer, antoinette.debeer02@gmail.com. Clothes: Tania Sutherland, www.taniasstudio.co.za.Photographer: Deon van Wyk, deonatpdp@gmail.com.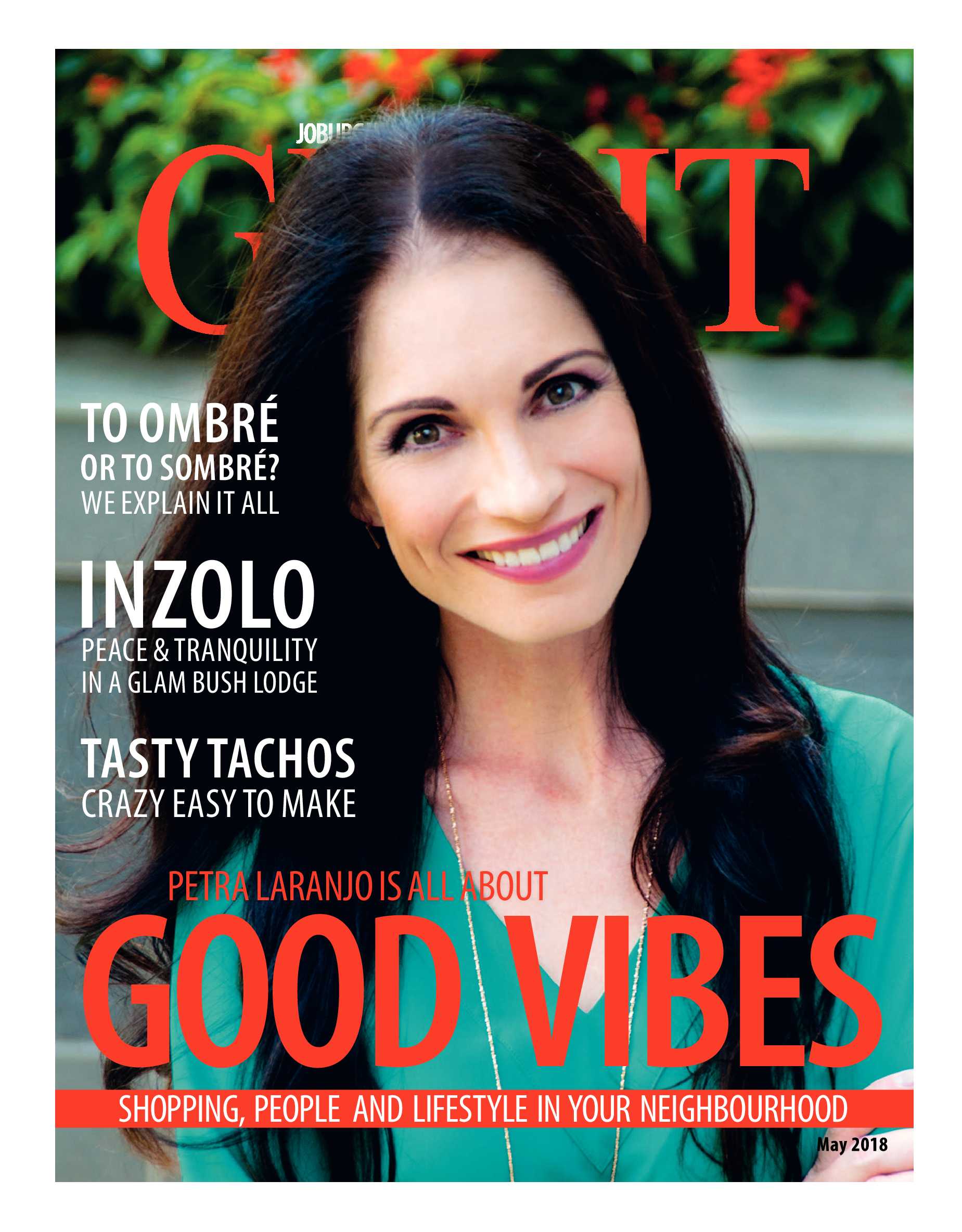 is a national brand of premium free magazines available in centres across the country.
to see other Get It magazines in the network.