Bra 101
Natie Spangenberg from Comfit cc (Incorporating Pandora Bra Studio West Rand) shares all we need to know about finding the perfect fit …
Let's be honest for a second; choosing a bra can prove to be a real mission. Thankfully, we have the secret! Bras and breasts are like shoes and feet. Yes, the shoe size must be right, but the shape of the shoe also has to fit the shape of the foot. A broad foot cannot be squeezed into a narrow shoe, even if it is the right size!
The same rule applies when buying a bra. Think about it, the shape of the bra cup must fit the shape of the breast. All bras have two sizes, the back size – (usually starting at 30" and going up to 50") as well as the cup size – (AA, A, B, C, D, E, F, G, and H. E is a European size – and DD is its American equivalent. A European F is an American DDD). If you're a really busty gal, you'll be glad to know that Comfit cc can accommodate back sizes up to 56" and cup sizes up to K.
So let's go bra shopping, shall we?
• When buying a bra, do the simple T-shirt test. Yes, as we all know, a tight-fitting T-shirt will show sagging breasts and bulges. Your T-shirt should be smooth in front as well as at the back, with no bulges showing.
• The bra should fit snugly around the body and the back strap should sit just below the shoulder blades.
• If the back size is too big, the bra will ride up between the shoulder blades – and what goes up at the back will come down in the front – and there is nothing that says old and tired like a sagging breast. To test if the back strap is tight enough put your hands up in the air as if you were catching a ball – if the bra lifts in front, it is too big around the back. If the back strap curls up, it is too tight.
• The shoulder straps should never cause indentations across your shoulders.
• Remember that the cup is for shaping only, support is given by the shoulder and back straps of the bra.
So should I go wired or not?
• A bra cup with a wire does not necessarily give you better support. Your breast will either hang over the wire or just spill out underneath. The wire in a bra cup pushes the breast inward and upward and is a good choice if your breasts are far apart, or if most of your breast tissue falls towards your arms.
But if you are big breasted and have a lot of breast tissue in the cleavage area, the wire will push your breast upward and make bulges, like bread dough that has risen too much. This will create that awful double-breasted look. In this case, a non-wired bra will possibly be more suitable.
• The best way to test whether the wire fits the shape of your breast is to sit down and lean forward, if the wire between your breasts moves away from your body and you can store your cell phone in that space, then the wired bra is not for you.
• The wire must sit snugly against the body, or your breast will push it down onto your ribcage, which can really hurt!
• Stand in front of a mirror, relax your shoulders and turn sideways. Your breast point (nipples) should be halfway between your shoulder and your elbow. If this is not the case then your bra is either the wrong size or style.
Your bra should put some space between your breasts and your stomach!
The three distinct control strengths of your bra:
Bras come in three distinct control strengths, namely light control, medium control and firm control.
Firm control:
These are for large, fully developed breasts. If you are a size E (DD), F (DDD), G, H, J or K cup, choose a firm control bra. Shoulder straps should be wide or non-stretchable. This will prevent the straps from cutting into the shoulders.
Medium control:
For a firmer breast, a medium control bra will be suitable. Big breasts are not always heavy and smaller breasts (A–C cups) are not always light. It is about the firmness and perkiness of the breast.
Light control: (often padded or foam-cupped bras)
Shallow or small-breasted women may prefer padded or foam-cupped bras. A padded bra has thick padding in the bottom part of the cup to push the breast upwards and makes the breast appear bigger, whereas a foam-cupped bra has pre-shaped or moulded cups, and is an excellent choice to hide nipples and wear under see-through clothing.
So besides the everyday bra – which bra works best for which occasion?
Any woman with good fashion sense should have a bra wardrobe, as specific clothing calls for specific lingerie. No matter what shape or size you are, wearing the correct style of bra should be an intrinsic part of your life.
The T-shirt bra. This is just another name for a seamless bra which is available in wired, soft cup, moulded and padded varieties. If you have heavy breasts it is better to avoid the soft T-shirt bra as it will take on the shape of the breast.
The sports bra. A seamless cup reduces chafing and eliminates outer-wear ride-up. A sports bra should support and not bind. It should be designed for ultimate moisture management for next-to-skin comfort. The bra should have cushioned, adjustable, no-bounce, non-slip straps, and a well-designed back for support and comfort.
The multi-way bra. These are speciality bras that are specially designed for certain styles of clothing. They normally have detachable straps and can be worn strapless or as a halter neck or a criss-cross for open summer wear.
Sleep bras or leisure bras. These are bras to wear at night or perhaps when you will be sleeping in at hospital and you don't want the girls to just 'hang around'. They also come in handy when you are travelling long distances, either by air or road, being designed for super comfort.
A minimiser bra. Designed to make a big, full breast appear smaller. These come with wires and with soft cups.
So in a nutshell:
1. Your bra should be comfortable 24 hours a day. If not, you are most likely wearing the wrong size or style.
2. If your bra rides up at the back, it is too big around the body.
3. If excess breast tissue is popping out of your bra cup, consider a bigger cup or a different style.
4. If your breasts are spilling out under your arms, the bra style might not be suitable.
5. Underwire bras should not cut into any flesh. If you see red marks when you take your bra off, it means you have the wrong style or size.
6. Shoulder straps should fit firmly on your shoulders without slipping off or leaving welts.
7. Any bra that sits on breast tissue is the wrong size or style.
8. In most cases, having a wider back strap is best, as it offers the most support.
9. A well-fitting bra will allow you to take the shoulder straps off your shoulders and still be supported.
10. If you find it difficult to find a bra that is comfortable and beautiful, it might be because you do not really know your bra size or breast shape.
Make an appointment with a trained corsetière (bra fitter) to help you find your perfect fit! Details: Comfit cc on 011 660 4514.
Trend alert!
Sorry, mom. We're about to break one of your cardinal fashion rules – we're exposing our bra … Yes, after years of wearing T-shirt bras that all but disappear under tops, this season is all about the bralette – and we're all about showing it off. The bralette is a lightweight feminine take on the bra that combines the comfortable underpinnings of a sports bra with the more embellished elements of a fashion bra (basically a smaller crop top). Bralettes are being worn alone without a 'cover'. Even more surprisingly they are actually being worn over clothes!
Click here for 10 style tips on how to wear bralettes in the winter.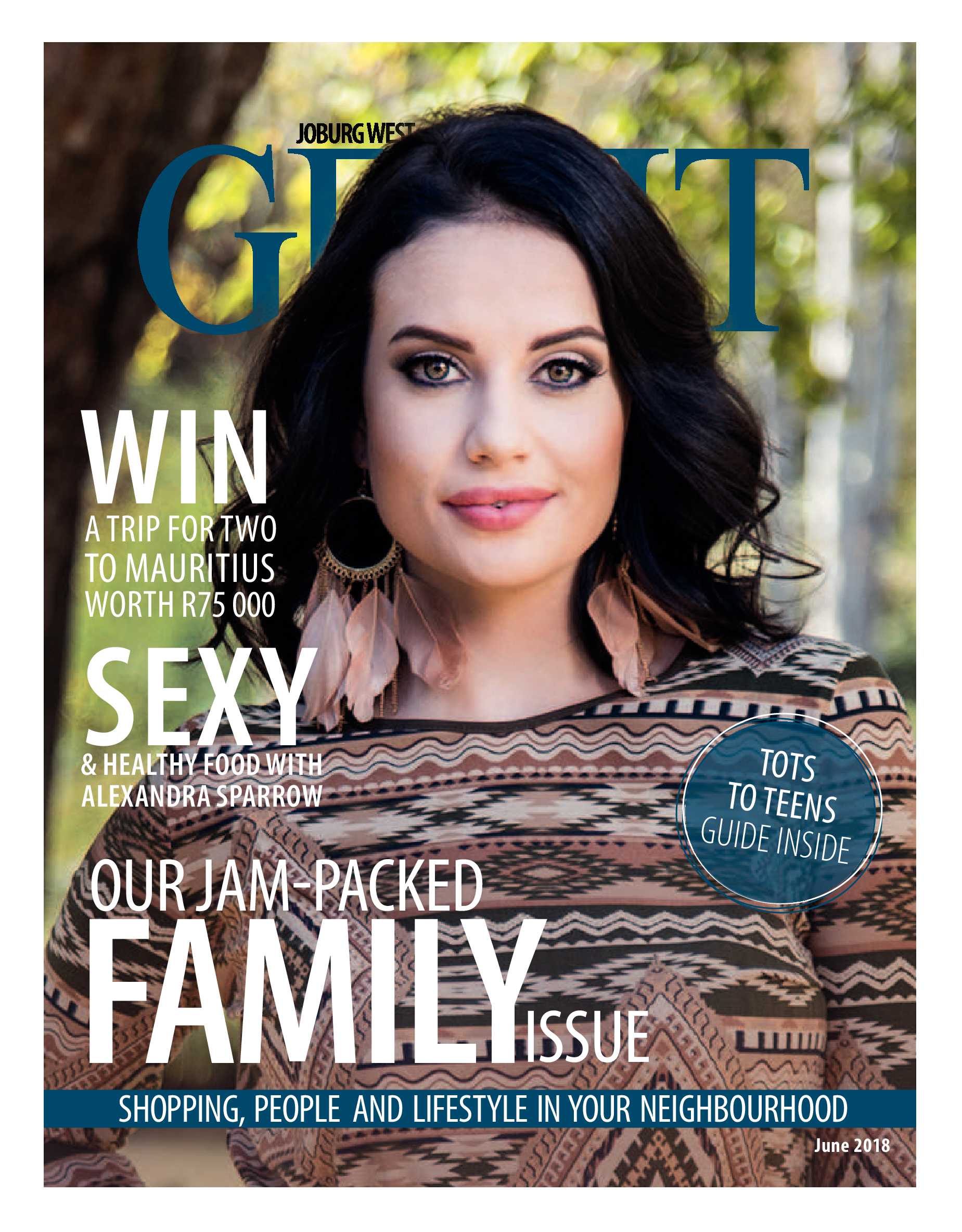 Do you suffer from lunch box inspiration fatigue?
Win one of four Yum Yum hampers consisting of Bluetooth earphones, a fruit salad shaker, gym bag, gym towel and Yum Yum products.
A pressie for the old man
Fancy winning him a duo of The Old Man's Blend wine hamper?
Introducing your favourite new biscuit treat – Ouma Lemon Cream Rusks!
Win one of four Ouma Rusks hampers consisting of yummy Three seed Rusks, Buttermilk Rusks, Lemon cream, Muesli Rusks, Plain Rusks, Oat, Raisin & Apple flavoured Rusks and Bran Rusks …
In need of a really special treat?
Win a trip for two to Mauritius worth R75 000!
Fat Bastard. No. Not dad. Obviously. The wine.
We've got an extra special hamper to give away … and like love, it's one you just can't buy. A luxurious box with Fat Bastard Golden Reserve 2017, along with Dark Chocolate Coated Almonds.
A fairy tale for modern times
Being massive fans of everything royal (especially the recent wedding between Meghan Markle and Prince Harry) we absolutely cannot wait for the release of this 124-page royal bookazine, The Royal Wedding: A People Magazine Exclusive Collector's Souvenir (R100).
Stand a chance to win a Pedigree hamper for your pup
PEDIGREE® will be giving 3 lucky readers each a chance to win a PEDIGREE® puppy pack hamper with all the essentials your little one needs to start off on the right track.
is a national brand of premium free magazines available in centres across the country.
to see other Get It magazines in the network.