Law – with a soft side
I decided to pursue a career in law as I've always had a strong sense of right and wrong and I wanted to be a voice for the right. Of course, I'm also half Italian – we love a good fight! Being a successful female in the legal profession is wonderful. It gives me a platform to give all women and girls hope that they can achieve anything if they are passionate about it. I also really enjoy proving stereotypes of women in law wrong – especially when it comes to standing our ground during litigation.
Having worked in the industry for over 13 years, I still get nervous when going to court. I always get butterflies before going into court. I believe it's because I take my work very seriously. I don't think you can ever believe that 'you've made it' in law … I always stay humble and open to learning.
I'm very passionate about family law – specifically divorce and child maintenance. I feel that I have accomplished something if I can help a client get maintenance for a child or am able to arrange for a father to see his children after not being able to for some time. I love seeing real problems with immediate and real results!
A case that I will never forget was one in which the parents of a small child were accused of severely assaulting the child. I consulted with the parents for a bail application, but I did not believe their story. I ended up withdrawing from the case. I will NEVER be a part of helping abusers to further abuse a small child. I lost a lot of money but I could sleep at night.
I think the biggest misconception people have about lawyers is that all of us are sharks. There are many of us who really do care about our cases and the people involved. It's not just always about the money!
I am a very passionate person, giving my heart and soul to everything I do. I consider myself to be happy, brave and strong. I live by the words: 'I have not given you a spirit of fear, but of power, love and a sound mind'.
I've been married to my husband, Jacobus, for the past 11 years. He works as a VolP Engineer and is also the co-owner of United Technologies. We have two daughters, Isabelle (9) and Rosa Yasmine (11). My family is very important to me as I believe that no accomplishment is worthwhile if your family is not part of it or does not support you in it.
I was born in Keetmanshoop and grew up in Namibia. As I was born to an Italian mother and Afrikaans father I had a very strict and conservative upbringing. I was taught to value loyalty and to work hard for what you want in life.
I have a great love of horses, and makeup! Horses are a big part of our family. Both my daughters and I do Western Riding. I am also obsessed with makeup. As a makeup artist, I love making women feel beautiful! My daughters also share this passion, so they often attend my makeup clinics, which is a great way for us to bond.
I cannot sleep without an eye mask and ear plugs! I am light-sensitive and the earplugs are because of my husband's snoring. It's become such a habit over the years that even if I'm not home I still cannot sleep without them.
I love wearing statement necklaces, high heels and red lips. They say a lot about my personality. I see myself as slightly exotic but also confident and bold.
My best and worst characteristics are loyalty and temper. I am painfully loyal and will do anything for the people I love and care about. Despite it not always being a good trait, it definitely is my strongest. On the other hand however, I have a true Italian temper!
I've loved being a finalist in the Mrs Grand pageant. It's all about what I stand for – empowering and uplifting women. I decided to enter to bring a clear message to all the women out there. The message? God created all baby girls beautiful, whole and each with an invisible crown. During your life, that crown can fall off if you feel inadequate or someone tells you things that makes you feel unworthy. If you take pride in looking after the outer beauty and looking after your soul, your God-given inner beauty shines through and assists in repositioning that crown.
Before entering, I underestimated and questioned myself, as all women do. I'd say to myself, 'I do makeup, I should enter'. But then that voice would come and tell me I'm too fat or not pretty enough – and thus, unworthy. One day, I just said 'enough'! I decided to listen to the words I preach, to take myself seriously and to enter, despite being 40 and having no previous modelling or pageant experience! Now I can share my message with confidence – as I too doubted in the same way as many of us do. I have grown so much during this experience.
Being an attorney, I am always required to be strong and powerful – which I am. But I've also really loved revealing my softer side by means of charity work and meeting people who have made a great impact on my life. It's made me a more sympathetic and diplomatic person too. If I win, I will make it my mission to spread my message of 'Crown Up' to all girls and women.
Charity involvement is very important to me. My companies, Rosa van Niekerk Attorneys and Worthy Woman Makeup have partnered with a non-profit organisation called The Eksderde Women, Men and Children's Camps.Our aim is to spread the word that God loves us all and that we as His children are all worthy. I also recently hosted a fundraising event for the Rotara School in aid of twelve of the school's learners who do horse-riding. With horses and children being so close to my heart, the joy that day brought to those children and helping them raise funds to ride at SANESA will stay with me forever.
Success means different things to different people. To me it means doing something that you were previously too scared to do, no matter how small it may seem to others. Success is not giving up – ever.
For me, there really isn't a secret to balancing all my daily roles. I just pray that God gives me the strength and wisdom to do what I do to the best of my abilities each day.
In short with Rosa:
To stay in shape I … do horse-riding and recently started working with a personal trainer.
The last four items I bought were … perfume, a magazine, horse food and clothes for my girls and me.
If I were an animal, I'd probably be a … grey horse.
Favourite TV series … Suits.
The thing I know for sure … I am the daughter of the King.
The CD/ radio station currently playing in my car is … Hillsong.
One day … I'd love to visit Italy to see where my family originated from.
Today I learnt … to be present in the moment.
My favourite dish is … my husband's braaivleis and my mom's pasta.
I drink … whiskey.
My favourite place to shop is … Forever New.
Text: Chemélle Barnard. Photographer: Brendan Croft, 083 461 4045. Make-up & hair: EA Academy MUD Westrand, 073 671 9516 or 082 885 3577. Clothes: The Hip Shop Krugersdorp, 076 350 2882 or 011 660 8755. Venue: Ana Paula's Coffee Shop, 071 249 4965.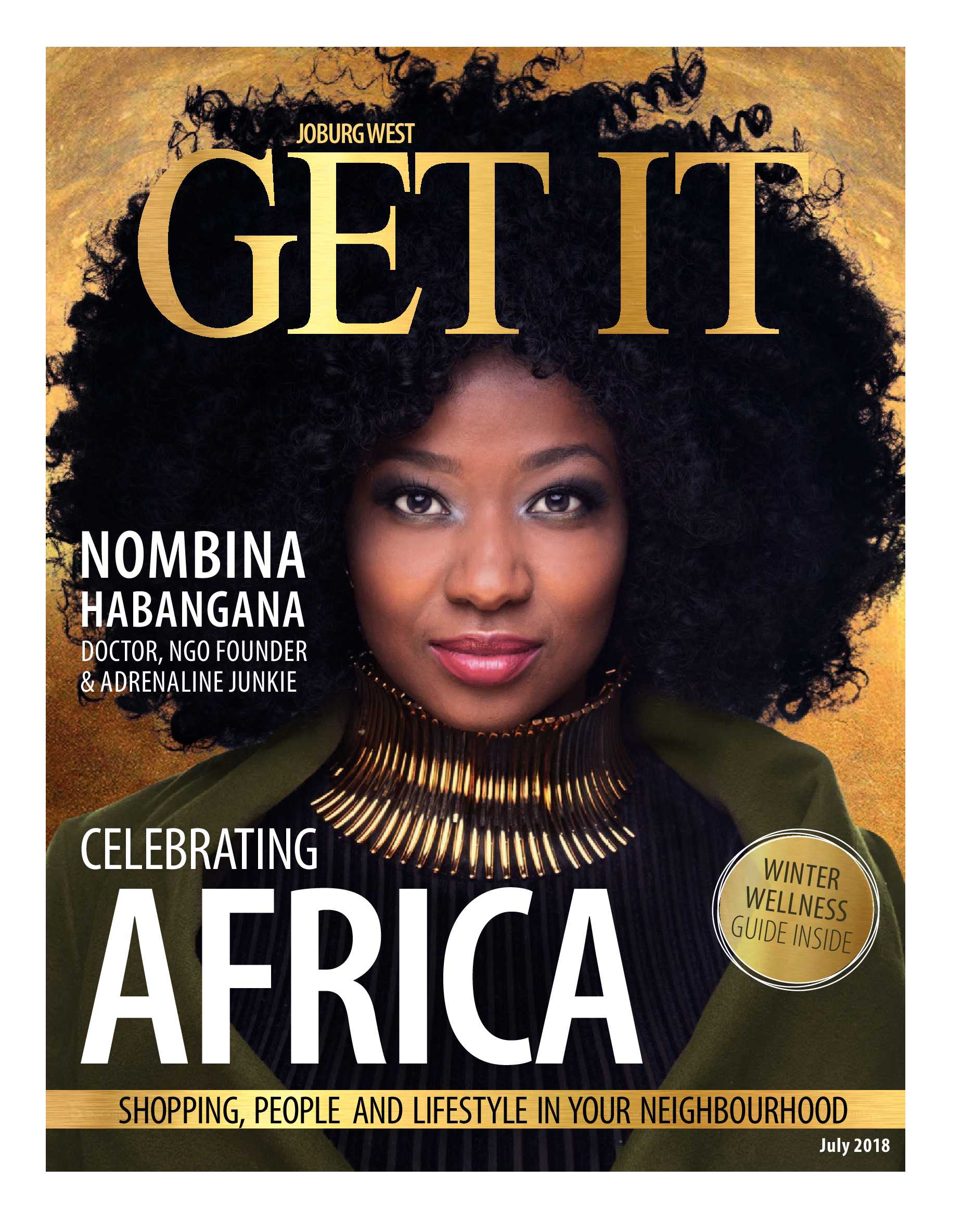 is a national brand of premium free magazines available in centres across the country.
to see other Get It magazines in the network.