Horses & art!
Yolanda is a true farm-girl at heart – with pink highlights in her blonde hair. On a more serious note, she's a spiritual leader and equine expert, wishing to restore peace and harmony between animals and humans. She's a registered Equine Practitioner, a registered Animal Healer as well as a registered Touch Practitioner.
'I have a deep compassion for horses and their emotional and physical welfare. I've always had a yearning to learn more about their emotional intelligence, and since there isn't much documented in this field, I am always humbled and amazed when working with these extraordinary animals.'  Yolanda and her hubby of 22 years, Danie, own the Oppistal farm in Sterkfontein. Here the fully fledged academy caters for all equine needs: horse training, stabling, riding, therapy, healing and much more.
'Being a conservative, Christian Afrikaans-speaking person, I have had people judge me as being a non-Christian when they hear I am an animal healer. But I believe this great gift is from God. He allows me to do what I love and make a difference for the animals I work with. It breaks my heart to see that people don't understand their animal's role and purpose and often ignore their emotional side. Animals are not robots.'
Besides being the handy-man at Oppistal, Danie also works for a financial institution. The couple has two children. The oldest, Malanda, is currently studying biotechnology at the University of Pretoria and shares the same love of horses as her mom. She enjoys equine showing and was part of the Sanesa Gauteng Team participating at the National Championships. Dané, the younger daughter, wants to become a vet one day. Also a horse-lover, she competes in the Core League as well as Western Riding … Clearly this is a family that doesn't mind getting animal hair on their clothes!
'My favourite time is spent going on outrides on my beloved horse, Sky Dreamer, along with my daughters. Sundays are normally quiet so I enjoy time with my family on the farm. We reside in Noordheuwel but hope to move to the farm in the near future. My dream for the farm has always been for it to become an international healing centre for both people and horses. Horses don't have a neurocortex brain like that of humans. This makes them non-judgemental. They take information merely as information. I believe this plays a major role in their ability to connect with people, as they intuitively know how we feel.
'My friend, Alida Aucamp and I are extremely excited about a new concept of workshops we have collaborated on called Live with your Whole Heart. I truly believe this is the beginning of something really special.'
The craft workshops will be presented by Alida, a Masters' graduate in Applied Linguistics and life. She's an avid crafter with a passion for people. She's also a housewife/ mother/ taxi driver and cook to her son, Reuven (7) and CA and IT specialist husband, Louis. Alida formerly worked at the SABC as a Language Revisor and Assistant Commissioning Editor for Local Documentaries.
'Having been through a lot in life (as many have), I feel 'qualified' to talk to people and share my experiences. I survived retrenchment, divorce, financial ruin and remarriage, getting three teenage stepchildren as part of the package. My mom passed away after years of illness, my whole house was packed up and put into storage while I was forced to live in a country where I had to adhere to rules and beliefs that were in total contrast to my own.
I suffered anxiety, lost my sister to breast cancer and my dad was diagnosed with cancer within the same month. I nursed him while my mom was bedridden and my sister received her cancer treatment. All this while my son was only three weeks old and my husband was required to finish a work contract in Iran for three months.
'Through it all I've always held onto the belief that the best is yet to come and so I enjoy interacting with and helping people going through their own hardships.
'I inherited my love of arts and creating things from my mom. She was very talented and creative. I began collecting art the day I started working and adore decorating my house. I'd much rather buy décor items than clothes! When crafting, I especially love working with wood – my favourite being untreated and old pieces that no one else wants. My friends always joke and say I am so crafty I sweat glitter!
'My mom, who was a real lady, rubbed off on me. I would never leave the house without makeup, my hair done and being properly dressed. At the end of last year however, to my own (and everyone else's amazement), I discovered that I had a hidden cowgirl inside me! I began taking horse-riding lessons at Yolanda's farm, where my son has been riding for the past four years. Who knew that standing heel deep in horse manure and being covered by horse hair and saliva would become my happy place!'
While going through a particularly stressful time Alida asked Yolanda to do a horse therapy session with her. 'It was just such a spiritual and healing experience for me!' Shortly after that Alida had a dream of her and Yolanda at the farm, standing in front of a group of ladies sharing some of her life experiences while showing them how to do different crafts. 'I knew for sure that this is what I am supposed to do and that everything I've been through in life has prepared me for helping other women.
'When I saw Yolanda again I told her about my dream. She was very excited and suggested we combine it with a session with the horses. We immediately sat down and worked out themes for a whole series of workshops. Yolanda does her sessions with therapeutic horses in different ways (like colour therapy), followed by a session where I do a craft activity, either making soaps, making journals or upcycling unique décor pieces. We studied the spiritual significance of our workshop themes based on the Bible,' said Alida.
'There are so many ladies out there who need acceptance, nurturing and love. These workshops are exactly that!
They are a place of enjoyment, healing and unwinding for women from all walks of life and all ages.'
More about the workshops:
◦ These interactive workshops are conducted in a safe, nurturing and beautiful environment – on the Oppistal farm in Sterkfontein.
◦ Workshops are offered once a month, from February to November, on a Saturday from 9am to 4pm. Horse and craft activities are carefully planned to coincide with specific themes.
◦ Cost per workshop per person is R800. This includes coffee/ tea/ juice and lunch.
◦ Limited space is available. Contact Yolanda on 082 829 9003 or yolanda@healinghorses.co.za, or Alida 083 478 0597 or alida@healinghorses.co.za.
Yolanda's 15 top horse facts:
Horses are herd animals and need the companionship of other horses.
You age a horse by their teeth. Look for milk teeth, the seven year hook and the galvayne's groove. Horse's teeth never stop growing, unlike human teeth. Every six months we call the equine dentist to float our horse's teeth. This is where saying comes from:  "Don't look a gifted horse in the mouth."
A mother horse (Mare) is called the Dam and the father (Stallion) is called the Sire.
In nature, mares will only wean their foals at the age of two. It is sad that humans do it at about 6 months of age
Horses can't see one meter in front of them, and one meter behind them. They can get startled if people touch them on their face or touch their hindquarters. Always approach a horse from the side and touch them on their shoulders first.  (No more kicking and biting horses….)
Horses graze for about 18/ 24 hours. Grass, grass and more grass.
Two most common diseases any horse owner fear is colic and African Horse Sickness. When a horse has colic, we try to prevent them from rolling. Gut pain can be so severe that they lie down and roll.  This results in twisted guts.  Fresh mint from the garden can make a huge difference for horses with colic.  You can also assist them with stroking their ears and doing some Ttouches on the tip of the pinna.  This is linked to their respiration, digestive and reproductive center.  This is also known as the triple heat meridian.
African Horse Sickness is transferred from a small midge insect. It is almost impossible to think that such a small insect can cause the death of your horse. When a horse survives AHS (Dikkop or Dunkop) we call them a salted horse.  I plant a lot of herbs to deter midges.  Plant herbs like calendula (Gousblom), Afrikaners and Rose geranium.  I have been lucky not to have had an AHS incident at our yard.
Horses will only roll or lie down in front of you when they trust you completely as they are showing their vulnerable parts to you (Stomach and hind legs). In nature, one horse will always be on the look- out.
Many unknowledgeable people think that the chestnut (looks like scabs) on all four of the inside of horse's legs are injuries. This is not the case. Chestnuts vary in size and are often compared to fingerprints in humans.  Old folk tale has it that these two spots on the horse's legs are keeping the legs together during the birth process. Interesting for me was that I didn't see chestnuts on Zebra's hind legs.  It is also believed that through evolution, horses had 5 toes.  Three came together to form the hoof, one stayed as the chestnut and one became the ergot.
If you turn the map of Africa sideways, it is in the shape of a horse's head.
Horses' anatomy is much likes humans except that they don't have a gallbladder. It is also impossible for horses to vomit.
Horses have the biggest eyes of all land mammals. The window to the soul. Horses can whisper their feelings with a blink of an eye.
When judging an Appaloosa class and it is a tie, the horse with the most colour will be placed first.
Horses will intuitively know what is good for them. Offered the opportunity to self- select culinary herbs, they will only eat what they need.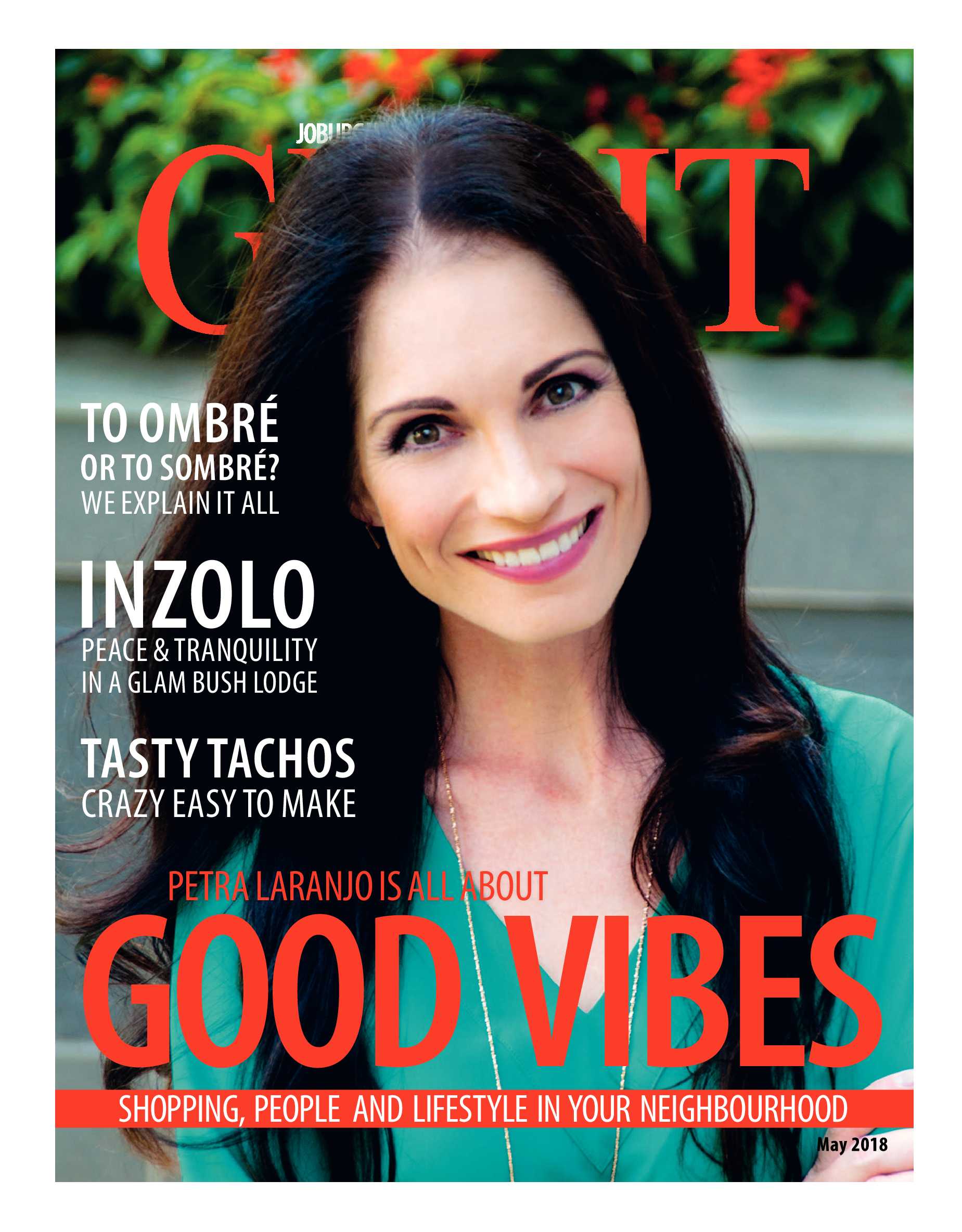 Stand a chance to win a Pedigree hamper for your pup
PEDIGREE® will be giving 3 lucky readers each a chance to win a PEDIGREE® puppy pack hamper with all the essentials your little one needs to start off on the right track.
Sugar-free sweets to indulge your sweet tooth
Win a packet each from the four delicious flavours: Eucalyptus (fresh minty), Ginger-Orange (spicy citrus), Lemon (refreshingly tangy) and Salvia (zesty sage).
Utterly gorgeous Mugler Alien Flora Futura …
Win a bottle of Alien Flora Futura ..
is a national brand of premium free magazines available in centres across the country.
to see other Get It magazines in the network.