A matter of art
At about the age of five I was already sketching on the walls. I grew up in Bosmont in Joburg and I just loved it! There was such a great diversity of people living there. My dad first taught me the wonders of the arts and with the advent of democracy in South Africa, I was privileged to be the first coloured boy to attend the National School of Art. I always knew this was my purpose and calling!
I believe my gift as an artist is a great one, and the day I met Nelson Mandela, the responsibility of being an artist became very apparent to me. I remember thinking at that moment, he used his gift to make such a massive difference in our country, so I better make sure to use mine. For this reason I am very much influenced and inspired by current affairs in our country and the different people I meet. I'll take a very close friend of mine, Caroline Steyn for example. She has so much money yet her greatest passion is giving… I always say your money amplifies who you are… If you are a bad person without money, you're even worse with it. The same goes the other way round. By contrast, I often observe people in the Zandspruit informal settlement when I visit another close friend. Here I am inspired by the people who are completely content with so little.
The colour use in my work is rather complex as it's such an emotive tool. I love using colour, as different colours project different frequencies. The best way I can describe this is by example. You know how a person can stare into a mountain scene or at the ocean for hours? What's happening is the colour frequencies are subconsciously having a certain effect on the human mind and body and those colours, when seen again, will have a similar effect again. My more recent work consists of many colour blocks painted over portraits. This creates wonderful dimensions and depth which I am absolutely loving at the moment.
Being a performance artist, I also enjoy the technique of rubbing on a grand scale. One of the biggest rubbing portraits I've made measured 3 x 2 metres. When it comes to my rubbings and paintings I love a big canvas and working in many different mediums – acrylic, oils and chalk. I also sculpt.
I'm very excited about a new collection of art pieces I'll soon be working on which incorporate Ferrari vehicle parts … The significance of these art pieces is what I am most excited about. When you just look at a car part, it seems worthless just lying on the floor as a piece of metal. But without it, that beautiful car cannot function. I want people to see themselves in the same way … Every one of us has a special role to play in how this world functions.
I lived in Dublin, Ireland for many years. Although I met and married Rochelle, my wife of 17 years here in Joburg, all three our boys were born in Ireland. We've been back in South Africa for about six years now.
I also teach art from my home studio. From housewives to accountants and businessmen, everyone comes to enjoy the wonder of art. It's just such a great way to express yourself. I always say that the arts can highlight so many things, love, unity … Art is the therapy I need before I know that I need it.
It took me many years to establish myself. I've been a full-time artist for 16 years, four years of that being in South Africa. Any artist will tell you it isn't easy, but I honestly never did this for the money. I just wake up every day with gratitude for my gift and an urge to make a mark in people's lives through my art. After many years I now have a few art buyers and investors who have fallen in love with my work.
Through my performance art shows and art auctions I also do quite a bit of charitable work. Some of my work has been to the benefit of Shout, the Smile Foundation, Caring Daisies, and the Teddy Bear Clinic, among others. I am very much against violence in all its forms so I support these organisations with great passion.
One of the charity events I had the privilege of being a part of actually had an immense impact on my art and life. I was invited to the Cape Wine Auction a few years ago. I arrived in paint-covered pants and a plain T-shirt and my seven-minute, on-stage painting of Nelson Mandela. To my absolute joy and amazement it was auctioned off and sold for R464 000!That was the day I realised my true worth as an artist. It was bought by AfrAsia Bank, and now hangs in their head office in Mauritius.
Another one of my Mandela paintings is the largest in the world. It measures 6 x 3,8 metres.
I'm also a photographer, but mainly for the purpose of my art. I mostly take pictures of subjects that I plan to paint. I love taking pictures of children playing, people in their private moments – like reading a newspaper or staring out of the window … impulsive human behaviours. I also play the guitar. I'm a huge music fan! I hardly ever paint without music … My taste is very diverse though… from reggae and classic to jazz and gospel … It just depends what the music or song reminds me of.
My spare time is spent with my family and being in harmony with nature. I'll go on walks in the Magaliesberg or just spend time in the outdoors. I find it puts me in a spiritual realm that makes me feel close to the Lord. Working-out is also very important to me. I find that if our bodies function in unity in all ways – physically, mentally and emotionally, we are better able to LIVE!
In short with John:
People are surprised to hear … that I am an artist at times. For some reason people think artists should have beards. I am often mistaken for a bodyguard or security at events too.
A movie that moved me … e'Lollipop. A South African film about a coloured boy and the white farmer's son and how they grew up together, but tragically one of them passes away.
The first thing I do when I wake up is … have coffee!
One thing I wish the world would realise … the beauty of who you are.
My favourite season is … Spring!
Favourite drink … is a Vienna (cream with double expresso)
What makes me laugh … my children when they act like super-heroes!
The one thing I cannot stand is … hatred and people looking down on others.
The best advice I ever received was … from my brother-in-law who passed away. He was my best friend for 24 years. What you want to do, you will do, and the rest is talk.
If I had to portray myself as a painting I would paint … a sunrise scene – bringing positivity, hope and a new morning.
Art is … within every one of us – it's a place of revelation!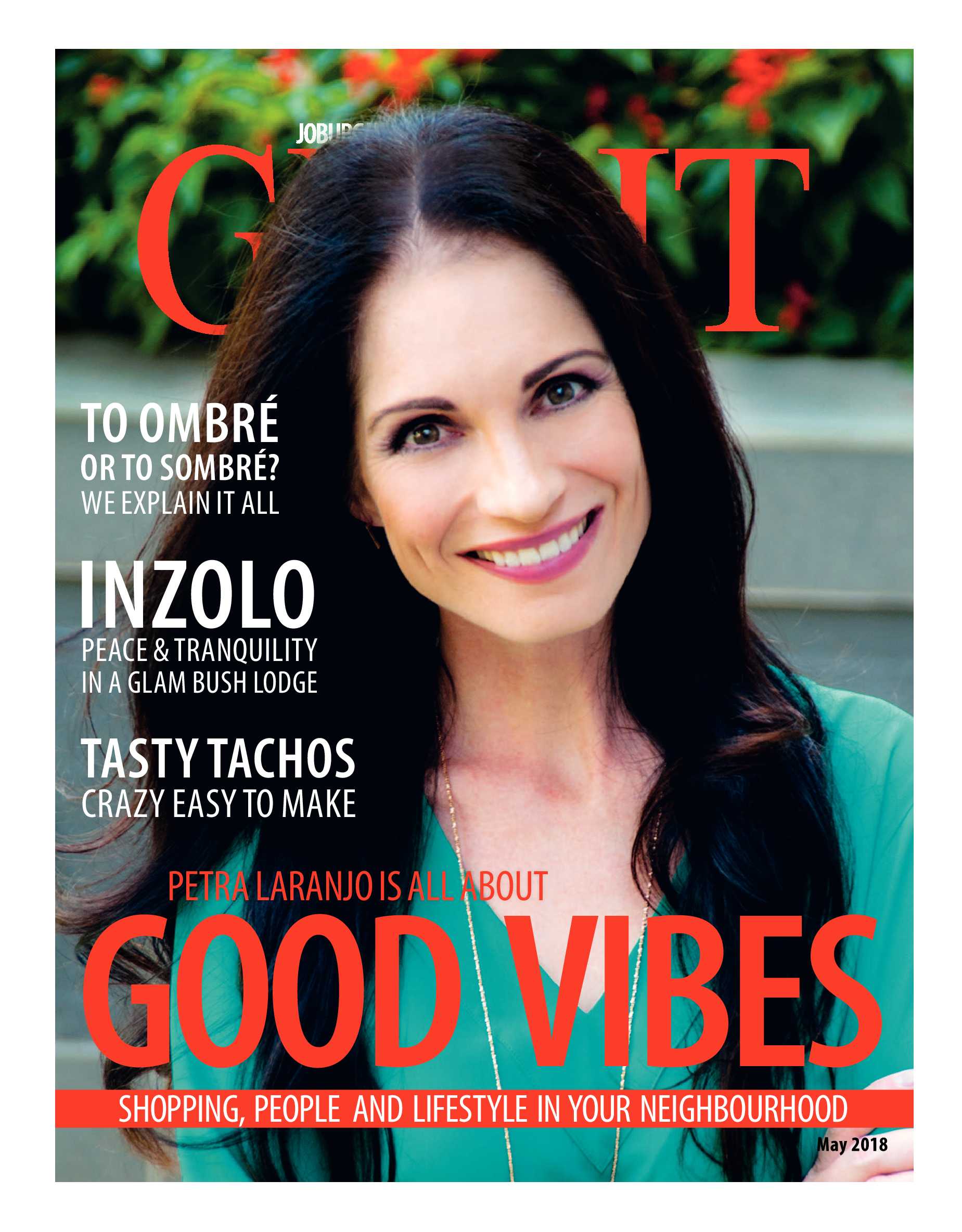 is a national brand of premium free magazines available in centres across the country.
to see other Get It magazines in the network.