YOLO Compost Tumbler
Her YOLO Compost Tumbler has a lot going for it – and you.
Convenient composting
Unlike a compost heap that should be turned by pitch fork or shovel and back-breaking effort every few weeks, moulded-in fins inside the YOLO Compost Tumbler incorporate new material with older material and aerate the contents when the shell is turned.
Already assembled
The YOLO Compost Tumbler is rotomoulded from UV-stabilised polyethylene as a robust shell with a hinged lid and lockable latch. It comes already assembled in a compostable cardboard box. Open the box, take out your YOLO Compost Tumbler and start composting.
Three double-shell sizes
YOLO Compost Tumblers come in three sizes on a powder-coated steel frame. The small size (single or 2 x 45-litre shells) is primarily for composting kitchen waste. It is ideal for apartments and townhouses where it can be placed in the small garden, courtyard or on a balcony. It takes a family of three around 8 to 12 weeks to fill a small shell, depending on the amount of organic waste that they generate.
The medium size (2 x 100-litre shells) is big enough to also accommodate organic waste from a small garden, like grass cuttings, trimmings from shrubs, bushes and flowers, and autumn leaves.
The large size is YOLOs newest offering. With two 200-litre shells, this unit gobbles up kitchen and garden waste.
Start using one shell and when it is 3/4 full, leave to mature. The maturing process ranges from 6 to 12 weeks, depending on types of material added and the season (composting is faster in summer). This maturing process allows time for the last-added contents to decompose. While one shell is maturing, use the second shell.
Add and turn to aerate and mix
Save kitchen cuttings and peelings in a tub in the kitchen. Every day or two, open the lid of the YOLO Compost Tumbler, toss in the contents of the tub, close the lid and tumble. Opening the lid introduced fresh, oxygenated air while tumbling mixes the contents and creates free air spaces within the material.
No-fade guidelines on the side of the shell
Instead of printed instructions that could be lost, the people at YOLO decided to use special moulded-in graphics on the side of the YOLO Compost Tumbler shell. These graphics will neither fade nor peel with time. Lists suggest 'green' nitrogen-rich and 'brown' carbon-rich materials that can be composted and guidelines remind you to cut or tear up large chunks of material (the smaller the pieces, the faster the composting process), how to gauge if you compost is too wet or too dry (and what to do about it) and how to tell when your compost is ready to be used.
Pest-proof, heat-retaining and odour-free
"Not everyone has a garden," says de Speville, "and even if they do, compost heaps come under attack by dogs, rats and monkeys. People also fear being stuck with a smelly heap. This puts them off even starting one."
The lid makes the tumbler odour-free and its lockable latch keeps even the most wily pests from getting at your compost. Whether it sits on its stand on the ground or is wall mounted, YOLO Compost Tumblers are pest-proof.
While the composting process itself generates heat, the tumbler also warms up in the sun and retains heat throughout the night. Heat speeds up the composting process.
Three cheery colours
This is a good looking product in attractive colours. Rather than relegating your YOLO Compost Tumbler to a dank spot behind the garden shed, place it in a convenient location where it will a conversation starter. YOLOs come in bright and cheery colour combinations of yellow-green, orange-green and orange-yellow.
Composting is the right thing to do
Compost tumblers are a simple solution to organic waste and composting woes for all homes – even those homes without gardens.
Zero Waste advocate, Bea Johnson, reminds us of the '5Rs' of reducing and eliminating the waste that we generate.
"Refuse what you do not need, Reduce what you do need, Reuse what you consume, Recycle what you cannot Refuse, Reduce or Reuse, and Rot (Compost) the rest," Johnson says.
De Speville encourages people to use a YOLO Compost Tumbler to keep their organic waste from rotting in their trash and ending up in landfill.
"When kitchen cuttings and garden waste go to landfill, they have a negative effect on the environment," she says.
Covered in layers of trash, compostable organics decompose anaerobically and generate methane. This greenhouse gas is considerably more harmful than the carbon dioxide that results from aerobic decomposition in a well-turned compost.

Visit YOLO at Decorex
Launched in April 2017, the YOLO Compost Tumbler is a new and innovative product. YOLO will exhibit the three sizes of their YOLO Compost Tumbler at Decorex in August. This long-standing expo takes place at Gallagher Convention Centre from 9-13 August 2017. Visit stand F20 in Hall 4 'Outdoor Living'. Speak to Lisa de Speville directly about your organic waste and composting requirements.
Website: www.yolocolours.co.za/green
Facebook: www.facebook.com/greenyolo
Email: yolo@yolocolours.co.za
Phone: 082 936 2509 (Lisa)
Decorex: www.decorex.co.za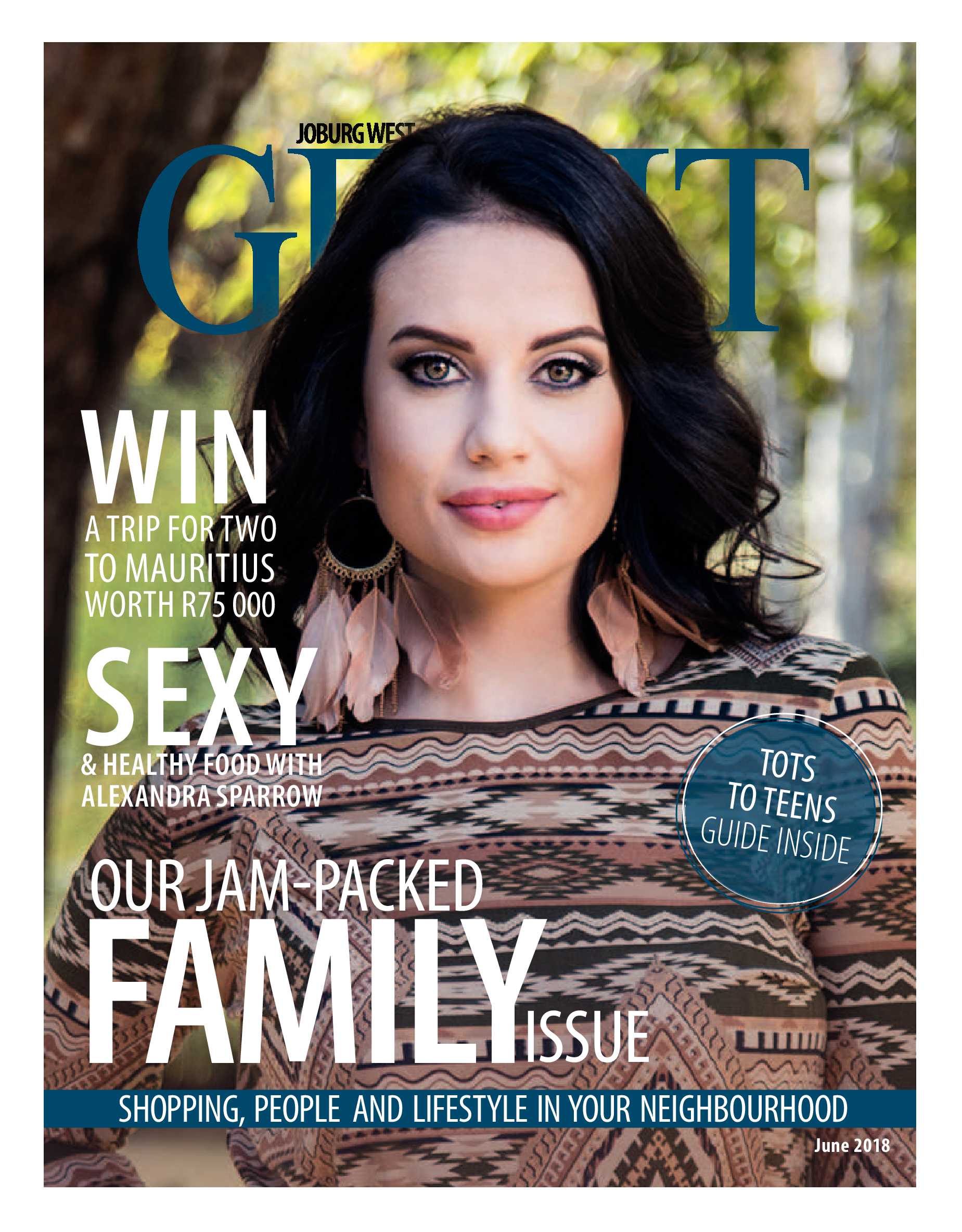 Bags for Africa!
We've got a stunning clutch bag to give away …
The warmest, most luxurious blankets imaginable
Our Spoil this month is a R1 500 Volpes voucher … which you can use instore or online.
Do you suffer from lunch box inspiration fatigue?
Win one of four Yum Yum hampers consisting of Bluetooth earphones, a fruit salad shaker, gym bag, gym towel and Yum Yum products.
A pressie for the old man
Fancy winning him a duo of The Old Man's Blend wine hamper?
Introducing your favourite new biscuit treat – Ouma Lemon Cream Rusks!
Win one of four Ouma Rusks hampers consisting of yummy Three seed Rusks, Buttermilk Rusks, Lemon cream, Muesli Rusks, Plain Rusks, Oat, Raisin & Apple flavoured Rusks and Bran Rusks …
In need of a really special treat?
Win a trip for two to Mauritius worth R75 000!
A fairy tale for modern times
Being massive fans of everything royal (especially the recent wedding between Meghan Markle and Prince Harry) we absolutely cannot wait for the release of this 124-page royal bookazine, The Royal Wedding: A People Magazine Exclusive Collector's Souvenir (R100).
is a national brand of premium free magazines available in centres across the country.
to see other Get It magazines in the network.