Soulful
What surprises me about meeting Veronique Lalouette for the first time is that her on-stage smile is even warmer when you meet her in person. Her wonderful personality shines out … her eyes dance as she invites us into her life and tells us what it's like to be a wife, mother, singer and entertainer! And being mother to #GabrielTheAdorable (her little Instagram star) and wife to Andy means there is much to juggle.
Growing up with dad Denny Lalouette, legendary bass player of 40 years in the entertainment industry, and a mom who danced in her early years, meant there was only one path for her and that was to be an entertainer. Were her parents surprised to hear her decision? No! No surprises there … just lots of support. Which is rare … usually parents want their children to have something to fall back on.
Which is rare … usually parents want their children to have something to fall back on.
We first heard of Veronique in 2016, when she first tried out for The Voice SA. She'd been singing professionally for 20 years, but was in a dark place in her life. And obviously it came across, since none of the coaches turned for her. But this year, she came back with a brand new attitude and a whole lot of soul! She was determined to show us what she was made of … and did she just! She moved Lira to tears with her rendition of Tina Turner's River Deep, Mountain High, and both Lira and Karen Zoid raved about Veronique's come-back performance.
We met up with Veronique, who went from an overweight young mom to a gorgeous and fun-loving entertainer, who took time out from her busy schedule and spent an afternoon with us at the cosy Ana Paula's Coffee Shop.
Q: What lies behind that bright smile and sparkling eyes? Has life always been entertaining? Well, it's certainly been an interesting rollercoaster ride. When my son was born in January 2013 it was the hardest time of my life. I had always wanted a baby and being maternal I thought it would be the happiest time of my life. However, it was not to be. I found balancing being a late-night entertainer with being a breastfeeding mom very difficult. There were nights I didn't sleep and as a result of sleep deprivation, the depression slowly crept in. Despite all the family support and love from those around me, I still had a nervous breakdown at the beginning of 2014. Seeking professional help was the best thing I did because admitting that you were failing at life in general, was not something you shared publicly. Once I started therapy I realised that a cup of coffee with a professional is as good as a cup of coffee with a friend. Soon it became apparent that it was time for me to find my way and enjoy my family and friends once again. Life became normal and with all the highs and lows, this shaped me into the person I am today.
Q: What is normal for you? I think understanding that life is crazy sometimes and nothing is permanent. The love of family and friends is still the best and my career is very important to me. Singing is definitely where my heart and my career lie and whatever it takes to continue this path, is what I need to do. However, competition is tough. Being a woman in a predominantly man's world does not make it easy.
I love the saying from My Big Fat Greek Wedding, where the character says 'The man may be the head of the household, but the woman is the neck, and she can turn the head whichever way she wants'. That says it all. And when I look at Adele, who, when questioned about her weight, said she made music for ears, not for eyes, I realise that we can make it despite setbacks.
The South African music scene can be brutal when it comes to looks. I have had to lose a huge amount of weight, almost 20kgs, just to ensure that the gigs come in. Sadly, that's a fact of life in the local industry. I have noticed in the last couple of years since I started my weight-loss programme, that my confidence has grown and my ability to connect with my audience is now almost palpable.
Q: How has your career been affected by the competitions you have entered over the years? In 2005, I entered Idols South Africa. That was a good and a bad experience. Good in that I got loads of exposure especially coming 4th overall. Bad in that logging onto the forum and finding people I didn't know saying nasty things about me was a shock.
That was tough. I was only 24 and still had to realise that the world I had entered was not always glamorous and that you can't please everyone. However, the experience taught me how to interact with fans and the public and not to take everything personally. My career picked up as a result of being on TV and on live shows and I started to grow as a performer and entertainer. As a recent entry on The Voice South Africa, I was fortunate enough to be selected, as Karen and Lira both turned during my audition. I selected Karen Zoid as my mentor. That was a good choice as she has been amazing. Being hands on and a fountain of knowledge, she has guided me through the quagmire of the show in general. The show is very encouraging to all artists and in the short time I spent with Karen she reminded me that I have permission not to be perfect and to get into my own skin and be myself; to enjoy the career I chose and not to be too critical of myself and overthink things.
Q: Talking of music and make-up, do you write your own music and do your own (pretty darn awesome!) make-up? I do write my own music and I also enjoy a good cover as there are some really amazing songs out there that give artists the freedom to express themselves. This often encourages audiences to sing along and enjoy the moment. There are so many genres of music that I can sing any style from Rock to Ballads. I guess my style could be considered Adult Pop Contemporary with a splash of Country!
As for my make-up, experimenting and knowing what works for me is better than having a make-up artist do it for me. With a touch of a brush and a steady hand, I turn from wife and mother into Cinderella, ready for the stage.
It's fun trying out different colours and styles. Cosmetic houses are always coming up with new shades and styles. Makeu-p is just like singing – the more you practise, the better you get!
Q: Where can we next expect to see you? Since my birthday is in August and my star sign is Virgo, nothing is as easy as it seems. As a Virgo, I need everything planned and as an entertainer, it cannot always be planned as that's not the way my chosen career works! But a few new releases on digital (for those who are not aware that CD launches are a bit obsolete) are coming up, allowing me to release singles as and when I complete them in the recording studio. Jacques Terre'Blanche (from Idols season 1) and I have made a decision to join forces and create a unique project called Common Ground which we will release later this year.
Text: Geniene Preston. Photographer: Jaco Bothma, Empire Photography, www.empirephotography.co.za. Hair: Elaine Boshoff, EA Academy MUD Westrand, 082 885 3577. Clothes: The Hip Shop Krugersdorp, 011 660 8755. Venue: Ana Paula's Coffe Shop, 071 249 4965.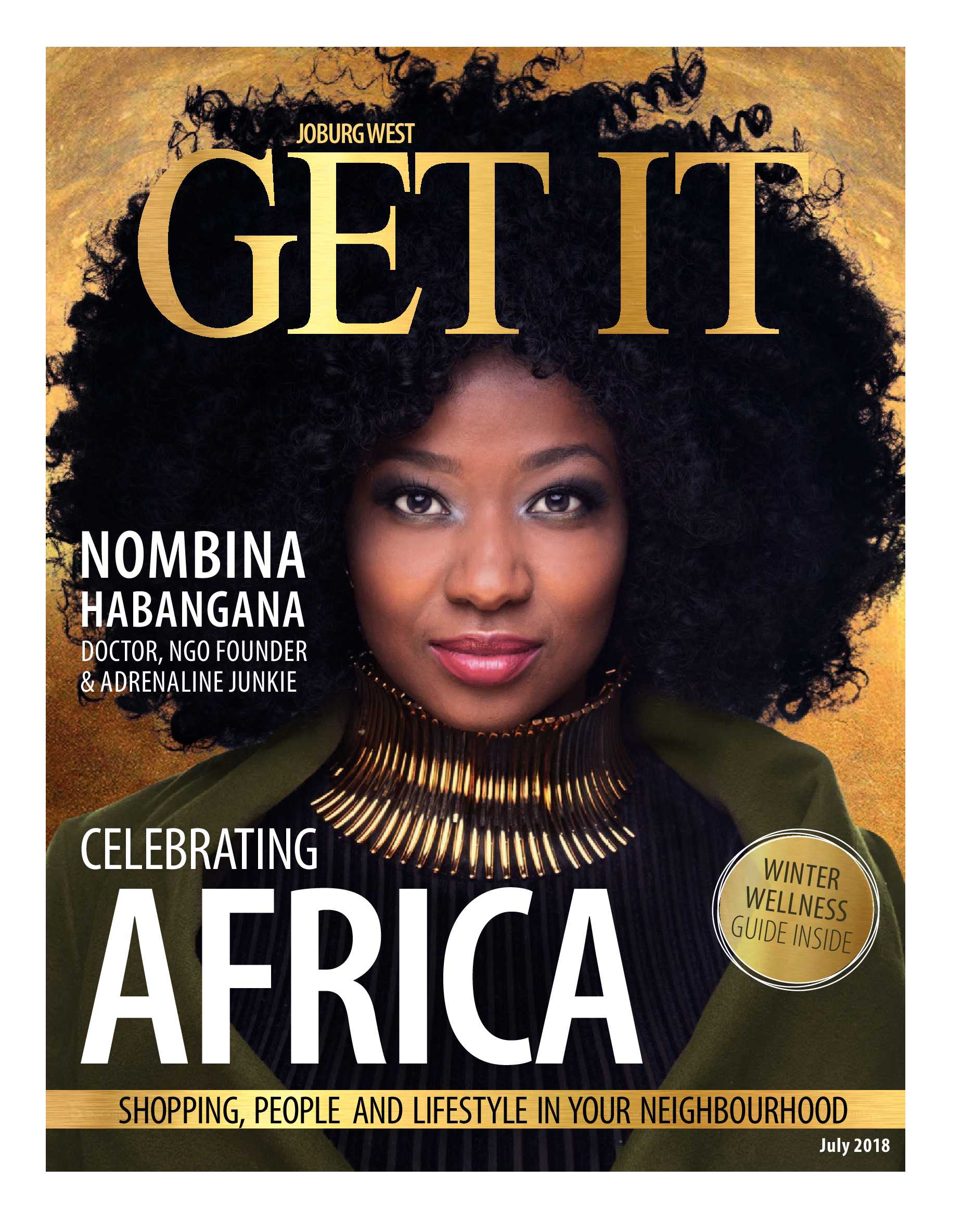 is a national brand of premium free magazines available in centres across the country.
to see other Get It magazines in the network.