Smiling to the top
The moment you meet Erin Smylie, it is obvious that she lives up to her name, as 'Erin' means 'peace' and 'Smylie' means 'smile' in Gaelic. Besides being a professional, international makeup artist and hairstylist, she is also a brand ambassador, influencer, mom to four-year-old Elle, wife to Liam and the mastermind behind the Baby Plan It Log Book.
Q: Who is the real Erin Smylie?
I have so many faces and relate differently to different people and brands. I started my journey at Krugersdorp High School and always wanted to be an interior designer. The eldest of three girls, I was the creative one but in Grade 9 I dropped art (to everyone's devastation) as a subject because I thought a creative lifestyle would not be sustainable. I have always been a leader, and between getting Gauteng colours for cricket scoring, being a prefect and a student representative council member, there was no doubt I always knew where I wanted to be. At university I took up art again, and with doing hair and makeup coming naturally to me, that became my artistic retreat! I became a success with hair and makeup before I realised it could become a business. My background in marketing and advertising (she studied BCom Marketing Management) taught me how to build a brand and become my own brand. It's important to know what people will take from meeting me or being a part of my business. Whether it's doing their makeup or hair for a photo-shoot or being a mom and designing the Baby Plan It Log Book, I have to know where I am going in order to be successful at what I do.
Q: You mentioned that hair and makeup come naturally to you, but surely something sparked this interest?
My mother always does her hair and makeup, and from a very young age, my two sisters and I were taught how to present ourselves to the outside world. That image remains in my mind. There is also a consistent line of influential women in my life who have always taken pride in their appearance. Hair and makeup developed into a full-time career after a friend asked me to assist her with her wedding … I have been fortunate to be a part of many celebrities' lives, and transforming women from their ordinary everyday selves to beaming brides always makes me smile. To my delight, I am already seeing that in Elle, as she takes pride in her appearance.
Q: Tell us about your link to Sormé Treatment Cosmetics?
Sormé Treatment Cosmetics contacted me to product-test their range prior to introducing it to South Africa. Their range focuses on professional makeup artists as well as women who choose high-quality professional products. So, for a few weeks, I walked around with various colour foundations and eye shadows on my face – those who knew me quietly smiled as they didn't realise I was product-testing. Once the test was over, I became their professional brand ambassador, promoting their products and offering workshops to train makeup artists and clients. My professional understanding of the market space and brand awareness created an incredible platform for both parties. The range is 100 per cent cruelty-free and is formulated with vitamins, minerals and anti-oxidants. I take pride in using environmentally friendly products in my craft and often convert clients due to that ethical mindset.
Q: You're the founder of the Baby Plan It Log Book. What does it entail?
Baby Plan It Log Book was born because I am an incredibly organised person and have to be an organised mom, especially because of my career. I would say that I'm a very calm person and motherhood never overwhelmed me … but I wanted a way to keep track of Elle's daily development and her nutrition. The more women I spoke to (especially first-time moms), the more I realised there was an increasing desire for such a product! It is similar to a log book for your car – and because it is printed you do not have to worry about battery life or having an electrical point nearby.
In short, Baby Plan It Log Book is an excellent way to keep track of your growing baby's schedules, patterns and milestones. You get to document their 'firsts' and customise your notes in your own shorthand and have all the important information together. It is a tool that can be passed on from one caregiver to another and you can still feel in control of what is going on during the day with your little person. The great news was that my marketing background helped me to get it into all The Bub Hub stores within Gauteng and its distribution is growing steadily!
Q: From a nutritional point of view, is your organic lifestyle a part of you being a mom?
It's interesting that people regard those who are environmentally aware as being hippies and those who grow their own vegetables as being among Woodstock's finest. I am a professional woman who wants to be mindful of what we put into our bodies and to protect the planet in every way possible. My small contribution is not only using 100 per cent organic products, but also growing my own vegetables and herbs which are free of insecticides. My husband is the gardener and I am the purveyor of what he produces. Elle loves picking herbs, aubergines, and tomatoes for our meals and lemons for water, which is what she usually drinks. I try to ensure her eating habits are healthy and that she will grow up and continue this path of health.
Q: What does the future hold for you?
My next vision is for Erin Smylie to become a lifestyle brand and host women's events that depict lifestyle, wellness, styling and generally allowing women to feel good about themselves no matter their circumstances. Each person is unique and women, in particular, are under pressure to look good in order to be accepted. As a result, I want to go into motivational speaking and encourage those who attend to be who they want to be, to teach entrepreneurship in all forms and use media such as TV and print to get the message across. At the age of 33, I became a GAPA modelling agency model and the face of The Corsètiere, a range of lingerie and swimwear. That is something I never thought I would be. I am usually in the background and not in front of the camera. The journey I want to share with other women is that they can be whatever they want to be if they put their minds to it. They need to be confident in their abilities – whether it's being a stay-at-home mom or an executive in a large company. I want to teach them to feel good about themselves and that they don't have to be what society says they should be.
Five healthy eating tips for children:
1. Start by giving your child water from young. Get them involved in creating smoothies and freshly juiced juices. Elle drinks mostly water and black rooibos tea with no sugar.
2. I grow my own herbs and vegetables and from when Elle was able to digest solids, I made meals without preservatives. Where possible use only organically-grown food.
3. Raw fruit and veg make great snacks. I usually create a snack platter with snap peas, carrots, cherry tomatoes, cut up fruit and smashed avo as a dip. Children want to experience food!
4. Involve them in food prep. I always had a punnet of mushrooms in the fridge so Elle could cut those with a non-sharp knife and we enjoy preparing meals together.
5. Store the good food in plain sight so that they are able to reach healthy snacks as opposed to chocolates or other sugary treats.
Kiddies smoothie
I pre-cut fruit, mix combinations and place them in Ziploc bags and freeze. This way it's convenient for you when you need to make a smoothie.
Ingredients: 8 strawberries; 1 apple; 1 banana; ¼ pineapple; 2 cups vanilla yoghurt
Method: Blitz together in a blender. The frozen fruit makes a frozen yoghurt consistency. You can add milk if you want to make it runnier.
If you have extra, you can also place in ice lolly trays to make frozen yoghurt lollies. Great snack for summer!
Details: Visit www.babyplanit.co.za; Instagram – @erinsmyliemua; Facebook – Erin Smylie – Hair and Make-up Artist.
Text: Geniene Preston. Photographer: Jaco Bothma, www.empirephotography.co.za. Venue: Garden World. Hair and makeup: Erin Smylie, www.erinsmylie.co.za using Sormé Treatment Cosmetics www.sorme.co.za. Styling and Clothing Designer: Lynn Deckers, www.lynndeckers.com. Skin Prep: Tami James using Intraceuticals, info@tami-james.co.za.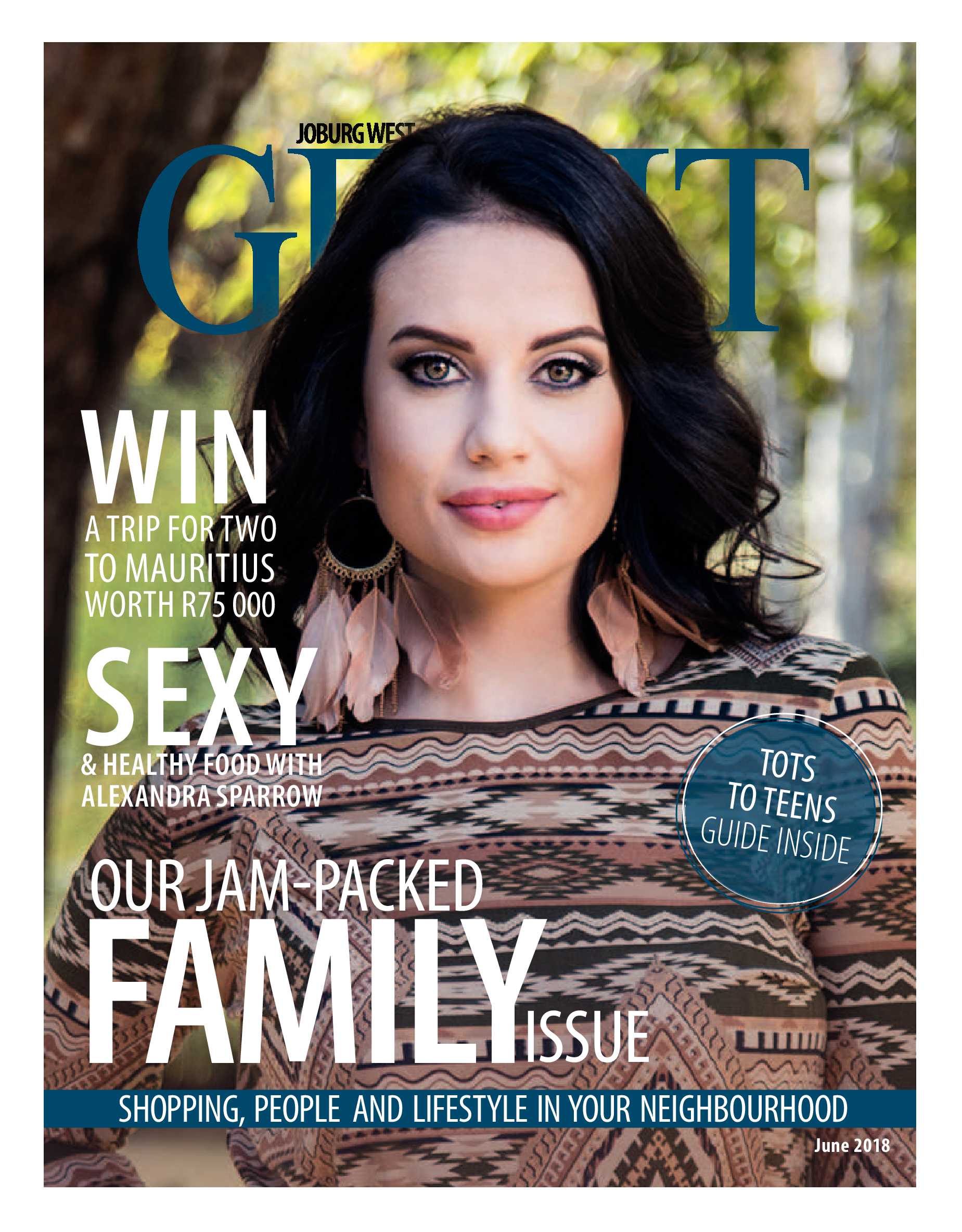 is a national brand of premium free magazines available in centres across the country.
to see other Get It magazines in the network.