Queen of the track
René, 36 years old, represented South Africa at the 2008 Beijing Olympics, competing in the 1500m, then went to the 2012 London Olympics to run in the marathon. She has also competed in the IAAF World Championships twice, plus the World Indoor Champs, and has run at eight editions of the World Cross Country Champs. Added to that, she has won more than 40 South African titles in her competitive career, from junior level through to senior level. Her sister, Christine Kalmer, is also an international level runner. René is the mother of four-month-old Karli, wife to André van Wyk (also a runner!), Modern Athlete Brand Ambassador, works in the marketing department of KPMG and is a mentor for athletes at the KPMG Vorentoe Running Academy. We caught up with her on a rare afternoon off.
When did you start running?
At the age of 10 when a teacher told the entire school they had to participate in a 2km cross- country race at school. I wouldn't have dared to refuse the teacher's request … So I finished 42nd and never looked back because after that race I found that I absolutely loved running! I was 13 years old when I did my first Spar Women's Race and today I am 36, so 26 years ago my love affair with running began. I enjoy the entire experience running has to offer – from competing with the masses and being able to tour our scenic country – and then being able to see the world and get the opportunity to make friends globally. The whole running package is invigorating and that's why I will never 'quit' this career path.
Highlights in your running career?
I was very fortunate to have been selected to run in two Olympic Games – in Beijing and London. It is an athlete's ultimate dream. Even more incredible was being selected to run in the 2016 Games in Rio with my younger sister, Christine. Unfortunately, I had to withdraw due to a hip injury.
Tell us more about your relationship with the Spar Women's Race?
Since the age of 13, I have run every year in the Spar Women's Race and I have such a good relationship with Spar. They have been with me ever since I started to run. The motivation started off by being awarded with a great goodie bag and T-shirt and running a 10km with my mother. Then after that, I started running the race competitively. As a scholar, Spar offered me the opportunity to travel around the country to participate in the six different Spar races ranging from as far afield as Port Elizabeth, Durban, Cape Town, and closer to home in Johannesburg and Pretoria. Pietermaritzburg has just been added. I'm proud to say that I have won more Spar Women's Races than any other runner! They play a huge role in long-distance running for women in South Africa.
And with six races throughout the year, it helps me to keep motivated, especially during the winter months. I continue to train even though Karli is still so little. André babysits in the morning when I leave to go running and is happy to sacrifice his running career to look after her. Usually, when I get back from running they are both sound asleep! I absolutely enjoy the social run and being with the masses at any Spar race. I must admit to having huge respect for new runners these days, since I am almost a new one myself after having Karli. Being slightly overweight and breathing heavily has made me remember what being a newbie is like!
How important is support?
My parents supported me and Christine in our running careers from the word go, so I regard myself as lucky and privileged. Even now, whenever they can, they're at the Spar Women's races.
Is gold more than a medal?
Having missed the Rio Olympics last year, I realised that my gold medal was Karli. I couldn't travel with the family to Rio to support Christine because of the risk of being pregnant in a country where the Zika virus occurs. I took the decision to stay home, and stay well. I firmly believe in encouraging the athletes that I mentor at the KPMG Vorentoe Running Academy to run with me, as running can open so many doors. But, I also teach them that studying is just as important and doing well at school can be combined with success on the athletics field. Some of them even run with me in the Spar Women's Race and they will probably beat me but hopefully, by the time the Johannesburg run is due, I will be more competitive. Luckily it is only taking place in early October and by then I should have regained my fitness level.
What would you recommend for those who are wary of grabbing their takkies and heading for the road?
Running is such a wonderful sport – all you need is a decent pair of takkies and you can step out of your door and start running. And it's a very sociable sport as it has different aspects to it – long and short distance – and you can do what is comfortable for you.
Join the Spar Women's Race as they cater for all shapes and sizes. Only a few of the competitors (about 30) are elite runners – the remaining 19 000 people are from all walks of life. The average person can finish the race without facing a rigid cut-off time.
You don't have to run the Comrades first. Start with a 5km and work your way to the top.
To the point:
Favourite Disney princess? Jasmine from Aladdin. She is definitely the most adventurous Disney princess of them all.
If you had to have dinner on a deserted island what one item would you like to see on the menu? I guess something fishy like prawns.
List three things you would tell your daughter when she turns 13:
1. To find her worth in God, nothing or nobody else
2. GIVE – even if she can't change the world, she can change somebody's world
3. Believe in yourself and follow your dreams
What are your favourite shoes? My Adidas Ultra Boost.
A funny moment that happened on the running track? A head-on collision with an Egyptian Goose, while training. The goose apparently mistook the blue track at UJ for a dam!
The best destination you have travelled to? André and I travelled to Cinque Terre, Italy in 2014 after I ran the Berlin Marathon. It is a string of old seaside villages on the rugged Italian Riviera coastline. In 2013 we built a 2 000 piece puzzle of one of the villages, Riomaggiore, and since then we dreamt of visiting our puzzle destination.
Favourite track to run? It was a dream come true when I set foot in The Bird's Nest, the Beijing Olympic Stadium in 2008 for my 1 500m heats.
Do you love shopping? I absolutely loooove shopping, anytime, anywhere, even a market in Marrakech, Morocco gets me very excited.
A maximum energy lunch idea:
A tuna pasta salad was the first recipe my mom taught me as a youngster and it's still one of my all-time favourite lunch-time meals. Mix the following ingredients together according to your preference: Cooked pasta, one to two tins of tuna, chopped tomato, cucumber, feta, avocado, peas (optional). Add mayonnaise, salt and pepper to taste.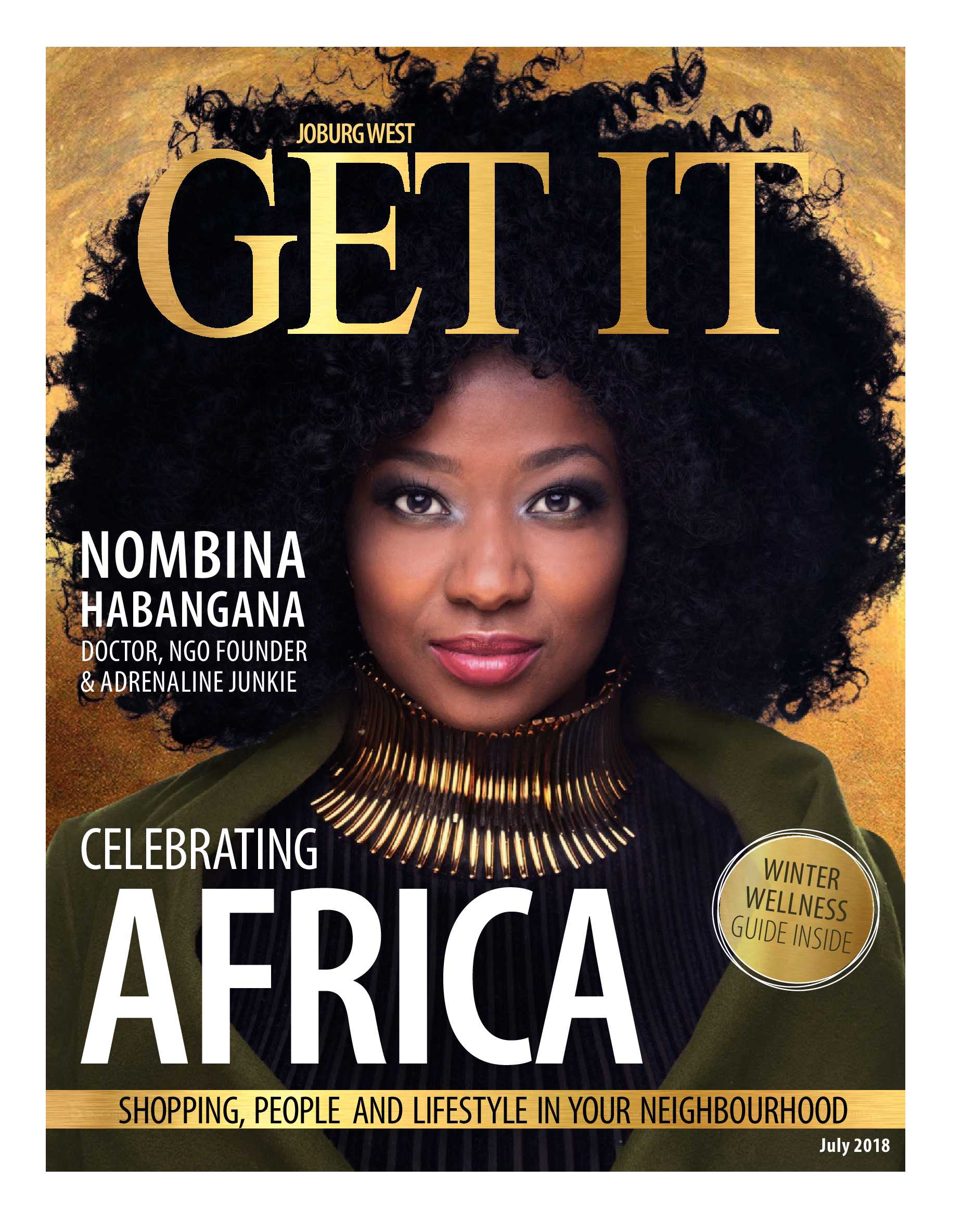 is a national brand of premium free magazines available in centres across the country.
to see other Get It magazines in the network.