RISE UP
You last saw her on stage, vying for the title of Miss South Africa 2017. Now, months later and in between a very busy schedule, we've caught us with this lovely woman and chatted about Shelbe, the person behind those soulful eyes …
Who is Shelbe at home?
My close friends and family would tell you that as much as I am strong, I am soft as well. I am also extremely humorous! I enjoy seeing people laugh and find it my responsibility as a friend to be honest, so yes, I am that girlfriend who will give you the hard, honest truth. I am straight forward and open, even with people I've just met. I am who I am and you'll never need to guess what I'm thinking or feeling because I wear my heart on my sleeve.
You are the owner of Flair Promotional Models. What does this entail?
My team and I manage over 600 young people across SA, giving them temporary job opportunities as brand ambassadors, as well as partaking in activations and working at events etc. I manage business relationships for my clients and their consumers by assisting with marketing strategies.
If you had the opportunity to follow any other career path, what would you choose?
I would like to own an organisation that places Christian youth workers in schools – creating jobs while making a difference.
Tell us about one of the most difficult or emotional times in your life …
Entering Miss SA was extremely emotional for me – few truly know how much I had to sacrifice, and the journey truly tested my character. You place yourself on a platform to openly get judged by the country. Many people didn't like what I stood for but I overcame the critics by standing strong and never wavering in my beliefs and standards. I may not have won the competition, but I came out stronger and I can truly say I won the challenge that was set before me.
You were bullied as a young girl. Tell us more about this …
My school days were not easy for me. In primary school everyone made fun of my eyes, I remember walking into the classroom and someone had drawn a fish with giant eyes and for months I was called 'fish eyes'. In high school, I was mocked for being too skinny by the boys and my school bag was often wrecked by other pupils. I was also physically assaulted by another girl who accused me of 'looking at her boyfriend'. Being bullied has played a great part in who I am today – I can relate to the girls being bullied and I can relate to the bullies. Ultimately it boils down to insecurities. If we empower our daughters to know who they are and who they belong to, the school grounds will become a more peaceful place.
What would you say to that girl that's being bullied because of her appearance?
God doesn't make mistakes. You were created perfect in his image and he took his time sculpting every inch of you. You are a masterpiece, so never let society tell you otherwise. The biggest gift you can ever give yourself is knowing who you are and who you belong to. Once you realise you are royalty, what others say will never affect you. You will learn to build a firm foundation with the bricks others have thrown at you.
Would you say having good looks are an advantage or disadvantage?
Truthfully speaking, people do pay more attention when attractive people walk into a room. However, there is no point looking like a million dollars, if, when you open your mouth, no one will even pay a cent to hear what you have to say. Being attractive has also been to my disadvantage, as many people refuse to pay attention to you, because of the myth that beautiful woman can't be intelligent. It is almost as if you need to work extra hard to prove you are more than meets the eye. Women – take a tip from me – use whatever talents God gave you to open doors, and speak with conviction, stand for something.
What's the best advice someone close to you has ever given?
There have been two pivotal moments of advice which influenced me immensely. My father said to me: 'Shelbe, never follow your heart, your feelings are deceitful and unreliable. Never make permanent decisions based on temporary emotions, rather follow your head because God gave you a sound mind.' As emotional beings, I wish more women followed their sound minds. My mother said to me: 'Shelbe, God gave you a big heart, but he didn't make you a doormat.'
What do few people know about you?
I may come across tough, but I am very sensitive towards people's needs and their struggles. I will meet you on any level just to try and understand what you are going through and who you are as a person.
How long have you been involved with charity work?
I've been serving the less fortunate for the past 17 years and I don't plan on stopping anytime soon! I am still a committee member at House Jade – a baby haven for orphaned and abandoned children – and actively involved at From the Heart care centre in the Princess informal settlement. Both organisations need me for fundraising purposes and I'm constantly looking for ways to improve both the home and centre. I'm also an active brand ambassador for 'ARK' which is a campaign I endorse – it's the art of teaching people to give back. My heart is always open to joining projects and doing what I can to make a difference.
How do keep yourself busy when you are not working?
Apart from being active in the gym, my biggest interest is studying the Word of God – I can spend hours a day just equipping myself in order to equip others. It is an ever-growing interest, the more you learn, the hungrier you become for more knowledge. I invest so much of my time in other women and empowering them. Being a Biogen brand ambassador I believe in a balanced lifestyle. I go to the gym at least four to five times a week and most importantly, I keep my diet balanced (it's all about the choices you make in the kitchen).
What are your future plans?
I have learned that you can make as many plans as you want, but God's plans always prevail. I see myself starting an online interactive blog very soon, where women will be able to log on, watch my videos and teachings and be empowered as well as share their stories – a place of hope and sisterhood.
To the point:
Your signature dish: Roast beef fillet and veggies
Movie that moved me … Pursuit of Happiness
If the ship we were on were to sink I would be the one … Praying
All things in moderation except … Woolies chocolate-coated marshmallow pops
Favourite saying … 'Speak life into it' (People forget that there is power in your words)
Text: Geniene Preston. Photography: Ingrid Irsigler. H&MU: Danit Gorden.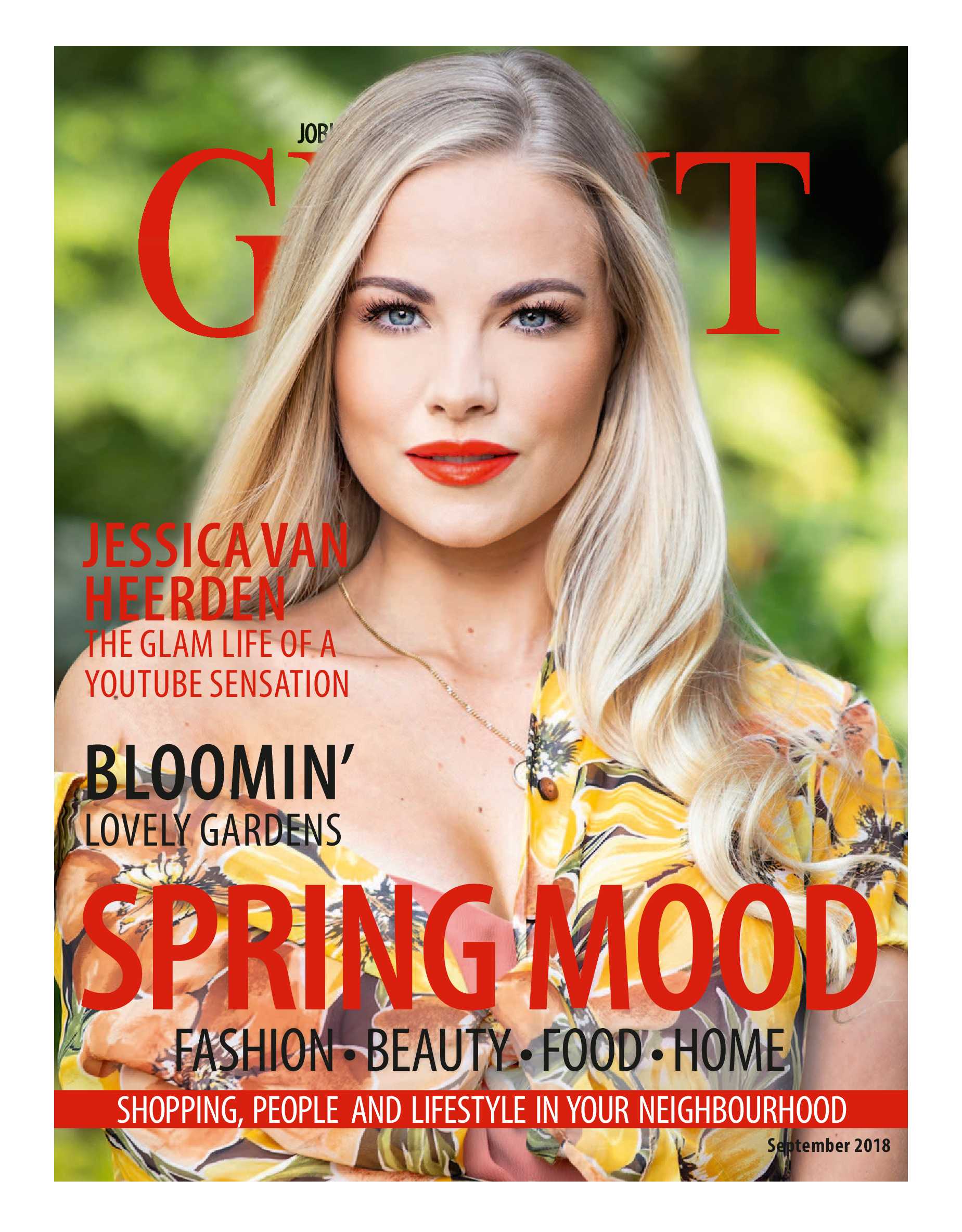 is a national brand of premium free magazines available in centres across the country.
to see other Get It magazines in the network.