Girl next door
She's not one bit vain, so we'll say it on her behalf – Lariza Gilbert has made it big! Of course we're referring to her career, in the relentless industry of modelling, but also in the day-to-day …
Lariza has a host of major modelling contracts to her name – Rolls-Royce, Nissan, Axe, Makro, Wedding Inspirations, Wedding Guide, HSC (House of Superior Clothing), Men's Health, Clicks, Emerald Casino and Resorts, South African Airways, Edgars, FHM and Biogen, to name just a few. We also share the honour of having her as cover girl with the Essentials, Your Family, Leef and Supermodels SA magazines. Her story begins in a small mine village called Glenharvie in Westonaria where her dad, Fanie, and mom, Mariaan, raised her and her brother. After her parents got divorced she moved with her mom to Randfontein – where she attended Laerskool Randfontein and Hoërskool Riebeeckrand. 'If I can be half the woman and mother she is I consider myself lucky. My dad used to be a mine instructor but now has his own company called Jozi Juice – he has a big heart and is one of my favourite people!
'My mom took me to my first modelling photo shoot when I was five. I've been told I always loved the camera. As a young girl I remember always wanting to become a teacher – like my mom. It was only after completing my BCom Business Management degree that I decided to pursue a career in modelling.'
It's clear that the ballerina-like beauty simmers with grace in front of the cameras – but she also boils over with life off it. She married the man of her dreams, former soccer star and pro MTB cyclist, Gordon Gilbert! Together they work hard but play even harder – travelling the world, socialising and representing the Biogen brand as ambassadors, among other things.
She's often been compared to Cameron Diaz and the statement goes further than simply their similar looks – Lariza shares the same drive and is every bit as funny (and quirky) as our favourite Something about Mary actress.
I recall meeting Lariza at an event some time last year – her sense of humour is sharp yet oblivious. She asked me an endless number of questions. Curious? Perhaps … but it was only after seeing her again a few times afterwards that I learnt she's quite the people's person.
'I think constantly being surrounded by people and getting to know so many different personalities is the best part of my job. I've become friends with so many photographers, make-up artists, stylists and clients, they're like family.' We spoke politics (by the way, she starts her day with watching world news) and about her party-animal days being over now – she's turned homebody … 'I've never taken life too seriously – it's too short! Honestly, I'm a scatterbrain. I have my moments when I have it all together and organised – but that doesn't happen often.
We were joined by her (then) fiancé, Gordon. He was born in Scotland but came to South Africa to play football for Kaizer Chiefs, Moroka Swallows and Bafana Bafana. Unfortunately he sustained a rather serious injury and so turned MTB pro cycling in his sporting career. I remember thinking, 'These two are so cute together! She's this slightly unguarded Afrikaans girl and he's the kilted Scotsman turned sports star.
'We met in a church cell group just after the 2010 Soccer World Cup but our first date only happened years later. I knew right away – he was the one!'
The pair got married at Oxbow Country Estate last year and had another photoshoot done just outside Gordon's hometown in Scotland at the Drummond Castle gardens in May. 'My dress was simply too beautiful to wear only once.'  Their fairytale wedding was also featured on the popular lifestyle TV show, Top Billing.
Since the 'I do's' it seems there's never been a dull moment in the Gilbert household. The couple are constantly on the road and in planes! Lariza recently returned from a photoshoot they did for HSC in Paris.
Married life has been magical! Gordon is such a gentleman and I just love being married to a man who is so focused, disciplined, adventurous and determined – it rubs off on me.
'I had to seriously sharpen up my healthy cooking skills – you know us Afrikaans girls, we cook with 'a little cream here and a little more sugar there' but being married to someone who's career depends on his health has taught me a lot.'
Surely with a body like that she must be on a tight leash when it comes to food? But no … She believes in eating everything in moderation and never depriving herself. 'I love food way too much for that – and the exercise I do is only what I enjoy – yoga and spinning. Looking after yourself should be something you want to do – it shouldn't be a punishment. We must unapologetically love ourselves!'
On that note, she and a close friend, Melissa Minne, are working on a new and exciting project. 'We are both passionate about making women feel worthy and good about themselves, so the workshops we host assist them to better their self-esteem and confidence – all while having loads of fun with videos and activities. Melissa also gives the ladies a mini-makeover – and it's humbling to see how someone's confidence can be transformed.
'We work with companies with female staff members in high-demand environments.The workshops are a kind gesture from the company to show their appreciation towards these ladies. A woman who feels good about herself will inevitably be a more efficient worker. Many of these women are sole breadwinners and away from their families for weeks at a time. We are extremely proud and excited about this initiative and hope to touch many lives going forward.'
Despite professional modelling often proving relatively hostile terrain in South Africa, it appears that girl-next-door Lariza possesses all the necessary qualities – talent, hard work and the ability to project her essence – a golden heart that refuses to take life too seriously!
Last minute with Lariza:
When I have a minute to spare I …. do Sudoku
Few people know … I have a moth phobia
I cannot stand … selfish people
I regret … wishing myself older as a teen
My greatest strength is … my loyalty
I admire … people who don't give up
Text: Chemélle Barnard. Main image: Photographer: Gerrie van der Walt. Dress: House of Superior Clothing. Insert: Photographer: Hanri Human. Hair and make-up: Monique Naudé.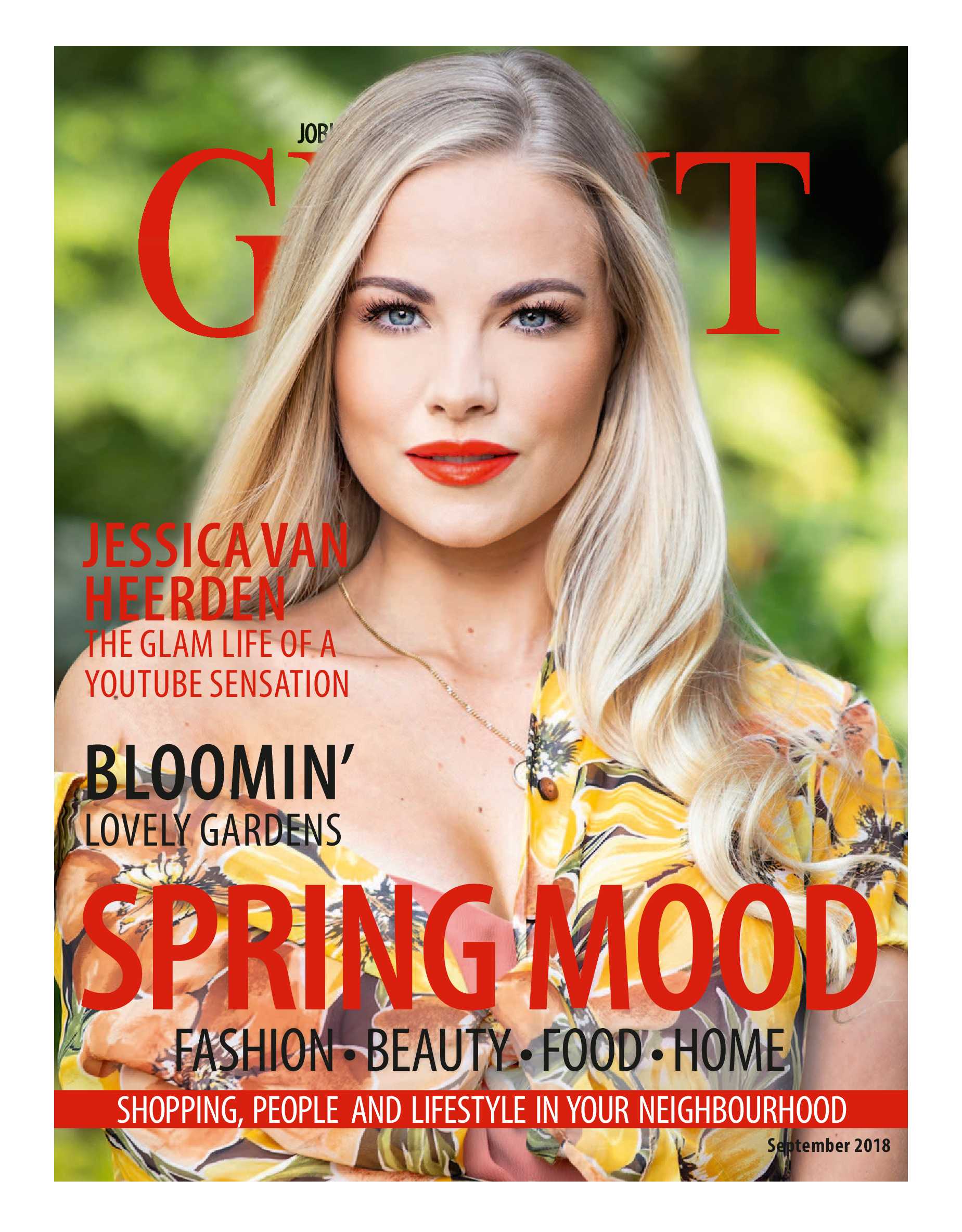 Welcome summer with an extraordinary rosé
We're giving one incredibly lucky reader a case of Jean Roi Cap Provincial Rosé.
Something new on your braai this Heritage Day
Everyone wants to celebrate Heritage Day no matter what their food preference is, and braais are certainly not for meat eaters alone. Add this Pouyoukas recipe of spicy lentil burgers to your braai as an extra option.
Happy birthday FAT bastard … we're giving out gifts to celebrate
We're celebrating FAT bastard's 21st birthday … with a gift of a magnum of Shiraz. Here are 21 reasons why Mr.b loves about FAT bastard.
Spring Spoil
We're celebrating the arrival of spring with a sundowner picnic …
is a national brand of premium free magazines available in centres across the country.
to see other Get It magazines in the network.