16 Questions with Petra
AS THE AUTHOR OF LIVING ON PURPOSE, ARE YOU PLANNING ANY MORE BOOKS IN THE NEAR FUTURE? There will definitely be more books in the future but for now I'm concentrating my efforts on growing JustOneThing365 and creating events to help women step up in confidence, self-worth and purpose. I'm also creating my blog which is focused on the above topics.
PLEASE TELL US MORE ABOUT JUSTONETHING365 … If you do just one thing every day, no matter how small it seems, to uplift the life of another – human, animal or our planet – you will directly impact the lives of 14 610 beings in just 40 years! So many people want to help and make a difference in the world but don't know how to start or are limited in terms of time and financial resources. This is why JustOneThing365 exists! It's a social impact platform for individuals and organisations that delivers practical and simple ideas to inspire and help you make 'doing good' a way of life.
AS AN IMAGE SPECIALIST, IF YOU COULD RAID ONE WOMAN'S CLOSET, WHOSE WOULD IT BE? Lucy Liu's character, Joan Watson, in the Elementary television series. I'm obsessed with her wardrobe and styling.
ANY EXCITING PLANS IN THE PIPELINE FOR THE REMAINDER OF 2018? For sure! I'm working on a top-to-toe makeover worth R230 000 for a deserving woman, a women's lifestyle event, a couple of impact campaigns under the #JustOneThing365 umbrella and another (sending up prayers) exciting venture, which I'm not at liberty to disclose just yet.
TELL US A BIT MORE ABOUT YOUR GIRLS (AKA DOGS) … Our favourite breed of dog is a rescue dog. There's no love like that of a rescue dog – they somehow know that you've given them a second chance. Our eldest, Mary-Jane, was adopted from the Johannesburg SPCA in Booysens; Tammy, our youngest and littlest, from Wetnose Animal Rescue in Bronkhorstspruit and Jess, our 'newest' older girl from PETS JHB.
WHAT IS THE MOST ADVENTUROUS THING YOU'VE DONE OR STILL WANT TO DO? I've bridge-swung and been shark-cage diving, but I still want to sky-dive, explore the Inca trails of Machu Picchu, visit the city of Petra in Jordan, visit the Great Pyramids of Giza, be a guest on The Ellen Show sharing #JustOneThing365 and perform a musical number with Hugh Jackman – he's the sweetest actor I'm yet to meet.
IF THE WORLD WERE SILENT FOR 30 SECONDS AND ALL EARS WERE TURNED TO YOU, WHAT WOULD YOU SAY? 'Choose to be kind – to humans, animals and the planet. Make better choices, develop better habits, connect with your purpose and live your life aligned with your values so that you can live a happy, fulfilled and inspired life of impact. Don't die with your potential locked up inside you. Have the courage to change. '
WHICH ANIMAL PROJECTS ARE YOU CURRENTLY INVOLVED IN? I'm so excited about these two #JustOneThing365 social impact campaigns! Adopt A Shelter Pet Day was on the 30th of April so our first campaign is around getting our featured (and other) shelter pets adopted as well as raise funds for our aligned animal rescue organisations. The other is a blanket drive for pets in need – we've already had some cold nights and it's going to get worse. We'd love you to join our tribe on www.justonething365.com or check out our social media pages.
WHAT IS YOUR ABSOLUTE FAVOURITE VEGAN DISH? Let me start by saying that, for 21 years as a vegetarian I ate cereal, toast with cheese, cheesecake and rice seasoned with salt – among some bland processed foods – because I didn't enjoy vegetables or cooking. I chose a vegan lifestyle in August 2017 and, overnight, committed to changing my mind and attitude towards vegetables, nutrition and cooking. My body is loving a plant-based diet and I'm thriving because of it!
WHO GAVE YOU THE BEST ADVICE EVER? I used to undersell myself and my services for many, many years until I sat next to a gentleman at a conference, who commented that if I wanted people to see me as worth a million (dollars), I needed to see myself the same way and charge accordingly.
YOU'RE SUCH AN INSPIRING MOTIVATIONAL SPEAKER. HOW DO YOU COME ABOUT YOUR CONTENT FOR THESE TALKS? I'm committed to my own personal growth and learning so I spend a lot of time on introspection. There are also countless hours of research, reading, watching TED and other talks and I surround myself with inspiring visionaries who are purpose-driven people and challenge my growth by stretching my thinking and beliefs.
BEST COMPLIMENT YOU'VE EVER RECEIVED? 'From the bottom of my heart I wish to thank you for the inspiring articles in Buddies magazine. Your words, written from your heart, lift my spirit beyond what words can say. During my cancer journey in 2014, I was not in the mood to read articles from various specialists but I couldn't wait to read your articles in the magazine. Your powerful and encouraging messages truly helped me, better than any specialist could. Whenever I'm facing a life crisis, I turn to read your articles. You teach me a lot.' – Sladja Cholich. I have received so many other incredible compliments for the work I do, my book and the philanthropic work. I'm very grateful for that.
ONE HABIT YOU WISH YOU COULD BREAK? I've changed many habits recently so I'm really proud of that – I've started exercising and meditating at least four to five times a week and have stopped disrespecting my body with unhealthy food choices. One of my biggest challenges to date is managing the need for perfection in my work. It's something I'm working on, but I still find myself repeatedly 'improving' on my workshop content, presentations, talks and proposals.
WHAT SURPRISES YOU MOST ABOUT PEOPLE? Intellectually I know better, but the optimist in me is frequently surprised by how people resist change, defend their limiting beliefs, and bad habits, and are unwilling to evolve as human beings.
YOUR FAVOURITE QUOTES? 'The two most important days in your life are the day you were born and the day you find out why.' – Mark Twain. 'You write your life story by the choices you make.' – Helen Mirren. Details: Contact Petra at www.petralaranjo.com or www.justonething365.com.
Question 16:
Petra's top five never-fail styling tips!
Tailor your clothing so that it fits your unique proportions.
Invest in great staple items (a capsule wardrobe) that will be the foundation on which you build.
Play and evolve your style. Don't get stuck in a rut – as with everything in life.
Make your style your own with personalised items, details and accessories.
Choose cruelty-free clothing, accessories, skincare and cosmetics. My vanity is not worth the suffering and torture of another being.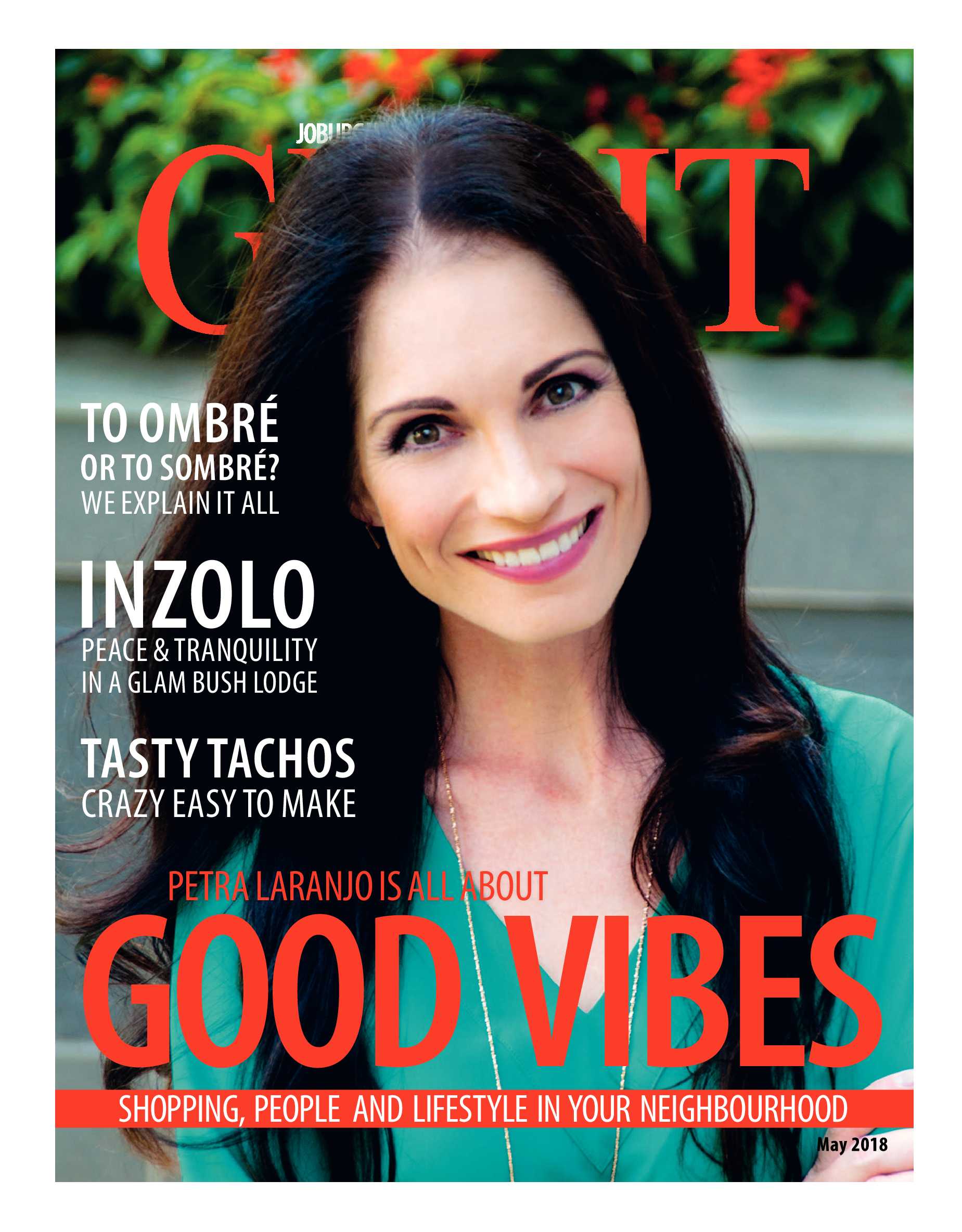 Say goodbye to tough stubble!
We are giving away three BarberShop hampers!
In need of a really special treat?
Win a trip for two to Mauritius worth R75 000!
Fat Bastard. No. Not dad. Obviously. The wine.
We've got an extra special hamper to give away … and like love, it's one you just can't buy. A luxurious box with Fat Bastard Golden Reserve 2017, along with Dark Chocolate Coated Almonds.
A fairy tale for modern times
Being massive fans of everything royal (especially the recent wedding between Meghan Markle and Prince Harry) we absolutely cannot wait for the release of this 124-page royal bookazine, The Royal Wedding: A People Magazine Exclusive Collector's Souvenir (R100).
Stand a chance to win a Pedigree hamper for your pup
PEDIGREE® will be giving 3 lucky readers each a chance to win a PEDIGREE® puppy pack hamper with all the essentials your little one needs to start off on the right track.
Sugar-free sweets to indulge your sweet tooth
Win a packet each from the four delicious flavours: Eucalyptus (fresh minty), Ginger-Orange (spicy citrus), Lemon (refreshingly tangy) and Salvia (zesty sage).
is a national brand of premium free magazines available in centres across the country.
to see other Get It magazines in the network.