Living her best life
Growing up in Koesterfontein, a tiny village just outside Magaliesburg, Alexandra's early childhood consisted of bottle-feeding calves, climbing trees and having dirt between her toes. She recalls 'baking' fancy mud cakes for the family from a very young age.
'They had all the trimmings. I'd spend hours perfecting my mud balls and then decorating them with pretty flowers. Thinking back, it seems as though I wore shoes for the first time when I was nine. Spending time outdoors was a massive part of my childhood.'
Her parents then divorced and she, along with her twin brother, Matthew, moved with their mom, Wanita, to the city. 'I struggled with the transition. I had been free for as long as I could remember. Here in the city I felt trapped at times. 'Thankfully, as time passed, Ally adjusted well to her new life, and her admirable bond with her mother certainly helped.
'My mom and I have always been exceptionally close. We are almost always together. Unconventional is what we've often been called. I prefer holistic. We live a life of love – love towards the Earth and all its creatures and of course, love towards people. My mom always says, 'Let it come from a heart space, not a hate space.' We take being self-aware and honest seriously.'
Ally has been a vegetarian for just over three years and decided to become a vegan a few months ago, not only because of her beliefs, but also for the health benefits. Now she's got her finger on an extremely niche gap in the food industry market – yes, you guessed it – she's a professional vegan chef. Don't panic, just because you enjoy a juicy fillet doesn't mean you'll never taste Ally's cooking. She cooks meat as well as any meat-loving chef (if not better), but prefers it to be happy meat – free range and happily roaming!
At only 21 years of age, and already the owner of Alexandra's Healthy and Delicious, Ally specialises in catering for all types of functions. Focusing massively on health, she also offers an array of juices among her organic vegetarian and vegan dishes. She studied at the HTA School of Culinary Art. Her mentorship was done at the sought-after De Hoek Country Hotel in Magaliesburg, under the guidance of ex-executive chef, Michael Holenstein. She's also worked with chef, Chantel Dartnall (voted SA's Chef of the Year) of Restaurant Mosaic in Joburg. 'There is such a massive misconception about living a vegan lifestyle – people believe that all they will ever eat is lettuce and raw broccoli. This is by no means the case. A vegan lifestyle can be delicious – and I'm hoping to portray this through my work. I was diagnosed with a severe illness as a teen, but was able to heal myself – simply by what I put into my mouth and by listening to my body's needs and following my intuition.
'Our bodies are incredibly well engineered. A silly example is a pineapple. Your body actually only requires pineapple when it is in season. Eating it out of season doesn't hold nearly as much benefit for the body. I love cooking seasonal fruits and veggies for precisely this reason. After this experience with illness, my purpose became more evident than ever. I used food to help myself to heal, and realised that I'm on the planet to help other people feel better – and food is one of the ways I do so.
Becoming a chef just happened. Perhaps my intricate mud cakes could have been the first sign?'
'Together with making divine food for events, I have also embarked on a journey to help people who are ill. I cook and make juices for people suffering from all types of illness such as diabetes, cancer and blood pressure issues. Together with eating well, I also practice yoga, enjoy hiking and meditation. We can only give our best when we feel our best.
'No doubt, I'm a bit of a wild flower – definitely a free spirit.
'I've never conformed to living and doing things the way others expect. My mom taught us to follow our 'tummy compass' from very young. Now, at the age of 21, I still use it daily. The tummy compass refers to your intuition – that thing inside you that tells you when something is good or bad. She always said that if your compass is showing downward (that heavy feeling) then your decision was not the right one.
'When we feel light and airy, our compass is showing up, meaning that what we're doing is good. The more in tune you become with your body and all your surroundings, the more you will realise just how it all works together and influences one another. For those wondering – living this way doesn't mean I don't believe in God – I most definitely do.'
In high school, Ally was popular, but says only a handful of people really 'got' her. The same applies today. Her circle of friends is highly diverse – but small. The person that 'gets' her most is her twin brother, whom she calls Matty.
'We've always been Yin and Yang. Despite being completely opposite, we know exactly what the other one is thinking at any given time. He's like another part of me. We also have a half-brother, Zjayden Marinovic, who has just turned nine. We love him dearly too.'
Coaxing powerful flavours and textures out of the humblest of produce is Ally's talent! She's also fiercely independent and as spontaneous as they come! 'I choose my trips eeny, meeny, miny, moe style. I lay out a map of South Africa and then pick a spot with my eyes closed. Last year was Plettenberg Bay. Someday I'll be doing this with a world map!
'My main goal is to open my own vegan restaurant. With highly trained staff to manage and cook, I will travel the world, discovering new and exciting dishes as I go.  I will bring all the exotic dishes from around the world back to the restaurant – the Earth's best meals in one place! My first stop will be Vietnam. One of my favourite dishes to make currently is an aromatic Vietnamese broth called Ramen. I'm also influenced by Mexican cuisine. I love making vegan burrito bowls and things like veggie tacos.
'In the meantime though, I love exploring markets during weekends – Neighbourgoods in Joburg and Jasmyn at Harties are some of my favourites. Festivals are also my scene – I'm obsessed with South African music, and anything jazz or Indie. For a while I was on a mission to become a beach hippie, living at the ocean and selling necklaces made of shells to generate an income.
Sadly, I quickly discovered I crave stability,' she laughs. 'But seriously, becoming a chef just happened. Perhaps my intricate mud cakes could have been the first sign? Nonetheless, my favourite word is 'Kismet' – meaning your fate or destiny.
It seems this is my Kismet …'
This or that – with Ally:
Beer or wine? Wine
Antique or edgy? Antique
Dance or sleep? Sleep
Book or film? Old films
Pattern or plain? Pattern
Salt or pepper? Salt
Jeans or dresses? Dresses
Tea or coffee? Chai tea
Pocahontas or Snow White? Definitely Pocahontas
Three famous people I would cook for … Lana Del Rey, Deepak Chopra and Elon Musk.
Text: Chemélle Barnard. Photographer: Jaco Bothma, www.empirephotography.co.za. Hair and makeup: Antoinette de Beer, EA Academy MUD Westrand, 073 681 9516. Clothing and styling: Madelaine Clothing, 076 350 2882. Venue: Woodlands Healing Spa, www.woodlandsspa.co.za.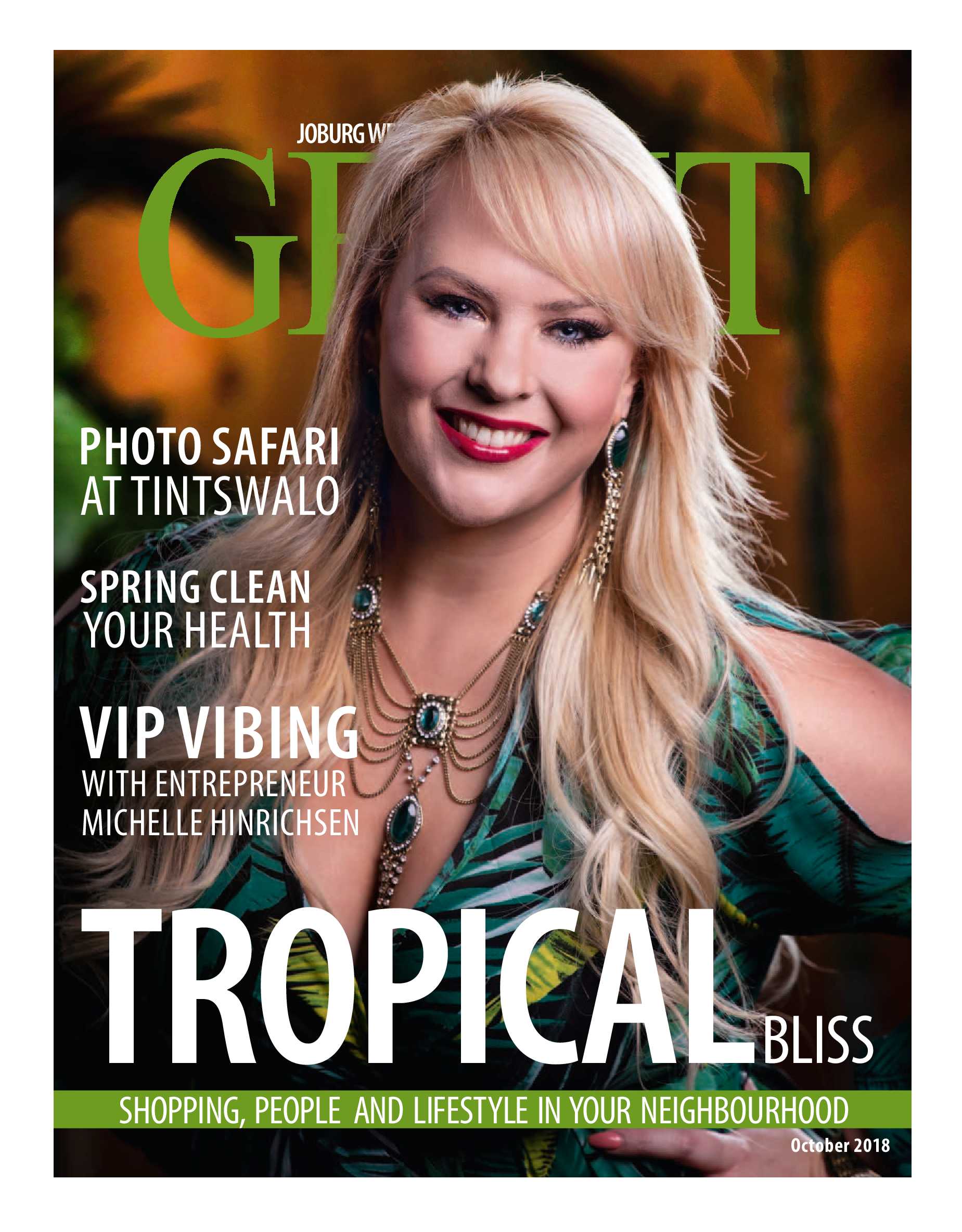 is a national brand of premium free magazines available in centres across the country.
to see other Get It magazines in the network.