The good doctor
Right off the bat, you'd think Nombina works in some field of creativity – perhaps advertising or marketing. She has an inquisitive nature, enjoys taking selfies and chats very comfortably with everyone she meets. Her calm, humble spirit almost contradicts the fiercely adventurous side we later learnt about.
During the cover shoot I constantly had to remind myself that she is, in fact, a medical doctor (with an arty side who heals for a living – isn't that amazing?
I've always admired doctors. Looking past the (as I imagine them to be) painful seven years of study, they probably hold the greatest responsibility any human can – the life of another! Then there's the miriad of medical terms to remember – and what each of them means. Not to mention the long (and untimely) hours! Constantly being on call and having to deal with people's miserable moods, because they certainly don't come to see you when they are feeling on top of the world.
No matter how people try to justify the 'riches and successes' of being a doctor, it's truly a passion! I believe most of us would not be able to do it, for any amount of money…
Nombina proves my theory right. Her passion lies deep. 'This is what I have always wanted to do – help and make a difference. I was raised in Meadowlands and during the riots in Soweto in the late 80s, people would seek shelter in our yard, their eyes stinging from the teargas. I'm told that I helped flush their eyes. I think the spirit of service was born there and grew through my schooling career. It was a natural progression in my life; it made sense and has always remained so fulfilling.' Her Urban Chic style, flawless skin, soft-spoken voice and mesmerising grace speakof a woman who invests time into presenting herself well and knows exactly who she is. Inside, a bold fire burns. She's a strong and opinionated queen of the soil! Much like a lioness – fierce and fearless, yet gentle and protective of the ones she holds dear.
'I first heard it in my Grade 1 report, and I've been hearing it ever since. I am often told that I am bossy. Yes, I do like things my way, although with age and maturity compromise has played a big part while still getting my thoughts and ideas across. I don't like that word –bossy– though. It has negative connotations and I do not like negativity in my life. I prefer words like authoritative, decisive or born leader.'
Currently, Nombina works as a medical advisor for a multi-national pharmaceutical company. 'When I was practising medicine, I could only help one person at a time, which was great, but I wanted to do more and have a greater reach. In my current role, I educate other health-care professionals(nurses and doctors) about specific disease entities and their treatments. This way I can reach more patients and make a difference in more lives. My aspiration has always been to make a difference, not a living. 'I regard education as highly important too. Mandela said, 'Education is the most powerful weapon you can use to change the world' and it definitely changed mine. It is my education that has given me a title that I am proud of, that has allowed me to help people and that has given me the opportunity to travel the world. Because I know the doors that education can open, I was inspired to start my non-profit organisation called EducateHer. It is a bursary fund for underprivileged young girls, and is aimed at bridging the gap between education and access. Although still in its infancy, I hope to change lives through this programme.'
Mandela said, 'Education is the most powerful weapon you can use to change the world'
Despite changing and saving lives, Nombina has also given it – to her two boys, aged six and two.
'I'm blessed to be a mom and fortunate to have been married to my varsity sweetheart for the past seven years. Both my husband and I have very hectic schedules and although society doesn't like women to admit this, I cope with lots of help! I have the most supportive husband (and family) in the world. We are lucky enough to have a live-in nanny who has been with us since my eldest was one. We treasure her!'
Balancing motherhood, running an NPO and being a doctor-cum-advisor is admirable! Have we mentioned her current placing as a semi-finalist in the Mrs SA competition? … And here I am, constantly struggling to 'make time' for exercise after work …
We asked Nombina how she finds the time for the role Mrs South Africa demands. She answered: 'Thankfully, Mrs South Africa is not your average pageant, so I'm not going out there trying to be the next Barbie. It's about pushing through my comfort zone and empowering myself while uplifting communities!'
She's also highly creative and loves to draw, paint and craft. Add to that a seasoned adrenaline junkie. She has bungeed off the highest bridge in the world, been skydiving and shark cage diving! 'The next adventure is paragliding from Castelluccio, the highest village in the Apennine Mountains in Italy!'
And when it comes to some serious downtime – she hits the nail there too! When she's not unwinding on the white sandy beaches of Thailand (her fave holiday destination), you'll find her comfortably dressed in PJs the minute she walks through the door! 'I literally kiss my husband and boys hello, change into PJs then play and spend time with them. Home is my happy place!
'For many years I believed that my area of improvement was procrastination, until I learnt that there is no such thing. There are only things in life that we regard as more important than others, and so we prioritise them accordingly. At the end of the day, I only aim to be truly content with what I have, what I do, who I am and to live a life that I am proud of.'
Everyday doctor:
My life's quote … The measure of one's impact on the world is defined by the difference you have made in the lives
of others.
I cannot stand … Tardiness and people chewing with their mouths open.
The last four items I bought … Coats, shoes, chocolate, groceries.
You'd make my day by … making me laugh to the point of tears and hyperventilation.
All things in moderation except … chocolate!
My signature dish is … oxtail, my family can attest!
The thing I know for sure … The Lord is my helper, I am not afraid, what can mere man do to me?
The book I'll read again and again … Things Fall Apart by Chinua Achebe.
The CD/ radio station currently playing in my car is … Kaya FM, it's educational, intellectually provocative and entertaining.
A movie that moved me … The Green Mile.
The world must know … the only thing you have control over is your attitude, and happiness is a choice, so choose wisely.
Text: Chemélle Barnard. Photographer: Jaco Bothma, www.empirephotography.co.za. Makeup: Antoinette de Beer, EA Academy MUD Westrand, 073 681 9516. Jewellery: Hollywood Costumes, www.hollywoodsa.co.za. Venue: Hollywood Studio, 27 Rustenburg Road, Krugersdorp West.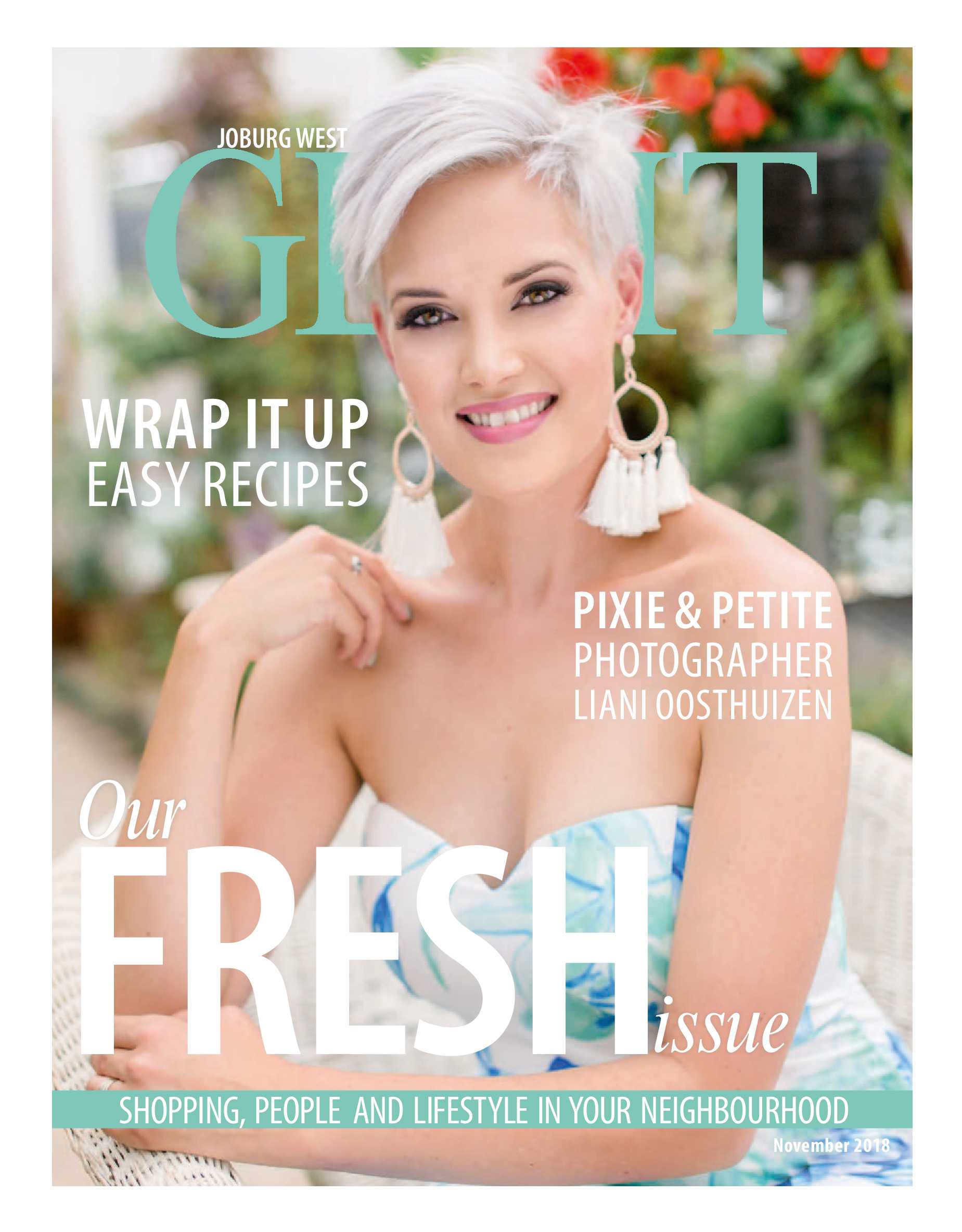 is a national brand of premium free magazines available in centres across the country.
to see other Get It magazines in the network.