Treating acne
Lamelle Clarity Active Body Spray treats pimples and acne safely and effectively, without adding to the scourge of antibiotics that are making bacteria drug resistant. What's more, Lamelle Clarity Active Body Spray is specifically formulated to give you the kind of advanced anti-spot affects you usually only get in facial products for the back and chest. And it comes in a super-easy twice-daily spray that improves acne on the body by up to 86 per cent in 8–12 weeks.
Acne vulgaris (phew, that sounds as ugly as it looks) is a skin disorder that affects up to 85% of people at some point in their lives. This is caused mainly by disorders in the cells that line the inside of hair follicles (hyperkeratinisation), while the skin overproduces normal oils known as sebum (hyperseborrhea), a particularly nasty bacteria called P.acnes (Propionibacterium acne, if you must know) and the painful and unsightly inflammation that goes along with getting a nasty pimple.
There are plenty of products that claim to treat these, but Lamelle is known for always going a step further in the name of innovating based on the evidence. And you know what? Our scientists have found four massive problems with the way we're currently treating acne.
4 Ways you're treating acne in totally the wrong way

      Treating P.acnes with antibiotics has made it drug resistant
Notice how most acne treatments perform OKAY in the beginning and then suddenly just start to fail completely? That's because most treatments in the past (and still many in the present) try to treat P.acnes with oral and topical antibiotics. What's happened is, through the years, P.acnes has become incredibly drug resistant. We're looking at a future where, if we don't stop the antibiotic treatments, P.acne could become a super drug-resistant bacterium – imagine how many Matric dances and first dates that would ruin.
      Treating the inflammation with antibiotics is making things worse
Apart from treating P.acnes with antibiotics, conventional treatments throw in extra anti-inflammatory antibiotics to treat the inflammation that goes with acne. This, of course, just makes the drug-resistance problem way worse. P.acnes's drug resistance has now been documented to be as high as 40%. Clearly, it's time to find a new way to treat the bacteria and the inflammation without affecting drug resistance (meaning without antibiotics).
      Using oxygen-based products actually just makes things worse
One of the ways manufacturers have tried to reduce the drug resistance issue is by using oxidation-boosting ingredients like benzoyl peroxide. At first glance, benzoyl peroxide acts on P.acnes without antibiotics, but it works by generating highly reactive oxygen species (ROS). ROS are basically free radicals, causing oxidation that's basically "biological rust" that boost cell harming and aging in the body. You wouldn't treat a blemish on metal by rusting it to oblivion, so why do that to your skin?
      We need something that's focused on treating acne on the body
By far the most effective acne treatments today focus only on the face, but there are very few highly specialised (and effective) acne treatments that are specifically designed to treat acne in the skin on the body.
So, Lamelle's mission is clear. Create a new product that fights P.acnes and inflammation without antibiotics and affecting drug resistance, to counteract ROS in the skin barrier, and make it specifically for use on your body.
What's unique about Lamelle Clarity Active Body Spray:
        It employs two exciting new ingredients that are only found in the new Clarity Active range: acne-busting vitamin Niacinamide and the specially modified version of ascorbic acid Sodium L-ascorbyl-2-Phosphate. Why? These ingredients give Lamelle Clarity Active Body Spray the below abilities:
        Gives it a strong antimicrobial effect on P.acnes without affecting healthy skin bacteria;
        Yields similar results as an antibiotic treatment would have, but with absolutely no risk of bacterial drug resistance because it has no antibiotics in it;
        Reduces ROS and oxidation in lipids by 40%;
        Shows a 60–86% improvement in the problematic skin in just 8–12 weeks, because of its advanced (and totally safe) anti-inflammatory effect;
        Proven more effective than 5% benzoyl peroxide (shows a 71% improvement, versus benzoyl peroxide's 61%);
        Improves both inflammatory and non-inflammatory pimples equally;
        It's specifically formulated to be used on your body.
Who's it suited for?
Lamelle Clarity Active Body Spray is ideal for anyone suffering from back and chest acne. But note: it contains a very high concentration of active ingredients to be effective across large areas of skin on the body, so it's not meant to be used on the face at all (for that, ask about its sister product, Lamelle Active Control).
What's more, it comes in a handy spray. So you easily spray it over the affected areas of the body twice a day and rub it in until the product is absorbed. Or, spray it onto some gauze or cotton and then rub it into the affected areas.
There are absolutely no contraindications for Lamelle Active Body Spray. It's safe to use even if you're pregnant. And, because it is different and specific to the non-facial skin, it doesn't replace the needs for your current Clarity acne treatments – it's there to be used in conjunction with and further enhance the benefits of using your existing Lamelle Clarity and Acnevelle ranges.
Where to get it
Lamelle Active Body Spray is now available from skincare therapists, dermatologists and doctors – you can ask for it by name at your skin clinic.
RSP: R395 (Including VAT)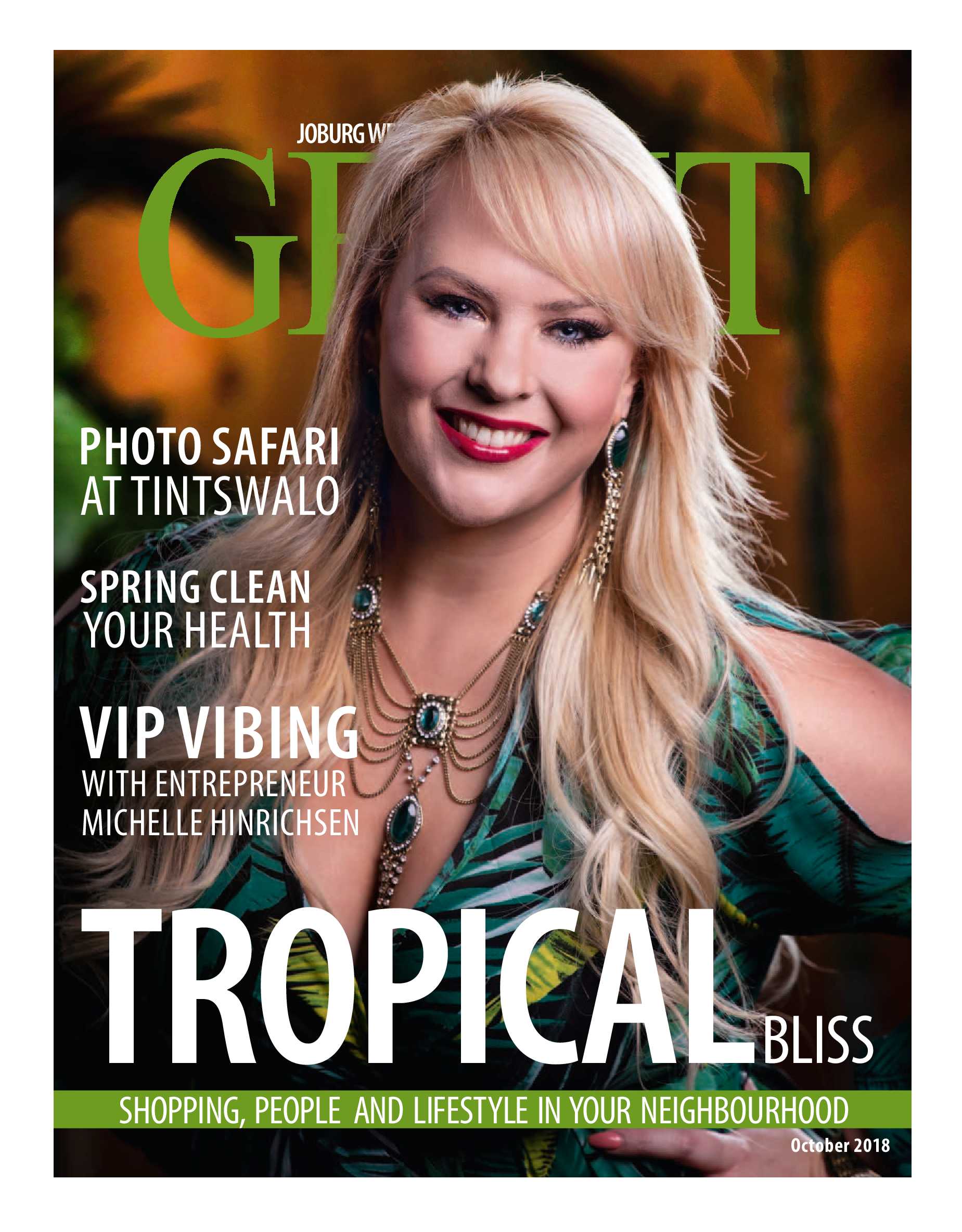 Nerf fans get ready … the ultimate Nerf experience, Nerf Fest is back!
Get hands-on with the latest NERF range and put your blasting skills to the test at Nerf Fest 2018, between 27 & 28 October 2018 at Jozi X, Bryanston and we've got some tickets to give away!
Nineties vs Noughties – When 2 decades collide!
The Barnyard Theatre presents a HOT NEW live production – NINETIES VERSUS NOUGHTIES. Which decade rocked our world the most? The challenge is on! And you can win a table of 10 tickets for the show taking place on 25th October!
Welcome summer with an extraordinary rosé
We're giving one incredibly lucky reader a case of Jean Roi Cap Provincial Rosé.
Happy birthday FAT bastard … we're giving out gifts to celebrate
We're celebrating FAT bastard's 21st birthday … with a gift of a magnum of Shiraz. Here are 21 reasons why Mr.b loves about FAT bastard.
is a national brand of premium free magazines available in centres across the country.
to see other Get It magazines in the network.