Deals in heels
Gone are the days that a better-than-average tablecloth, a few balloons sparingly scattered and a round plate of dull sausage rolls on a bed of lettuce could be called a 'party' … (Thankfully!)
Today, every occasion calls for an exquisite soirée – with the exception of funerals perhaps? Nonetheless, if there's a reason to pull out all the stops, then why the heck not – and Leandré Abvajee couldn't agree more.
Most people would think being a young professional, travelling the world and working for one of the biggest Telecom giants on the planet was 'the life'. For Leandré it certainly was. At least for the first eight years – climbing the corporate ladder one stiletto at a time. But something was missing. 'It was only when I left my comfort zone and moved into a new city that the wave of change forced me to take the biggest leap of faith. I had no idea what I was going to do, but I resigned within two months of moving to Joburg.
Gratefully, I was one of those lucky ones that 'fell' into my passion. Seven years later and I'm smitten with my life, my industry, my purpose!' Leandré is the owner and founder of Black Olive Wedding & Events. Here tacky draping, faux flowers and organza chair tie-backs won't cut it! She is the master of creating exceptional events and her long list of high-end clientele is all the proof we need! Nedbank, Cash Connect, Norvatis, Ashburton Investments, Shell South Africa and many more …
'I pour my heart and soul into every event we do, but despite these big productions always being fabulous, it's the intimate celebrations that take much more thought, time and attention to detail,' she said.
'Being a successful events coordinator is all about turning difficult concepts into something extraordinary. The ability to multi-task without skimping on quality certainly also helps.'
Being a woman-only run company (shout-out to celebrating women this month), this is one enterprise that is proving that anything and everything can be achieved in five-inch Chanel heels and a Gucci clutch, and Leandré has no shortage of these either … 'One thing I won't compromise on is quality garments and accessories. Your style is a direct extension of your brand. I'm unapologetic about loving high-end designer brands, my favourites being Chanel, Versace and Gucci. You can also never go wrong with a highly tailored suit! Definitely what I spend the most money on.'
So this explains us scrolling for much longer than we'd care to admit on her Instagram feed … Besides the pics of her endless collection of designer bags and shoes, the snaps showcasing some of her MANY events are equally swoon-worthy. 'I love social media. I'm constantly thinking of ways to improve my personal and business online branding and presence. I think it's very important to have good quality images and interesting content.' One thing is clear, she's very passionate about promoting the concept of being a 'powerhouse woman'!
'Being a woman is fantastic – we have prettier public restrooms, we can cry for no reason, we can change our appearance as dramatically as we like and we're born leaders – no need to roar to let them know we are the true kings of the jungle …'
'Take Isabel dos Santos for example. She's an Angolan businesswoman and entrepreneur – one of Africa's richest women with an estimated net worth of US$2,7 billion according to Forbes.
Now that's a lady I'd like to have a vanilla latté with!'
Some may call it vain, but she's worked her butt off. Her mornings begin before the birds wake and after gulping down a protein shake, her working day of continuous multi-tasking begins.
'A typical working day can end anytime between 7pm and 2am depending on how heavy or light my plate is.'
Add mom and wife to entrepreneur, and that's Leandré. Her 10-year-old daughter, Jasmin, is her boss-momma's heartbeat! 'Talking about Jasmin makes me smile like a Cheshire cat. If we speak about daughter goals, this has to be it! Not only is she a top academic student but also an outstanding public speaker, avid reader and superb athlete. She's already started her own business too – selling slime. We are truly proud.
'My husband, Ronald, is a businessman, TV show host, radio personality and health, fitness and wellness entrepreneur.' With their hectic schedules, time really is a valuable commodity, so when they do have some down time they make the best of it – spending quality time as a family. Here's the great thing though, and this is what finding your passion is truly about. Leandré sees her work as part of who she is – it's just an extension of her personal life. 'Yes, running your own business is stressful, but I'm able to manage my own time and set my own goals. I thrive on being the captain of my own ship.'
And who better to get a few event tips from than the queen of eventing?
'A big trend is unique venues! Everyone wants to be trendy and do something differently. Conventional venues are not as in demand as they were before. 'Think art galleries, an urban rooftop, an industrial warehouse or a boutique guesthouse with a whimsical garden!'
There is something else we're hyper-excited about … balloons! 'Balloons are big – literally and figuratively. We're seeing balloons everywhere, whether they're used as a decadent table runner with florals mixed in between or as a gorgeous cake-table backdrop or photo wall. Shimmering metals are still big too. But now it's all about mixing them up. Golds with rose golds, pewters and coppers – all at once!
'Celebrations are the perfect space to create unforgettable memories, so make them count.' If ever there was a time to wave those paper plates and store-bought cakes goodbye, the day has arrived! And while we reminisce about all we should have done at that last big event, one thing is certain, boss-lady Leandré is taking over the world, one mind-blowing event at a time!
Top picks to make every event a success:
1. A great venue that suits your personality and budget
2. A well thought-through food menu that complements the style of the celebration
3. Creative and innovative tablescapes and event aesthetic design
4. Engaging your guests through entertainment thus maintaining the energy
5. A seasoned events pro to pull all the elements together!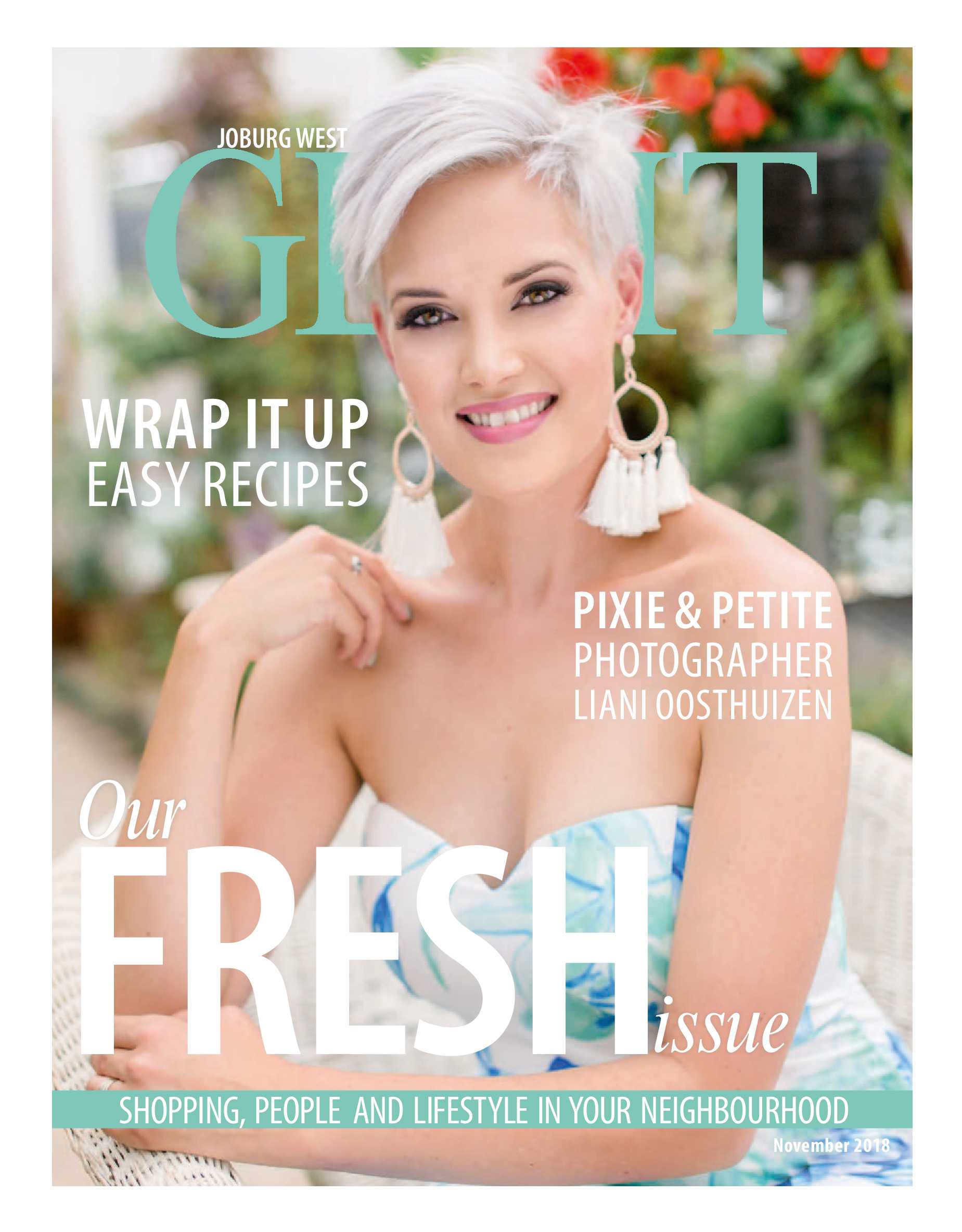 Going down!
Win an exciting family getaway worth more than R22 000!
Summer spoil
We're giving you a chance to shine all through summer by winning an ICE watch!
Win with M&M's and Skittles this Halloween
We've partnered with M&M's and Skittles to give away two hampers consisting of M&M's, Skittles and movie vouchers valued at R650.
is a national brand of premium free magazines available in centres across the country.
to see other Get It magazines in the network.