The final edit
Deciding to become a film editor was a very organic journey. I went to an art school for high school – Pro Arte Alphen Park, Pretoria – where I specialised in Drama and Theatre Performance. I was always intrigued by the amazing worlds created on film and one of my teachers introduced me to the lecturers at AFDA, in Auckland Park. I went there to study film, not really knowing anything about the various disciplines or opportunities within the industry. Luckily, as part of the AFDA curriculum, you're allowed to briefly explore all of the main disciplines in your first year – and it was at this point that I discovered and subsequently fell in love with editing. And now, 15 years later, I am still editing.
The first feature film I worked on as an editor was Ouma se Slim Kind (2006). We made the film at a time where there hadn't been an Afrikaans film made in the country for almost 10 years. As a result, there was very little support or guidance for young film-makers. Everyone had to multi-task, so I was also co-producer on the film, and the casting director.
There are a couple of really important aspects to being a great film editor. Attention to detail is an extremely crucial trait to have. Film editing is about subtlety, nuance and rhythm; knowing how to manipulate an actor's performance to engage the audience completely; understanding story and story structure to transport your audience into another world, and understanding human emotion and how to manipulate it, so that your audience can feel with the characters in the film.
Stroomop is an interesting character study set against a breathtaking landscape. The characters find themselves in a situation where they are forced to ask and answer the very difficult questions of the self. It is not just a journey through some of South Africa's awe-inspiring landscapes (that have never been captured on film), but it is also a journey with characters that everyone can relate to – dealing with issues and challenges that resonate universally. It is a journey of conflict and beauty, of laughter and regret, of self-discovery and compassion. It is truly a journey to experience on a big cinema screen!
Feature film scripts take an incredibly long time to develop. Firstly, you have to find a story that you, as film-maker, really want to tell. Then you find the best characters to tell that story. You spend a lot of time writing, re-writing, throwing everything away and trying again, digging out old pieces of paper on which you wrote an interesting idea and developing it further in a different direction, until eventually you get to your first draft of the screenplay.
Then you start collaborating with producers and a director – things change and develop more. Key creative crew members become involved. More input and ideas are grappled with… Eventually you start casting your actors and they bring a new element to the script.
And one day, when you're about ready to start shooting the film, you realise it has been two to three years of work to get to this point. In the case of Stroomop, it took three years.
One of my biggest challenges is to maintain some sense of perspective and objectivity towards the film, the characters, the story and the emotion. By the time a film is finally released, the editor has seen every second of it hundreds of times. You have taken the 'journey of the film' so often that you can start to become numb to it. Scenes start to feel really long, so you want to cut them shorter – but that might just be because you've seen them 50 times already.
You're not emotionally engaging with a character any more, so you might want to start changing the story to 'make them more interesting', but are you just suffering from viewing fatigue? Trying to watch the film 'for the first time', every time you watch it is one of my biggest challenges as a film editor.
I pretty much spend 10 to 12 hours a day in a darkened room behind my computer monitors. Just me and the footage – and like building a puzzle, you start by putting two pieces together, then adding on the pieces that match and so you carry on until you've completed the entire puzzle.
I have been extremely fortunate to have been part of the 'revival' of Afrikaans and South African cinema. Thirteen years ago, when we started making films, everyone had to take time off from their 'regular' jobs to work on film sets. You had to fill your schedule with other jobs – television, commercials, corporate work – because we were only producing one or two films a year. Now you have people who specialise in feature films only. People dedicate their lives to this art form – and when you have that kind of dedication, things can only get better. Being a film-maker has now become a legitimate career path, so more people are doing it. More films are being made, and that is how we build
an industry.
I recently completed work on a film entitled ELLEN: Die Ellen Pakkies Storie, which will be released in September 2018. It has been travelling around the world on the International Film Festival circuit. I also just finished another film, 3 Days to Go, which will be released in early 2019. There are also one or two other interesting projects, but I'm not allowed to talk about them yet. They are all for 2019/ 2020 release.
One of the films that I have worked on that stood out most to me is Bakgat! This one will always have a special place in my heart, because it was our first completely independent film, made with very little money, amazing people and a lot of blood, sweat and coffee! Others that stand out include Roepman, Die Ongelooflike Avonture van Hanna Hoekom, Raaiselkind and Vaselinetjie, all dramas that still sit with me today.
And then Vir Altyd, Vir Die Voëls and Hear Me Move, which were all really fun, big films, with so much heart and passion that you can't help but love them.
Story is the most important element of any film. If you have a great story being told through interesting characters, everything else will be forgiven.
The thing that I love about working with Donna-Lee Roberts and Ivan Botha is their incredible love and passion for their projects. They commit utterly and completely to their films – they truly understand their audience and will do everything in their power to bring that audience the best film they can possibly put together. They also, truly, embrace collaboration, pushing everyone on the project to bring their A-game, because, as they say, at the end of the day 'It is just as much your film as it is mine.'
This 'heart' and passion translate onto the screen and resonate with audiences.
*Stroomop releases on 8 August 2018.
In short with CA:
My hidden talent … Not sure if it qualifies as a talent, but I seem to be able to keep most of the plants in my garden alive.
My other interests include … My partner, Neil and I love to travel, both locally and internationally. We also enjoy mountain biking, hiking and I enjoy working in my garden.
Your favourite dish … gun to my head, I'd have to say – Choc Chip Belgian Waffles with vanilla ice cream, fresh mixed berries and crushed meringue – to be embarrassingly specific.
One thing you'll never do … Never say never, but skydiving is pretty high on that list. I am not a huge fan of heights.
Favourite pair of shoes … I'm more of a 'barefoot' kind of guy.
Person who inspires you … Anyone who does any kind of volunteer work!
Restaurant on the West Rand … Banjaara Indian Restaurant
Last movie you watched … Three Billboards Outside Ebbing, Missouri
If you could have any pet, real or imaginary, it would be … At the risk of upsetting my dogs – a Pegasus.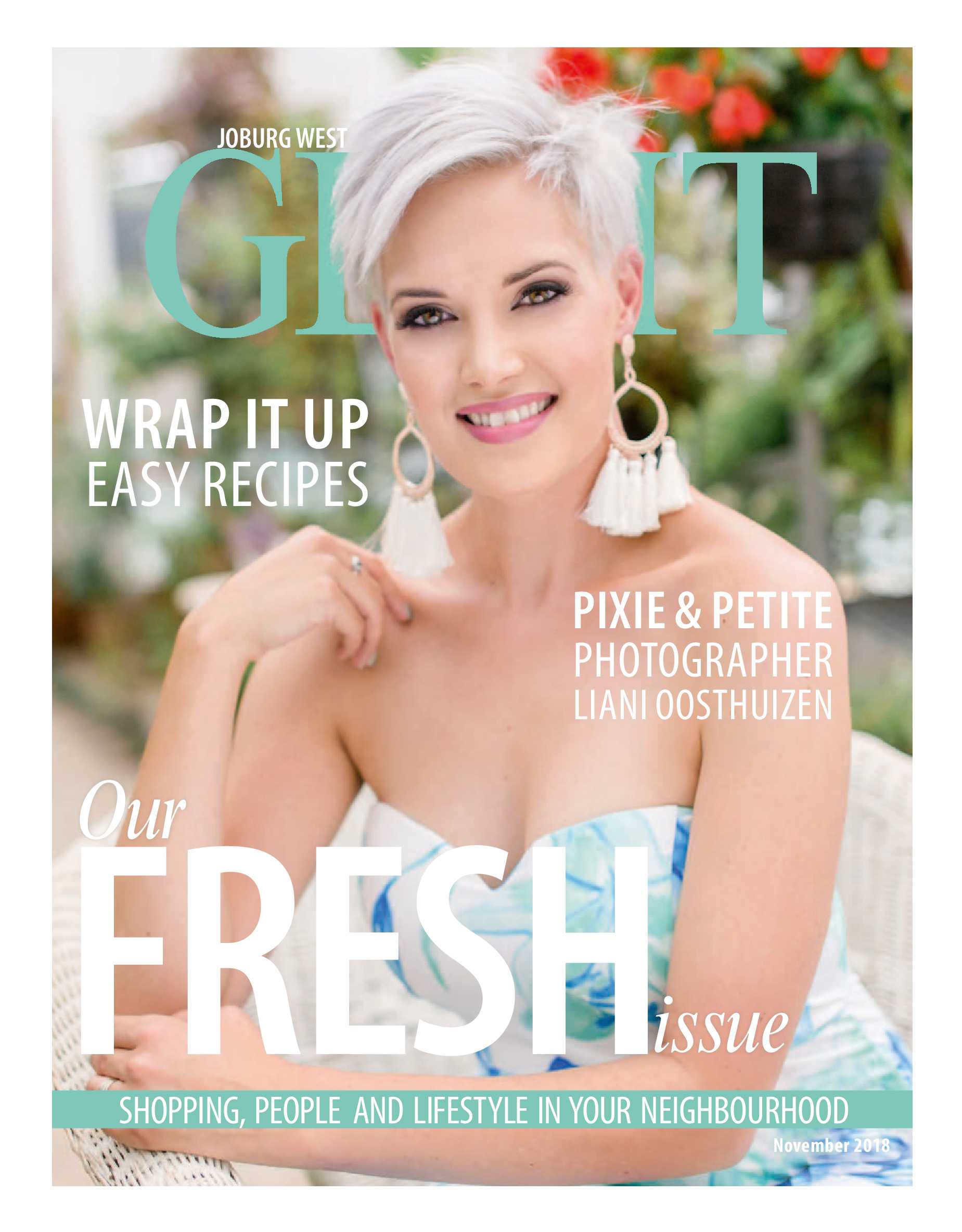 Going down!
Win an exciting family getaway worth more than R22 000!
Summer spoil
We're giving you a chance to shine all through summer by winning an ICE watch!
Win with M&M's and Skittles this Halloween
We've partnered with M&M's and Skittles to give away two hampers consisting of M&M's, Skittles and movie vouchers valued at R650.
is a national brand of premium free magazines available in centres across the country.
to see other Get It magazines in the network.