15 Questions for our fave runner
1. How and when did you discover your love for running?
I have always loved running. My father was a marathon runner in his younger days, so I guess it's in my blood! I don't run competitively, but it's my preferred way to keep fit.
2. What was your finishing time in last year's Spar Women's Race?
I finished last year's race at Marks Park in one hour 19 minutes. This year I had bronchitis when I did the race in Centurion, so unfortunately I had to walk the distance. My time was one hour 38 minutes.
3. Which other marathons have you done?
I have done a variety of races with distances ranging from 10km to 33km, among them the 21km Run Zone and the Clearwater 10km. My longest race was the Colgate Race over 32km. I ran it on 6 May, which also happens to be my birthday, so it was an extra-cool gift to myself.
4. Please tell us about your family life …
I live in Florida and I'm a single mom to my six-year-old son, Caden. I am slowly getting him into running too. We often walk the parkrun together, which is great fun.
5. What's your occupation?
I am a facilitator at Lancet Laboratories where I train staff in soft skills. This year marks five years with them.
6. What were the last four things you bought?
I practically live in gym tights/ pants, and with them getting worn easily I recently bought new ones. My 'normal' clothes consist of mostly dresses, so with Summer around the corner I bought two of those, and I also bought my son some shoes.
7. If I would run away from something, I would be running from …
Negative people!
8. What's your hidden talent?
I am a good cook – I love cooking big pots of food when I have the time.
9. How would you describe yourself in a short paragraph?
I am competitive and like to improve myself as often as I can. I have very few close friends, but many acquaintances. I love seeing new places and meeting new people, but I enjoy my quiet time. I also love movies and series, so Caden and I often go to the movies or I take him to kiddies' play areas. I'd say I'm very friendly too.
10. Which athlete do you look up to?
Usain Bolt – he's just so incredibly fast; if only he could donate two per cent of his speed to me!
11. What is your best-kept health secret?
Stay active, take a multi-vitamin and calcium tablets, eat well and avoid sugars and starch – I guarantee you, you will feel great.
12. How often do you run?
I run about four times a week, between five and 11km, depending on the day's constraints. I also try do the parkrun every Saturday. Besides running I also enjoy going to the gym and doing Crossfit.
13. Your best meal before a race?
I normally have pasta or steak and chips, which fills me up nicely but it's not too 'heavy'. I also have plenty of liquids.
14. A reality television show you would enter?
Probably Survivor SA – just to see how I would perform both physically and mentally.
15. Are you a 'run in silence' or 'booming music' person?
I think a lot while running, so I prefer to do it in silence. My fave track at the moment, however, is Boo'd Up by Ella Mai.
Main image: Elsa Niemoller.
WATCH: How the photoshoot went down!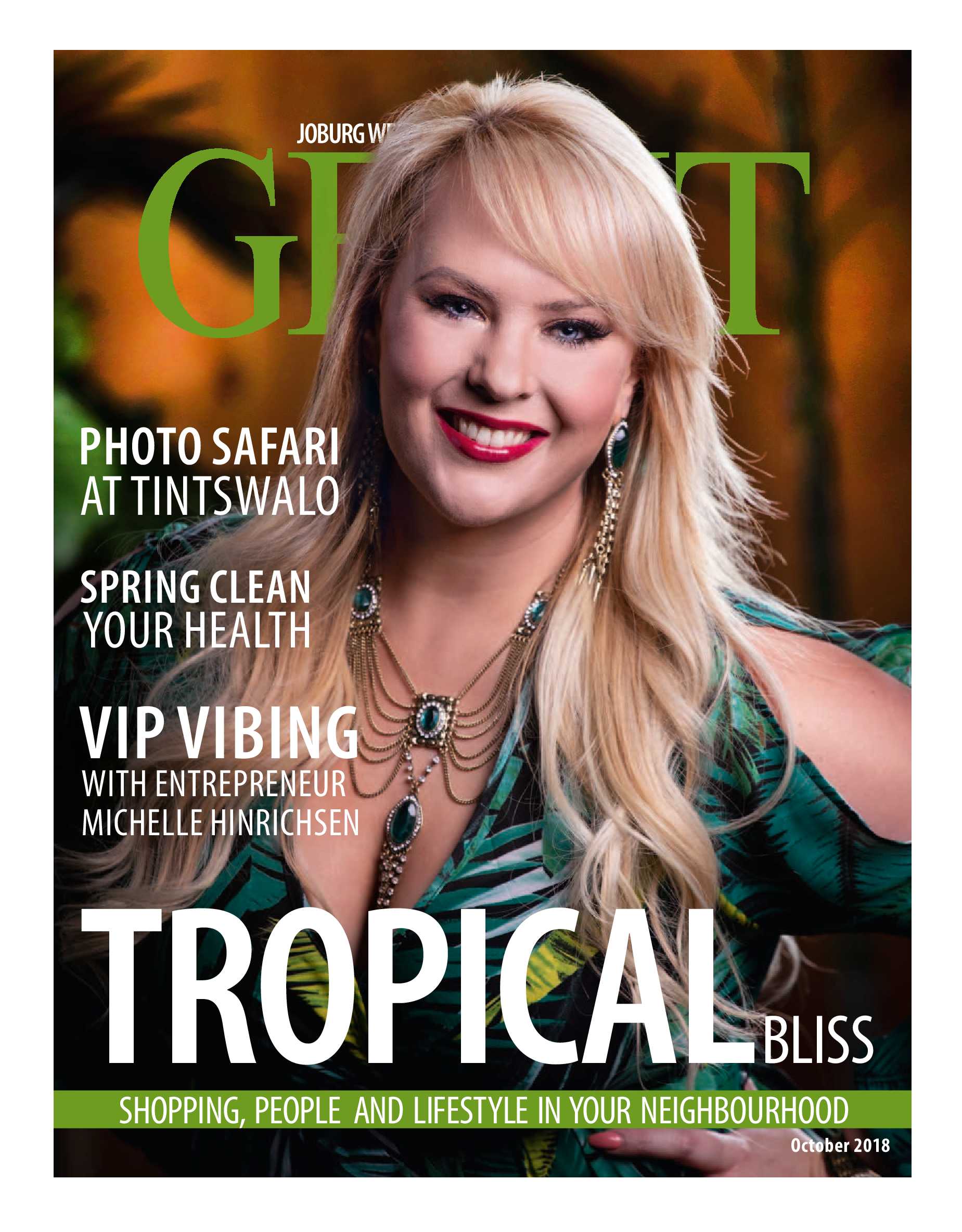 Nerf fans get ready … the ultimate Nerf experience, Nerf Fest is back!
Get hands-on with the latest NERF range and put your blasting skills to the test at Nerf Fest 2018, between 27 & 28 October 2018 at Jozi X, Bryanston and we've got some tickets to give away!
Nineties vs Noughties – When 2 decades collide!
The Barnyard Theatre presents a HOT NEW live production – NINETIES VERSUS NOUGHTIES. Which decade rocked our world the most? The challenge is on! And you can win a table of 10 tickets for the show taking place on 25th October!
Welcome summer with an extraordinary rosé
We're giving one incredibly lucky reader a case of Jean Roi Cap Provincial Rosé.
Happy birthday FAT bastard … we're giving out gifts to celebrate
We're celebrating FAT bastard's 21st birthday … with a gift of a magnum of Shiraz. Here are 21 reasons why Mr.b loves about FAT bastard.
is a national brand of premium free magazines available in centres across the country.
to see other Get It magazines in the network.