VIP vibing
As if owning a highly successful travel and events management company, being an absolute stunner and being the President of the Travelbags organisation aren't enough, Michelle was also recently named one of the Top 40 Winners of the women in MICE (Meetings, Incentives, Conferences and Exhibitions) initiative …
I founded Iconique Brands in 2015, but it only really became operational in 2016. At the time I was a sales and marketing manager for a hotel group and wanted to branch out and offer my services as a consultant to the hospitality industry. Turns out Iconique Brands became a travel and event management company instead.
At the moment I focus on VIP travel and tours, and offering Pop Culture Tours. What is that you may ask? Well, do you want to walk in the footsteps of Jon Snow from Game of Thrones, or eat with the Vikings and drink out of Thor's hammer? Perhaps tour the set of Harry Potter? Our focus is taking you there! Our most recent 'big involvement' was assisting with Comic Con Africa. It was the first time ever that Comic Con was in Africa, and forming part of the team that arranged all their travel was just amazing. It was such an exciting opportunity, bringing fans of pop culture, gaming and other similar interests together for an unforgettable experience of Cosplay, gaming tournaments, fantastic exhibitors and out-of-this-world prizes.
I believe great business owners are created by experience and are not simply born. It's the trials that make you a successful business leader. I've always had so much respect for entrepreneurs who continue to dream and follow those dreams. I believe reward is shared by business owners who inspire, uplift and share. There is no need to step on the shoulders of others to become great, rather shake hands. I believe the ultimate goal is for Iconique Brands to grow into an empire, becoming the number one in the industry to offer Pop Culture Tours and VIP Travel, and to continue to build and foster good working relationships with heroes in the events and travel industry.
There is no need to step on the shoulders of others to become great, rather shake hands.
I have been President of Travelbags for almost two and a half years. Being President of Travelbags Johannesburg has given me a platform to share my professional experience and relationships with like-minded businesses in the industry and to build and lead the Travelbags Johannesburg Club. Travelbags is the Women's Travel Club of South Africa, and the Johannesburg club has been in existence for 60 years. The club brings individuals from the travel industry together once a month to network and share good experiences, doing business and creating great working relationships over a delicious lunch. Every month, a different entity within the travel trade hosts a Travelbags lunch and shares exciting news with all those in attendance. On average, we host 150 people for a lunch every month. At every lunch, a charity is chosen by those sponsoring the lunch, a raffle offering amazing travel prizes is then held and proceeds made from the raffle are given to the charity. There are amazing benefits for those who are members of Travelbags. You can become a member of Travelbags if you are working within the travel trade or your main job focus is organising travel or events. Please go to www.travelbags.co.za to find out more.
I am also honoured to have recently been chosen as one of the Top 40 winners of the women in MICE (Meetings, Incentives, Conferences and Events). Candidates are nominated by people working in the travel trade. A panel of judges then judge the nominations on various factors such as leadership, passion, creativity, integrity, mentorship and relationships. You need to be nominated by a person within the travel trade who feels you are deserving of the award. You need to work within MICE in the travel industry to be eligible.
Balancing all my responsibilities is quite a big challenge, but I try to maintain my focus and follow the goals I set for myself. I have learnt to stand on my own and be a team player at the same time. When I do get overwhelmed, I have an amazing support structure of loved ones that puts me back on track.
I am an only child and have the most special human beings as parents. I feel so blessed to call them Mom and Dad, we do everything together. I share life with my amazing boyfriend, Nick. I am mom to four fur babies, Tinkabell my Chihauhau, Chelsea my Pug, Fifi my Toy Pom and my special little boy, Maximillion, my Yorkie. All these beings complete me and any spare time I have I spend with them and my special girlfriends who are my soul sisters.
Many people don't know that I absolutely love pirates. My favourite drink is Rum and Coke Zero, perhaps not very lady-like, but my best friend Kylee introduced me to the drink, and confirmed that ladies only drink Captain Morgan.
My career has taught me that I am a lot stronger than I thought I was. Being an entrepreneur has proved my self-determination and now my outlook is always 'Where there's a will, there's a way'. How you think and believe is what you will become. Strive for joy, strength and happiness. Everything you need is within you.
To the point …
If I retire tomorrow I'd … buy an island, drink rum-based cocktails, adopt as many shelter animals as I wish and live happily ever after.
My first-ever job was … a marketing administrator for Channel Life. I had the best boss and learnt so much from her.
I spend the most money on … travel, my family, my boyfriend and my dogs.
My favourite movies are … The Pirates of the Caribbean movies.
My favourite restaurant on the West Rand is … Doppio Zero Clearwater Mall.
I cannot go without … perfume.
My favourite clothing stores include … YDE, H&M, Foschini and The Space. I love fashion!
Michelle's top 10 picks of must-visit/ must-do experiences:
1. Walter Sisulu Botanical Garden – find your peace here. 2. Silverstar Casino – for a fun night out. 3. Avianto – perfect for romantic picnics and getaways. 4. The Rhino & Lion Park – Sunday afternoon fun with the family.
5. Walk Haven – great to take the dogs for a day out. 6. Clearwater Mall – My favourite mall in the world! 7. Krugersdorp Country Club – great golf course. 8. Casalinga – awesome restaurant. 9. Honeydew Mazes – add it to your local must-do list! 10. The Cradle of Humankind – the very best of the West.
Text: Chemélle van der Merwe. Photographer: Jaco Bothma, www.empirephotography.co.za. Venue: Hollywood Studio, www.hollywoodsa.co.za.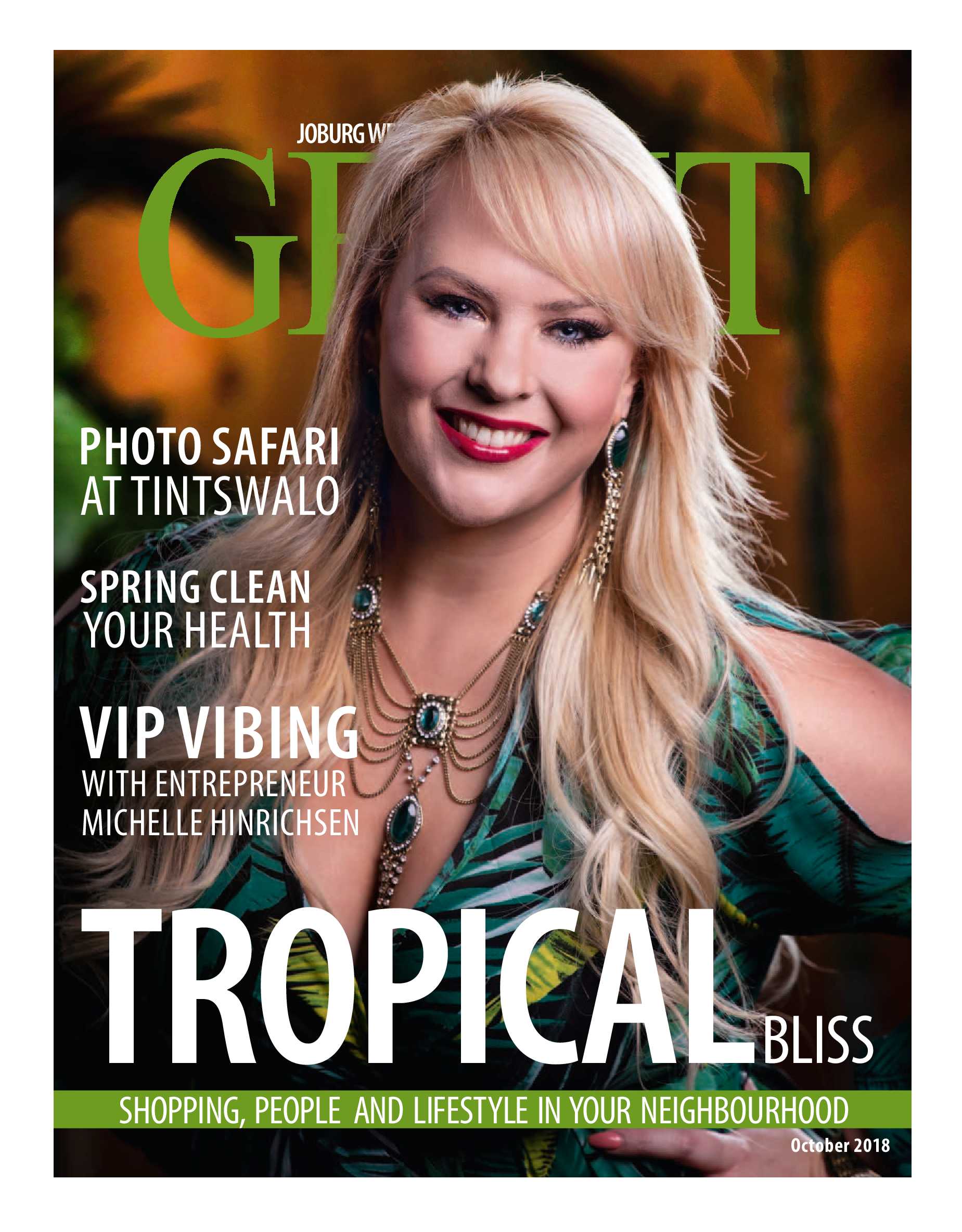 Nerf fans get ready … the ultimate Nerf experience, Nerf Fest is back!
Get hands-on with the latest NERF range and put your blasting skills to the test at Nerf Fest 2018, between 27 & 28 October 2018 at Jozi X, Bryanston and we've got some tickets to give away!
Nineties vs Noughties – When 2 decades collide!
The Barnyard Theatre presents a HOT NEW live production – NINETIES VERSUS NOUGHTIES. Which decade rocked our world the most? The challenge is on! And you can win a table of 10 tickets for the show taking place on 25th October!
Welcome summer with an extraordinary rosé
We're giving one incredibly lucky reader a case of Jean Roi Cap Provincial Rosé.
Happy birthday FAT bastard … we're giving out gifts to celebrate
We're celebrating FAT bastard's 21st birthday … with a gift of a magnum of Shiraz. Here are 21 reasons why Mr.b loves about FAT bastard.
is a national brand of premium free magazines available in centres across the country.
to see other Get It magazines in the network.