Picture perfect
Who wanted to rush to the salon and cut their hair into a pixie style after seeing our cover this month? We did! It's hard to believe that Liani spends her days behind the camera, right?
It only takes a quick scroll on any social media platform to see that photographs are everything nowadays. Everyone is telling stories through pictures. Just when you think you've seen the most creative picture, the next one comes along. And in light of their popularity, it seems Light Flair Photography has set the bar high … very high!
We decided to team up after clients began booking us as a 'combo'. For some reason, clients felt a lot more comfortable when they knew we were a hubby-wife package, especially when it came to weddings. I'm an introvert and he's a real people's person. I believe we complement each other perfectly – both in our personal and professional lives.
Franco is an athlete too. He's an avid Comrades runner who also coaches young middle-distance athletes. In business, his role mainly covers admin and finances. I'm normally responsible for editing and social media. Together, we are both photographers. The only time we face challenges in our work is when we have different priorities and expectations, but honestly, it just works.
We met at school in my matric year and fell in love at a youth get-together at church. We dated for seven years before we got married and this November will be our ninth anniversary!
We believe a successful Mr and Mrs partnership relies on a few things. After 10 years of working together, we can safely say it takes time to get the perfect balance. Mostly, I believe, it's trusting each other, knowing each other's strengths and weaknesses. It's also important to define each other's roles. Our number one rule is to never mix work with life, so when we step out of the office we are in a completely new zone. We regard 'me' time and spending quality time as a family together as equally important.
Our daughter turns five in December. She is bright, bubbly and very active. Believe it or not – she keeps me human. She keeps me sane, she keeps me calm and she makes sure I get the daily exercise I need. On days when I have mountains of work and feel like a robot, she brings me back to earth and makes me feel grateful for everything I have. I adore her cheeky stories and contagious laughter.
We regard time as highly important. In our industry, we have challenging working hours. When everyone else is enjoying a braai and watching the rugby, we are most likely working. When someone is hosting a birthday or some sort of function, we are usually the ones taking the photos. Therefore we make special time for each other as often as possible.
I'm passionate about helping other people in our industry so I started a business called 'The Editing Lounge'. Here I help other photographers with their editing and/ or workflow. In time to come, I will also be hosting mini workshops and mentor sessions for those who want to know how we do it. We'll cover the business side of things, editing and posing clients. I'm also a make-up artist from time to time and love experimenting and helping others look beautiful in front of the camera.
Besides photography, I also love oil painting. Over the years, I have done a variety of art forms, but always found myself back with a brush in my hand, painting landscapes or animals. I also enjoy creating wall murals for my daughter's room.
I matriculated with a distinction in Art. Immediately after school, I worked at a geyser manufacturer. I worked my way up the ladder and studied business management, interior decorating, bookkeeping and make-up artistry part-time. I only attended a few photography workshops here and there and learned some skills from my husband – the rest was self-taught.
I didn't find photography but photography found me. About 11 years ago I went with Franco to assist with his first wedding photography job. Taking photos came very naturally to me and I quickly fell in love with this art form. Being a very shy girl, I felt most comfortable and con-fident when I had the camera in my hands.
Our photography style is all about light! I'm a natural-light photographer and don't use a flash. I love to create dreamy and romantic moments. Using light helps me achieve the dream-like, light and airy look I desire.
We work very hard, but it's always worth it. I love nothing more than to see the end result of the images I envisioned and our clients' reactions. Weddings are my ultimate favourite. I love the excitement, energy, emotions, intimacy, happiness, stress – basically I love the challenge it brings and I thrive on staying creative. I love that every wedding is unique and I get to share in the joy.
Nowadays, breaking the basic rules can often attract some really awesome clients. People are drawn to shots that aren't perfect. I believe the only photography rule you cannot break is letting your client face the sun.
I've witnessed some awkward moments over the years. One that stands out is when a groom decided to sing a song for his mother and the song was actually meant for the couple's first dance. The bride was very unhappy. There was no 'first dance', or any other dancing between the bride and groom for that matter – awkward! I've also been asked to do a boudoir couple shoot on the bonnet of a car – I'm not that kind of photographer.
The biggest misconception is that people think we only take a few photos and our work is done. They can't understand the price we charge, the time it takes to get photos and albums ready and delivered. On average, an eight-hour wedding, from the day we get booked until the day we hand over the final product, takes a minimum of 35 hours.
If I could photograph any two people in the world it would have to be Angelina Jolie and Ian Somerhalder. They both have such fascinating faces. I would love to take a couple of really unique black-and-white portrait shots of them.
The only time I've been in front of the camera has been some modelling I've done for Madelaine's Clothing. I'm usually better at directing others on how to stand and where to look. It's very awkward for me to be in front of the camera – I have no clue what I'm doing, haha, but I must say, I do enjoy it.
Behind the lens:
I cannot stand … Someone chewing with an open mouth
I cannot walk past … Jeans! I wear jeans almost every day. They're comfortable, sexy, stylish, modern, and classic
My ultimate indulging pleasure … Dark chocolate
Going out or entertaining at home … Entertaining at home. I love our home. We have spent a lot of time making it pretty for us
When I get home … I eat! I'm usually starving and need something to nibble on.
I spend the most money on … My hair! I love experimenting with colours and styles
My personal motto … Be faithful in the little things
The best place I've travelled to … Rome. I had a magical time, learnt a lot, ate some amazing foods, drank the best coffee (and I don't drink coffee) – it was just an overall fascinating experience
10 Top questions to ask your photographer before your photo shoot:
What is your photography style?
Can we see some of your work in print?
Do you use natural light or a flash to take photos?
Are you the photographer who will be taking the photos on the day, or will you be sending someone else?
Can we see the full album of one of your recent weddings?
Do you have backup equipment on my shoot/ wedding day?
Do you charge travel fees?
How many hours will you shoot on my wedding day and will you charge overtime?
Will I receive my images in high resolution without a logo?
How long will you keep my images on backup?
Text: Chemélle van der Merwe. Image: Franco Oosthuizen, Light Flair Photography, www.lfphotography.co.za. Clothes: Madelaine's Clothing, 011 660 8755. Venue: Lieu De Grace, www.lieudegracevenue.co.za.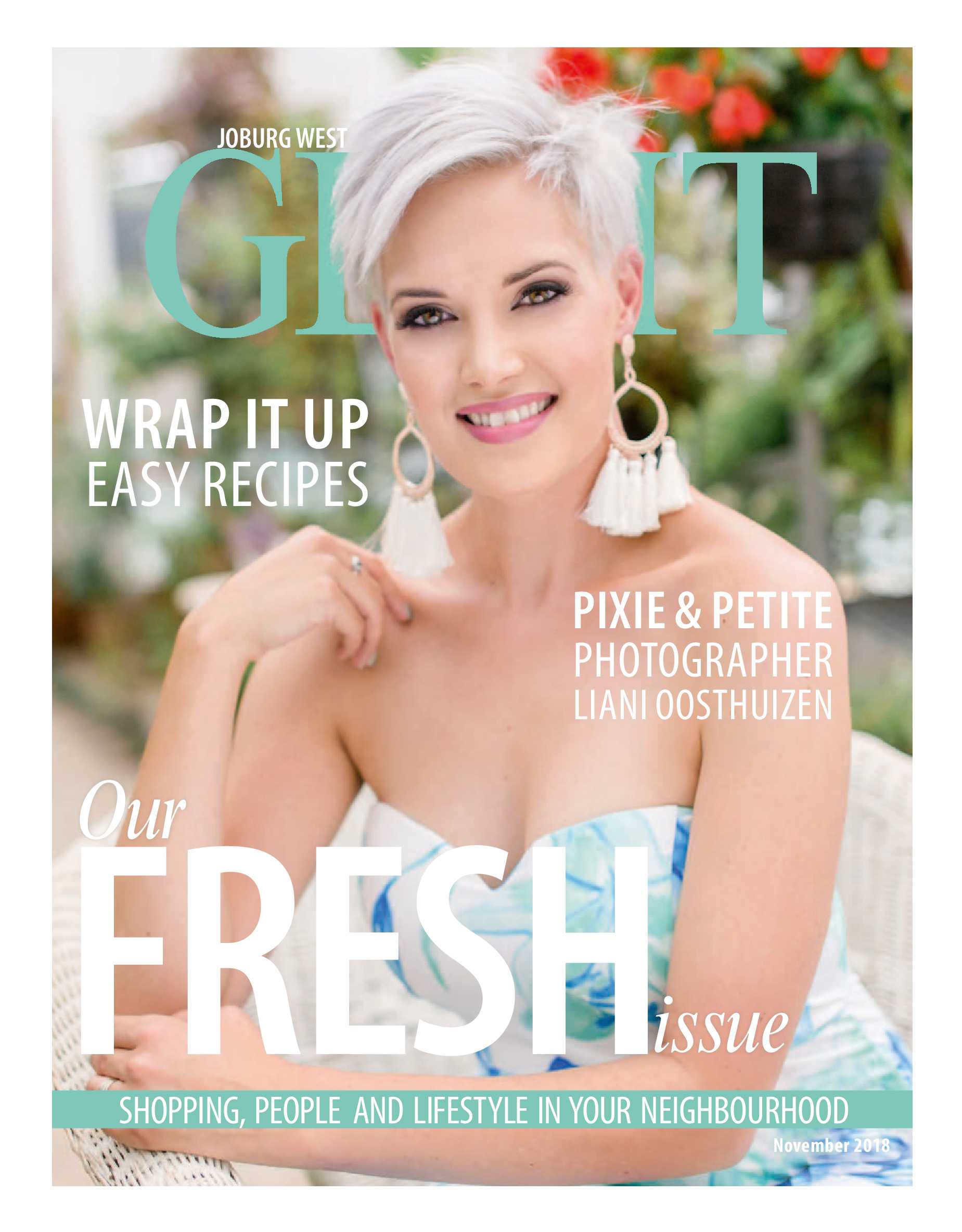 Going down!
Win an exciting family getaway worth more than R22 000!
Summer spoil
We're giving you a chance to shine all through summer by winning an ICE watch!
Win with M&M's and Skittles this Halloween
We've partnered with M&M's and Skittles to give away two hampers consisting of M&M's, Skittles and movie vouchers valued at R650.
is a national brand of premium free magazines available in centres across the country.
to see other Get It magazines in the network.